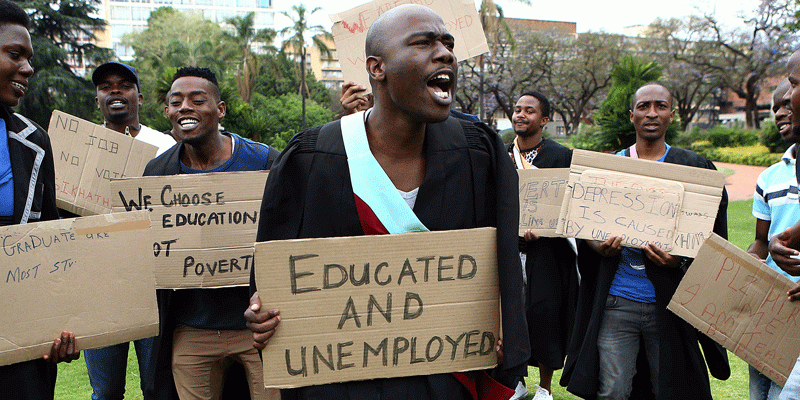 IN the Wednesday edition of NewsDay we carried a story in which some of our college student leaders were frothing at the mouth over the failure by many of the students to get employment soon after graduation.
The students are of the belief that the country's education system is to blame for their very unfortunate predicament. They have come to the conclusion that the current education system in higher and tertiary sector was created by the country's former colonialists to develop a docile citizen who is only too eager to be employed in service industry soon after leaving university or college.
Zimbabwe Congress of Students Union president Pijiwest Nhamburo, for example, specifically said: "The problem we are facing together as a government or as a people is a product of history. The situation our country has been facing since the attainment of independence in 1980 is that we inherited a higher and tertiary education system which was designed to nurture, mould and create a workforce that will work in the services industry. It was not designed to produce graduates from universities and polytechnics whose minds are programmed to come up with solutions to existing problems in society."
Interestingly though, Nhamburo's fellow student leader heading the Zimbabwe National Students Union, Joseph Nyamayaro had this to say about the plight of the country's graduates: "We have seen over the years the capping of graduates into an empty economy that is not ready to give them jobs. As a result we have witnessed a lot of problems whereby graduates are moving to other countries for greener pastures. We have witnessed scenarios of thuggery and thieving created by financial difficulty and poverty. We have also seen a lot of debt, homelessness, family tensions, alienations and stigmatisation centred on being a graduate without a job."
This is no laughing matter and so touching that it is critical that we disabuse our students who are barking up the wrong tree thinking that the dilemma they face and they will face when they graduate has something to do with the country's education system. It is ludicrous, if not insane to even imagine this because the country's high unemployment rate has totally nothing to do with the system of education they are currently being exposed to because if, indeed, there was really something, none of these graduates would even stand a chance of getting a job outside the country's borders where many are now flocking to after graduating.
As one of the students rightly noted, the Zimbabwean economy is "empty" and we assert that it is so devoid of any job opportunities that it is understandable that some of the students end up thinking and believing that there is, indeed, something wrong with the education they received.
The truth of the matter is that at Independence in 1980 we inherited a fully functional and vibrant economy which we did not understand a single bit and had very little idea how to sustain it. We have largely been experimenting with all sorts of roadmaps from socialism, economic structural adjustments, indigenisation and empowerment to national development strategies that have fundamentally counted to nothing.
We have completely failed to sustain ourselves on such as low-hanging fruits as agriculture, which should be absorbing many of our college graduates. We have utterly and dismally failed to sustain ourselves with the abundant natural resources and have, instead, looted them for self-gain to the point that our mining sector is currently characterised by chaos and lawlessness in the name of empowerment. Ultimately, there is little to no hope of getting a job in such a chaotic economy.
We are afraid to say, all this has absolutely nothing to do with the way we were educated or the education currently being imparted to students in our institutions of learning. Even the best self-taught entrepreneur has little to zero chance of surviving in this empty economy.
Related Topics