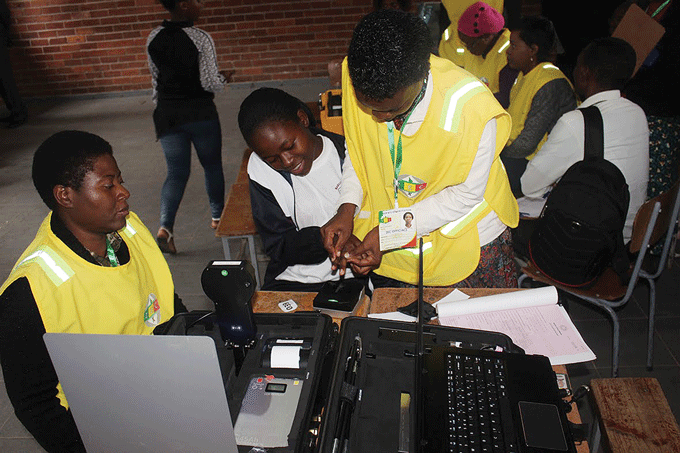 The Zimbabwe Electoral Commission's countrywide voter registration exercise is greatly appreciated and Zimbabweans should welcome this move by besieging centres in their millions to book their participation in next year's general elections.
Many people have a general tendency to wait to do things in the very last minute, which can be stressful and inconveniencing.
So the earlier the people go out in droves to register to vote, the better it will be for everyone, including those planning to conduct this election.
Naturally, elections are electric and once the plebiscite dates are announced — which is usually late towards voting, people start to suddenly want to take part in the polls and ultimately, the last minute rush to register ensues.
This creates unnecessary pressure on personnel conducting the registration exercise. Machine breakdowns and long winding queues become commonplace, yet all this can be avoided if people register early.
Whether those who register exercise their right to vote or not is something else. The bottom line is every Zimbabwean above 18 years residing in this country must go and register to vote.
It is unfortunate that given Zimbabwe's tortuous past journey when it comes to elections, which many believe have been conducted unfairly, some people may have since been disillusioned and now reluctant to register, let alone cast their votes.
But past is past and everyone should look into the future with different lenses. It still remains everyone's right to have their say as far as who they want to lead this country is concerned and Zimbabweans can only exercise that right once after every five years.
This means that once the 2023 chance to have your say passes, you will have to wait until 2028 to have a say and that is a long, long way to come.
Five years is a lifetime and it is now five years since the last general election, so people should not deny themselves their right to vote by failing to simply register to vote.
No one has a crystal ball to zoom into the future to see what it holds. Therefore, all citizens eligible to vote must take this chance to exercise their constitutional right to decide who they want to lead them into that future, whatever it beholds.
No one needs to be reminded that many Zimbabweans died fighting for the right to vote after being denied that right for generations before the 1980 independence.
The independence we are all going to celebrate on April 18 should be a reminder that it is a celebration for finally having the chance to freely cast a ballot.
Casting a ballot in this country did not come on a silver platter, so people should not take it for granted by squandering the opportunity. Everyone worth their salt should not even think twice about registering to vote. It must just come natural.
Therefore, Zimbabweans let us all register to vote now and avoid the last minute rush.
Related Topics