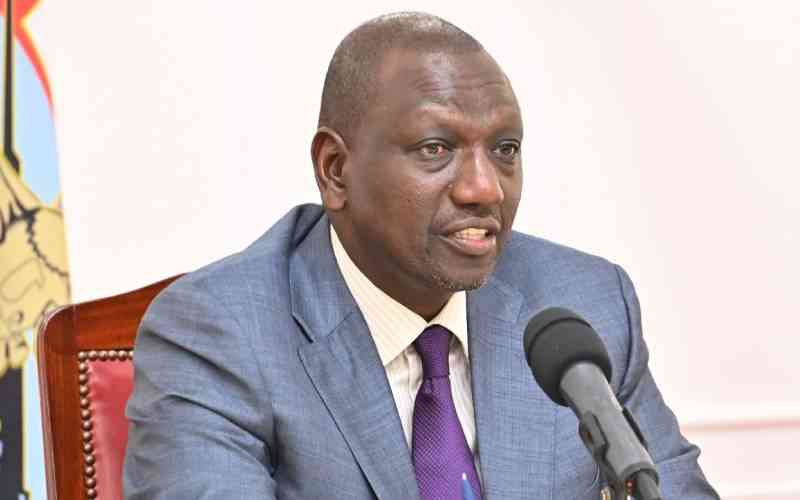 President William Ruto's Cabinet has resolved to forgo one-month salary as their individual and collective contribution towards the ongoing State interventions that support Kenyans affected by the drought.
The resolution was reached during Tuesday's third Cabinet meeting chaired by the Head of State.
As part of the long-term measures to address the cyclic drought situation and the cost of living, the Cabinet in addition assessed the food supply situation in the country.
The meeting noted that the cost of the nation's staple food, maize, remains unacceptably high, currently retailing between Ksh 180- 210 for a 2 Kg packet of Maize Flour.
The Cabinet further noted that harvesting of maize was ongoing across the country, with this year's crop estimated to yield about 30 million bags of maize.
The Cabinet in light of this resolved that the farmers' produce will be accorded priority access to the market.
"In recognition of the annual consumption trends of about 45 million bags of maize, and mindful of the solemn duty of the State to secure the affordability of the basic food items; the deficit arising from the lower than expected domestic yields will be bridged through the importation of 10 Million bags of maize," a dispatch from State House said.
Meanwhile, the importation by the private sector will commence in February 2023 and it shall be incentivized by way of a customs duty waiver.
The dispatch in addition noted that as part of the administration's long-term food security plan, farmers from across the country would have access to fertilizer at a subsidized cost of Ksh 3,500; a move that will boost food production and help bring down the overall cost of production, and with it the rising cost of living.
Salaries
A cabinet secretary (CS) gets a monthly salary of Ksh 924,000, meaning the 22 cabinet secretaries will collectively donate Ksh 20,328,000.
The Salaries and Remuneration Commission (SRC) slates the gross salary for the President at Ksh 1,443,750 per month while the Deputy President earns Ksh 1,227,188.
The Attorney General earns the equivalent of CSs at Ksh 924,000.
In total, the entire cabinet will contribute Ksh 23,143,313.
Related Topics