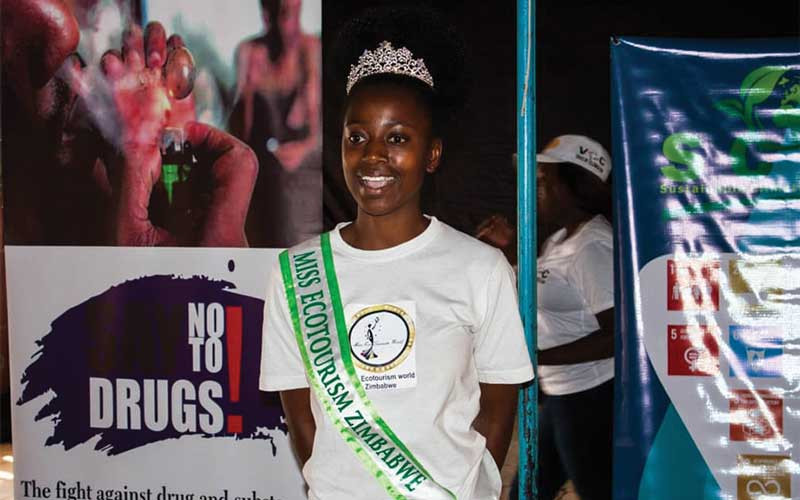 AS part of her environmental conservation duties, reigning Miss Ecotourism Zimbabwe, Yeukai Evelyn Gumbo has joined hands with Voice of Celebration (VOC), a Kadoma organisation that focuses on bettering the community, for an anti-drug abuse campaign.
Running under the theme Say No to Drugs, the campaign is targeting private colleges in Rimuka and Ingezi.
In order to fully drive the message home, well packaged and themed dramas, poetry and music is being used as the vehicles for the campaign which will run until December.
"As Miss Ecotourism Zimbabwe I believe a place is only as good as its people hence a fight against drug abuse was a necessity in Kadoma. I trust that in order to beautify and promote ecotourism in our country, we need to move and impart knowledge that helps in building a better society and not destroy it," she explained.
"When the campaign was introduced to me, I thought drug abuse was an overrated topic. I felt like everyone had done projects on drug abuse and we ought to work on something else, but upon conducting interviews, I came to further understand how detrimental drug abuse is."
Gumbo has come to appreciate that it takes team effort to win the fight against the scourge.
"Our visits in some of the residential areas have shown that poverty and poor living conditions were the major components pushing youths into drugs. Some have made a lifestyle of drugs because they are their form of refuge," she said.
"I have confidence that the campaign will be a success. If we keep engaging the youth, I believe it will really work. Obviously there is need for time, effort and sponsorship, but for a start we are on the right track."
Follow us on Twitter @NewsDayZimbabwe
Related Topics