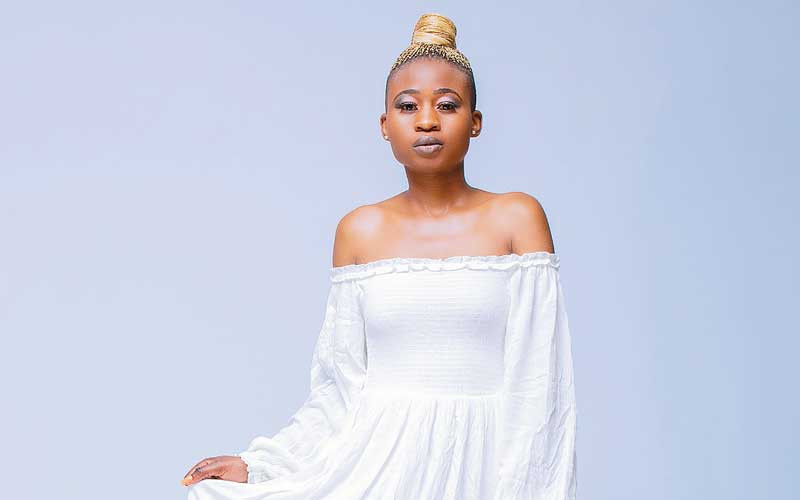 WHILE the journey to get signed by a recording label as an up-and-coming musician is an uphill task for many, local songwriter and vocalist Petronella "Lalla" Matipa reckons that in her case, grace just located her when she got signed by South African record label, Khox Entertainment.
Although Lalla is comfortable with different genres, she, however, majors in Afro-fusion and amapiano.
The 26-year-old singer notes that signing for Khox Entertainment opened many musical doors that she believes will take her career to dizzy heights.
Through the deal, it appears Lalla has found the much-needed platform to work with great musicians and producers.
So far she has collaborated with one of the top Mzansi singers Ntoshi Gazi famed for the hit song John Vuli Gate on a track titled Siyaphana Asijoli.
Lalla has also worked with Mexican producer Lalo Lexy and Carlos Castro on Kumusha, a track anchored on an Afro-house beat.
The song Kumusha, which talks about the troubles faced on earth and the hope human beings have of a peaceful life after death, will be released on Union Records, an Italian record label.
NewsDay Life & Style recently caught up with Lalla, who stated that her love for arts has been growing since childhood when she discovered her talent through poetry before she turned to song-writing.
Career background
My childhood was not that musical as my arts journey started with writing a lot of short stories and poems.
I came to realise my potential while I was at Emganwini High School in Bulawayo.
I was obsessed with writing such that I used to write anything that would come to my mind.
During the time, I did not share with anyone the poems since I was afraid of negative comments.
I did not realise I was carrying this gift for the better part of my childhood.
From the writings, I then started adding rhymes to the poems as I would rap and it started to click that I was good at rapping and writing.
I was 17 years old by then and this led to the discovery of my music talent, which I have since embraced to date.
Since then, I have never stopped writing music, I live music, I breathe music and I am all about music.
Self-challenging
I enjoy trying new stuff and I love to challenge myself. Surprisingly, doing different genres has helped me to improve my writing skills and, in the process, making it interesting to do music.
As I love challenging myself, any part of music that interests me I try to work around that particular part and work magic.
This has to a greater extent made my career so enjoyable because I don't have to pin myself to one specific genre.
I am confident when I say I am a songwriter and a vocalist because this embodies everything to do with music.
I am flexible when it comes to music as I can hop on any beat. I enjoy trying new stuff and jumping out of the box because I can.
Music versus social life
I am one of those people that are called introverts. Apart from music, I do not have a social life.
Friends that I have are all from the music circles and usually when we meet we are talking about music and business.
For me, music gives me both the refreshing and relaxing mode that someone would acquire in social circles.
If I am not doing music, I enjoy some time alone, but sometimes it is mostly invaded by family, which I don't mind.
Career highlight
Definitely getting signed at Khox Entertainment has been my career highlight at the moment. This was a huge grab for me and still it is.
Khox Entertainment has been opening doors for me in many ways I never imagined.
I have been able to collaborate with international artistes and this has given me the ability to also push myself out there on the international markets.
I am still looking forward to amazing features to come my way. Before, I was signed with a record label in Texas.
Origin of moniker Lalla
When I was growing up, people would usually call me Pettie, short for Petronella and one day, a friend then suggested I get another name.
We tried out a few until we got to Lalla and I was not yet into music by then, but I carried the name along and up to now, that is my stage name.
I love it because I feel like it represents my style and fashion well when it comes to music.
Inspiration
I am inspired by different elements in music. Most importantly I am inspired by life.
To me, life is a journey of highs and lows and it gives me the drive and inspiration especially when I am composing my songs.
Childhood dream
I always wanted to be a television girl. Growing up watching eloquent television presenters, musicians, actors and news reporters constantly gave me goose bumps because I would imagine myself in that same position one day.
Zim versus South African music
Working in a South African industry has its advantages and disadvantages.
One advantage is that South African music has a huge market compared to our local music, so breaking through the South African market has given me better exposure.
However, it is not all rosy as we have been tirelessly working on my brand for almost two years now and the industry is very unpredictable. Competition is stiff, but we are all working hard.
Hobby
I read a lot of books and watch a lot of movies. I think I will adopt travelling to be my favourite hobby in the near future.
Follow Rejoice on twitter @rejoicephi1998
Related Topics