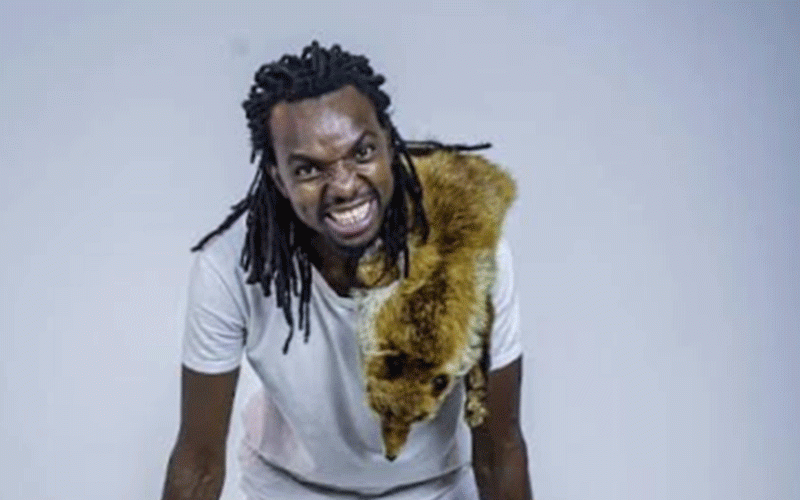 OTHNELL "Mangoma" Moyo is a multi-talented man — a performing artiste, dancer, actor, instrument builder and an ethnomusicologist who has and continues to collaborate with both local and international artistes of all age groups.
Mangoma is the brains behind Music According to Percussion (Map), an ensemble whose music is anchored on percussion. The root of Map's rhythms is the ngoma (the oldest type of African drum) and rhythms which evoke "a certain mood in an individual, strong feelings from the heart".
The drumming sensation is also a researcher and preservation activist, deeply rooted in Zimbabwean culture, who builds many of the percussion instruments he plays.
Mangoma last night led his Music According to Percussion band in a melo rhythmic performance at the Nyanga Arts Festival Bira ceremony held at Chief Saunyama's homestead in Nyanga.
NewsDay Weekender caught up with Mangoma, who shared his experiences in the competitive showbiz industry.
About Mangoma
I am a performing artist, instrument builder and an ethnomusicologist who collaborates with many Zimbabwean and international artistes.
I grew up in the Nguboyenja township of Makokoba in Bulawayo and learnt marimba and ngoma from my brother Osward and sister Rea.
I pursued my passion for music, seeking knowledge, learning from my elders and peers. My work has been centred around performing arts, instrument building, research, and documentation as well as social services.
The music journey
I have been playing music since I was five years old. My music making is in five parts namely, family and communal, session work, performance with music according to percussion, solo performances and collaborations.
It starts from the family level, practicing a lot with my family, learning from my elders, and also teaching my kids, nephews and nieces, then grow to community level where I learn and share with my peers and learn from older musicians from both urban and rural areas of Zimbabwe.
I have played as a session musician since 2001 and in 2016 started performing and leading Music According to Percussion band that plays deeply rooted African percussion fusing it with Western instrumentation.
I have also performed in a number of countries as a solo act and this has opened some opportunities for collaborations with both local and foreign artistes.
Instrument building
I handmake three quarters of the instruments I use. I am a builder of African-rooted instruments that include ngoma, mbira, marimba, ngororombe, makhoyane, uhadi, xitende, chipendane, djembe, dundun and xigubhu.
I build Zimbabwean membranophones known by the Shona name as ngoma which come in different shapes and sizes. Ngoma is also known by other names like ingungu (Ndebele), isigubhu (Nguni), xigubhu (Tonga) and range from the tall mutumba to the frame drums known as gandira and ndandanda.
Productions
I have recorded two albums under the name Music According to Percussion (Map), an ensemble that plays music that is driven by percussion.
I also teach music and dance to prisoners at Harare Central Prison under Miracle Missions and direct Talent Explorer in Nguboyenja, an arts-sports and business community event held annually in Bulawayo.
Collaborations
Kullock Call (Zimbabwe /Norway) (2011), Amazwekazi Amathathu (2014), Sadhana (2017), Afr(Indi)an (2021), ZimboIta (Zimbabwe/Italy), Vee Mukarati, Matt Greenwood, Masa Caroline, One Beat 2016 (artists from 17 different countries), Sukristianto Hari Kosmito (Indonesia), Mukta Raste (India), Tritha Sinha (India) and Hriday Desai (India)
Off performances
I have been invited to perform and record with many Zimbabwean and foreign artistes.
I have so far represented Zimbabwe in more than 30 countries of the world, in over 400 venues and international festivals and participated in a number of international musical collaborations with artistes from Norway, Austria, Sweden, Indonesia, Burkina Faso, France, India, Indonesia and more.
In 2016, I was selected for the One Beat (United States of America) programme, where I collaborated with artistes from 17 countries, enriching my music through exposure to other cultures of the world.
The German experience
I have been to Germany a couple of times, the first being in 2011 with Intombi Zomqangala and the following year I went as a solo performer, teaching and collaborating.
In 2021, I played in Berlin and Munich with an opera group called Nehanda by Nora Chipaumire, and this year I was there a couple of times where I played in Dresden and Berlin as a solo act.
I am also working with Stefan Fanke from Berlin in preserving and documenting Zimbabwean and her neighbours' diverse lamellaphones. Recently, I was part of the collaboration between mbira queen Hope Masike and German pianist Andreas Kern.
The lesson I have brought home is that we should be more proud of our culture as it is the one that sets us apart from everyone. Also, there are many valuable qualities in it that one cannot find elsewhere. It is our culture that will give us a purpose and identity in this world when globalisation thrives.
iNgungu Yomhlaba Cultural Arts Centre
The iNgungu Yomhlaba Cultural Arts Centre is a hub established for the benefit of fellow creatives in Zimbabwe and around the world. Located on Chigiji Road, in Munyawiri village, in Domboshava, Goromonzi. iNgungu Yomhlaba houses ancient Zimbabwean artforms. It is a space for mentorship for younger generations by provision of intergenerational and peer-to-peer mentorship for artistes. The centre also provides a conducive environment for rehearsals, residencies, exhibitions, and performances.
Performing at Nyanga Arts Festival bira
Music according to percussion last night brought back on the stage the ancient Nyanga instruments that were only viewed in museums. We explored the jegunje drumming, the nyonganyonga malimaba mbira and the Nyanga panpipes, augmenting everything with band instrumentation, but still keeping its core rhythmic and hormonal structures.
Challenges
Years after I moved from Bulawayo to Harare, I have come to realise that Harare has limited spaces that allow artistes to rehearse or fully explore their artistry.
To fight that challenge I went on a mission to build a centre for creatives, but I am also facing the challenge of stunted progress due to lack of funds.
The other challenge is discrimination from locals who demonise ancient artforms. I play indigenous instruments and sing traditional Zimbabwean Mahon'era, kuGurudza, and Ukuhlabela styles much appreciated outside Zimbabwe.
I frequently travel outside the country where I am celebrated, unlike back home.
Follow us on Twitter @NewsDayZimbawe
Related Topics