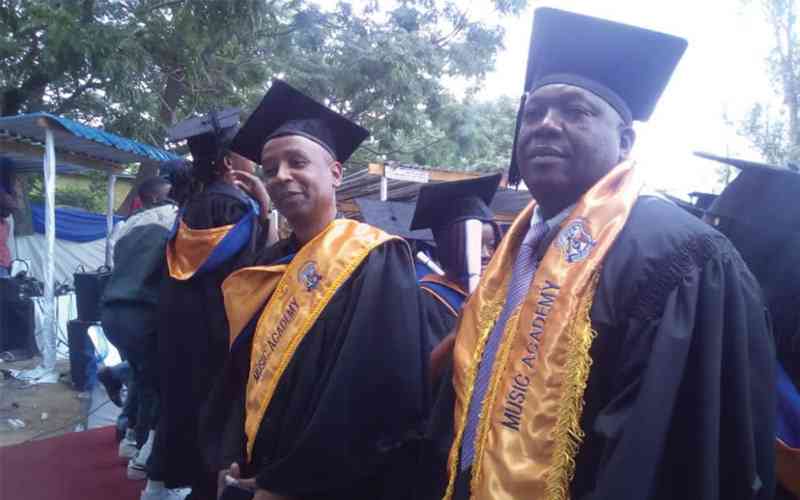 RENOWNED multi-instrumentalist-cum-music producer Clive "Mono" Mukundu was on Friday honoured by Music Consultancy Society (MCS) for his contribution to the creative industry.
Mono was recognised for being a pacesetter and an inspiration to both up-and-coming as well as established musicians at the MCS graduation and fundraising ceremony held in Harare.
The Monolio Studios proprietor, who will next month graduate with a Bachelor of Music degree from Midlands State University, has been a torch bearer in the music industry which saw him producing for both local and international artistes.
At the same ceremony, 50 primary schoolteachers and some outstanding students were conferred with certificates in Visual and Performing Arts, among other disciplines.
Human rights activist and lawyer Okay Machisa was the guest of honour at the event also attended by Eric Mutanga from the National Arts Council of Zimbabwe, music educators Rumbidzai Chipendo and Plaxedes Chinyowa.
Machisa said MCS had scored a first through its pursuit of the government's education 5.0 learning model by advancing and developing talent search as well as rehabilitating raw talent in the arts, culture, music and instrument making in disadvantaged communities of Zimbabwe.
"As an individual and a cluster of music academia we are happy that culture and heritage which you as Music Consultancy Society has incorporated in your activities are a critical cog in the preservation and popularising of our Zimbabwean history, ethics, ubuntu/unhu," Machisa noted.
"Your efforts as an academy in the teaching, learning and training of visual performing arts, music, dance and material culture are highly commendable."
Machisa went on to showcase his mbira virtuosity as he clicked intriguing melodies on the song Chemutengure with the help of the guest panel.
MCS chairperson Cuthbert Jingura appealed to funders and donors to extend their helping hand in their quest to capacitate primary and secondary schoolteachers in the teaching of visual and performing arts.
"The object of today (Friday) is not only historic, but profound in its uniting nature. As Music Consultancy Society, we are committed to the promotion and pursuit of music, art, visual and performing arts, dance and cultural activities," he said.
"We are desirous of establishing an exceptional destination for the creative arts and music performance in Zimbabwe. Integrity and consistency have been pivotal in our programmes and core professional activities. MCS is also cognisant of the need for gender equity and parity in all our day-to-day activities."
In an interview with NewsDay Life & Style on the sidelines of the event, MCS director Asiel Tavonga Chipadza said they were geared to fully address the gaps that had been visible in the teaching of visual and performing arts.
He noted that they will achieve this through capacitating teachers and artists in dance, music, painting, drawing and sculpturing.
Internationally celebrated Hwamanda dance group put up a top-notch performance as it entertained guests with its energetic mbende dances.
Students from Nathi School played marimba and poet Ngonidzashe "Mambo Guramatunhu" Paradza recited a poem which praised the graduates and also urging them to continue upholding cultural values.
Follow us on Twitter @NewsDayZimbabwe
Related Topics