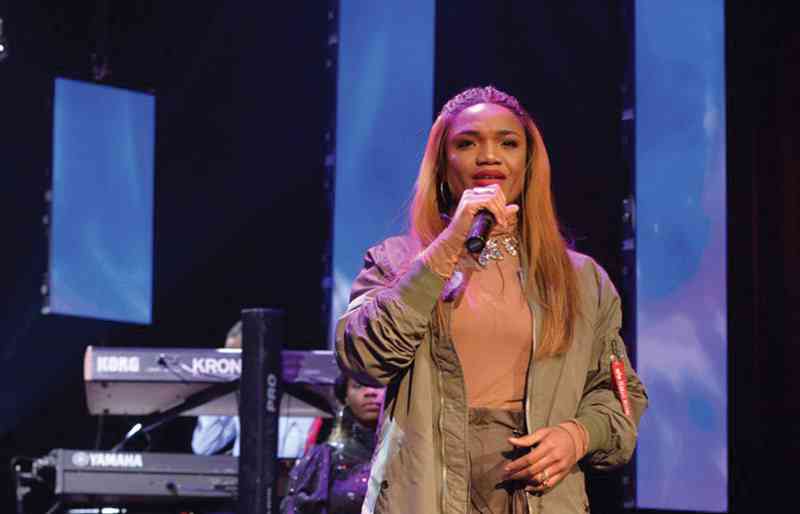 POPULAR Nigerian gospel singer Ada Ehi, whose music has been a beacon of hope for many Christians globally, is set for her maiden performance at the Harare International Conference Centre on May 6.
Born Ada Ogochukwu Ehi, the award-winning Ada Ehi will be winged to Harare courtesy of concert organisers, Gateway Stream Music, a local entertainment company that is a subsidiary of Rainbow Tourism Group.
The concert will be streamed on the Gateway Stream Music Pay Per View (PPV) platform, to give the diaspora audience and those local fans who may not be able to physically attend the concert the opportunity to watch the show from the comfort of their homes.
The authenticity of Ada Ehi's lyrics, musicality and her stunning music videos have charmed not only many followers of gospel music across the globe, but also the concert organisers who decided to bring her to Zimbabwe.
"Ada Ehi is an amazing and talented artiste with a flourishing gift. We decided to bring her to minister to her local fans as we believe she is loved by many," Rainbow Tourism Group spokesperson Pride Khumbula said.
"Our local artistes will also get the chance to share the same stage with the internationally-acclaimed artiste, creating relationships with opportunities for collaborations. This will help the local industry to grow and tap into the vast experience Ada Ehi brings with her."
Khumbula said they had already started the groundwork to ensure a flawless concert.
"We hope everything will go according to plan. Ada Ehi will stay in Zimbabwe for three days, arriving early for her show," she said, adding that more information on the itinerary for the concert would be revealed next week.
"Early bird tickets are already on sale at US$20 standard and US$50 for VIP. One can get the tickets from The Rainbow Towers Hotel and Conference Centre, Med Orange Pharmacies, or The New Ambassador Hotel. Fans seem to have an appetite for the event and we are happy with the ticket sales so far."
In the wake of reports of rogue bouncers who of late have become a menace at many live concerts, Khumbula said they were working with relevant authorities such as the Zimbabwe Republic Police and promised to do all they could to make sure they provide a safe environment for gospel music lovers to enjoy.
Khumbula revealed that they were closely working with the singer's management to enable the artiste to meet and greet fans.
Confirming her forthcoming Zimbabwe sojourn via her social media handles, the gospel sensation said she was excited about the show.
"The Lord has granted us favour in this beautiful nation several years ago, introducing our music to these great people," she posted.
"Now He has granted us the opportunity to be in this country and by His Grace we are coming! I, like you, am excited. This one is going to be heavy. Get ready and glory."
Ada Ehi has released many praise songs which have become anthems across the world.
Most notably, her song Only You Jesus that has amassed over 93 million views on YouTube and was listed on the same channel's top 20 most streamed songs of the decade.
A background check for Ada Ehi shows that she is a native of Nigeria's Imo State and was born on September 18, 1987. She launched her musical career at the tender age of 10 as a backup singer for child star Tosin Jegede.
She turned professional in 2009 under Loveworld Records and since then she has increasingly gained international popularity through her songs and music videos.
Her debut album Undenied was released in November 2009. It was followed by Lifted & So Fly, a two-disc album released in November 2013.
She released her third album, Future Now, on October 16, 2017 and it claimed the number-one spot on iTunes Nigeria on the same day.
Ada Ehi is a Lagos State University graduate (BSc Chemical and Polymer Engineering).
During her university days, she is said to have actively participated in the Believers Loveworld Campus Fellowship, a campus youth expression of the Believers Loveworld Incorporated popularly known as Christ Embassy led by Pastor Chris Oyakhilome.
She met her husband, Moses Ehi, at Christ Embassy Church during one of her rehearsal sessions while still at the university. They got married in 2008 and the couple has two children.
Since she joined the Christ Embassy Church choir, she has been actively involved in the music ministry and has performed at several church events around the world including in Europe, America and several African countries.
Popular radio personality Yvonne Tivatye will be the director of ceremonies at the concert.
Some local artistes who will share the stage with Ada Ehi at the concert, are Everton Mlalazi, Janet Manyowa, Michael Mahendere, Nyasha Mutonhori, gospel couple Ellard and Sharon Cherayi, among others.
Related Topics