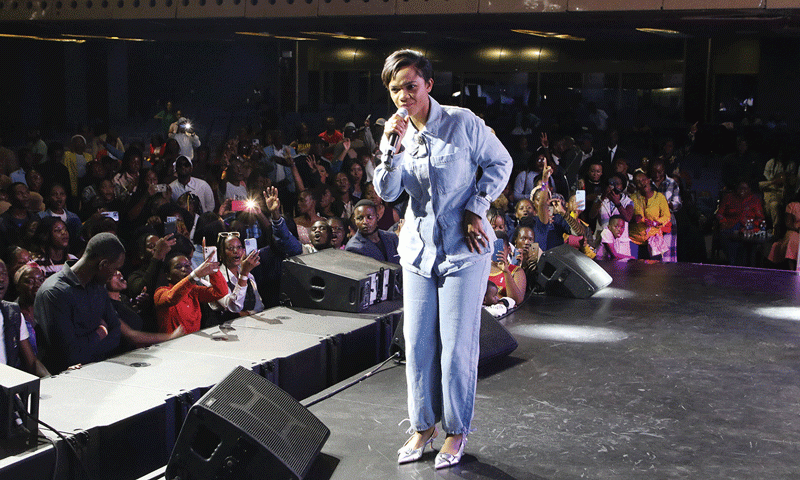 MANY merrymakers in Harare had a weekend packed with music concerts and other entertainment events.
There was the Zim Open Golf Tournament at Royal Harare Golf Club from May 4-7, Castle Tankard at Borrowdale Park Racecourse on May 6, Ada Ehi gospel concert at Harare International Conference Centre (HICC) on May 6 and the Braai Out at Kingfisher.
Horse lovers and those who always look out to have fun were treated to a live performance by Enzo Ishall after four-year-old Ideal View surprised the crowd by winning the 2 000m horse race at the Castle Tankard.
However, attendees said the dancehall chanter let them down after his performance was spoiled by discord in the sounds.
"Enzo failed dismally, his performance was full of discord. I think he should have performed without the live band," said an attendee.
"I am actually surprised that Baba Shero (Alick Macheso) has managed to bring back the moral. I would give his performance an eight out of 10 when compared to Enzo," said another attendee.
At HICC, gospel lovers were treated to soul-fulfilling live performances from some of Zimbabwe's finest gospel music stars Everton Mlalazi, Janet Manyowa, Michael Mahendere, Nyasha Mutonhori, gospel couple Ellard and Sharon Cherayi and the icing on the cake was Nigerian songbird Ada Ehi.
Undoubtedly, Ada Ogochukwu Ehi came prepared, bringing along her own band all the way from Nigeria and it paid off because the sound was electric.
When she walked on stage, the crowd was over the moon for her, but as she performed three of her first songs, most gospel enthusiasts went to sit down as the singer started on a very low note, but she, however, rectified when she saw how the crowd was reacting.
She apologised after performing the three songs.
"I would like to apologise for a late performance," she said, then picked up from where she had left bringing the crowd to its feet.
The energetic songs she sang included I Overcame, I Testify, Only You and In Your Name, among others.
In an interview, some of the gospel enthusiasts who attended the concert applauded Mahendere's performance saying it was the highlight of the evening.
"When it comes to performance, our very own Minister Mahendere delivered more than Ada. From the time Mahendere came on stage until he left, there was not even a dull moment, but that was a different case with Ada because when she came we got excited, but when she started singing, we were still waiting for her to actually start," said one fan.
"I love Ada and her music so much that when she sang, you could hardly differentiate from her recorded songs, she was really good, but I think she could have done better in terms of performance. I strongly believe it is time we started appreciating the efforts put by our local artiste to match these international artistes.
"Hats off to Minister Mahendere and the Cherayis. I do not know most of their songs, but with the command and presence they brought to the stage, I could not help but dance and sing along with them. Maybe international artistes should begin to learn from our local artistes," said Chelsea Chirume.
The top-rated performer of the night, Ellard Cherayi, said he appreciated how God had been opening doors for him and his wife to share the stage with international artistes as it was an opportunity for him to learn.
"By the grace of God, He has been opening doors for us to share the stage with international artistes and I would say this is a dream come true for every artiste," he said.
"As we are grateful to God, we are also grateful to those people who have made it possible for us to share the stage with these artistes as it gives us great exposure and we get to learn a lot from these international artistes."
Meanwhile, most people rounded off their night at KingFisher Park in Emerald Hill, where they were entertained by Takura, Selmor Mtukudzi and Judgement Yard, among others, not forgetting Winky D's biggest two-hour performance that left fans drooling for more.
Related Topics