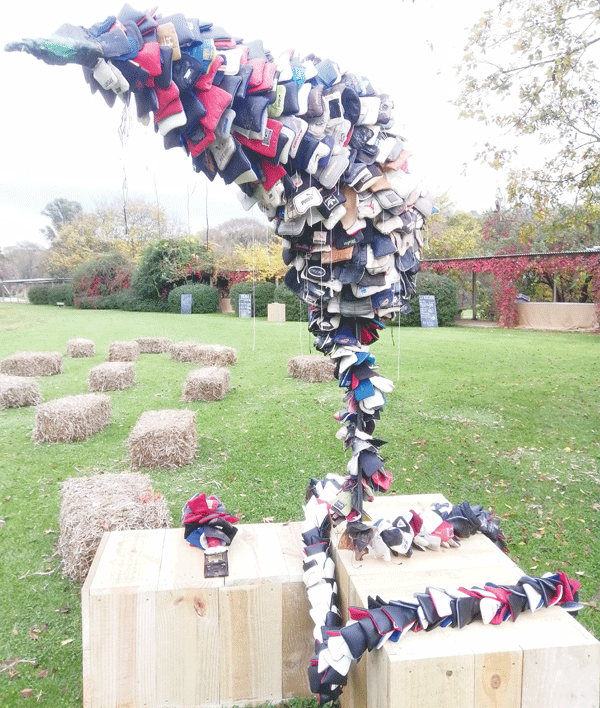 BY TENDAI SAUTA VISUAL artist Tawanda Takura, who hogged the limelight through an exhibition of mounds of warnout shoes has come up with yet another exquisite showcase.
After being roped in by Mzansi curators to come up with striking creative responses to challenging evils such as xenophobia and suggesting best practice on land reform, Takura proved more than ready for the challenge.
Takura told Newsday Life & Style that after having an art Residency in 2021 at Nirox Sculpture Park in South Africa he was again invited this year to partake in a group exhibition themed Good Neighbours at the same venue.
"The exhibition focused on examining relationships with our neighbouring countries to foster peace, commonwealth and questioning issues of borders and what it means to have neighbours as well as dealing with subjects such as xenophobia and land reform. The exhibition featured 30 artists from Botswana, South Africa, Zambia and Zimbabwe with Moffat Takadiwa and myself representing the country."
Takura captivated many through his installation Rurimi Kamwenje.
"For this exhibition I created a seven-metre long art work and installed it about 3m height, 2m wide and 2m length. The artwork is titled Rurimi Kamwenje (your tongue like fire) which is made up of shoe tongues, shoe lust and a mousetrap to which I was exploring the use of our tongue, what we say and how we say it turns to shape our actions and we become entangled by our own tongues. Iwas focusing on xenophobic issues which have affected us dearly and have made visiting, shopping in foreign lands a nightmare. Borders are man-made barriers which we have allowed to define humanity," Takura said.
Takura, born and raised in Chitungwiza, works with discarded old shoes — a motivation that emanated from one of his trades of leather craft, shoe making and repair.
"I used to sell shoes around the community. After the shoes were torn I would find them discarded in dumpsters and would salvage what's left of them back to my place, I guess they had a sentimental value because of the time and energy I had invested in them.
"How they looked in their old state had an aesthetic appeal which fascinated me and in that realisation I started playing around with shapes and form and that is how it all began," Takura said.
Award winning Takura's artistry was refined through several residences which began in (2012) at Village Unhu art studio working alongside some of the celebrated artist in Zimbabwe, Gareth Nyandoro, Portia Zvavahera and Misheck Masamvu.
"I was awarded first prize for Annual Heritage Competition at the National Gallery of Zimbabwe in 2014 and Chinese year of the Horse (2014). Since 2014 to date I have participated in group exhibitions and art residencies locally at Delta Gallery and National Gallery of Zimbabwe and abroad, in Mauritius (2016), Hong Kong (2017) and South Africa at Jo'burg and Cape Town art fairs (2019-2022). I am currently working with Guns and Rain gallery in South Africa."
Takura added: "My work reflects on the social structures we live in and takes interest in the church institutions and its existence in our societies questioning the issues of identity and spiritually being central in how I work. Sometimes I assume the role of the narrator telling what has transpired in my life and sometimes the roll of the spectator witnessing a situation unfold in people's lives."
Takura challenged the media to effectively cover artists without bias because Zimbabwe has got diverse talent that needs to be showcased to all corners of the world.
"Publicity for my work has been the main challenge because I had very little exposure to the locals. Social platforms have been of great assistance and I feel as artists our practice is disconnected from our communities and we need more of our local people to buy and actually support our creative practices.
"The sentiments are the same with others practicing artists, the art traffic locally is quite slow. There are very few art spaces that promote art. Henceforth in my community, as artist, we have created a collective called Chitungwiza Art Collective that is run by artists to provide emerging artists and mid-career artists the platform to showcase their open studios regularly in their backyards spaces."
Chitungwiza now has vibrant arts hubs such as the Post studio, Animal Farm Studio, the Wailers Studio and the Chitungwiza Arts Centre.
Follow us on Twitter@NewsDayZimbabwe
Related Topics