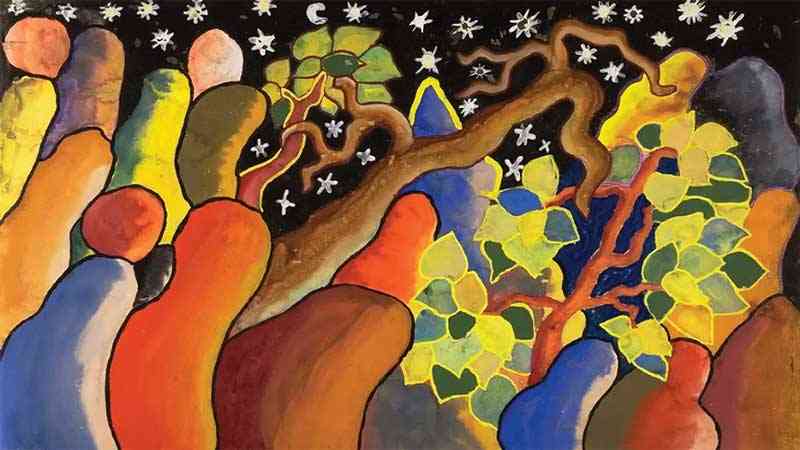 A LOST treasure trove of paintings from the 1940s are being exhibited in Zimbabwe for the first time in 70 years.
The exhibition features the works of students at Cyrene Mission near Bulawayo, including the one by Barnabus Chiponza, entitled How Beautiful Is Night.
It was the first mission school to offer art as a subject to young black students at a time when the country was divided along racial lines under colonial rule.
The paintings toured Europe and the US from 1947 until 1953 and were then lost in storage at a church in London. In 1978, they were discovered and later bought by a private collector in the UK.
Now Zimbabweans are able to see The Stars Are Bright exhibition for themselves at the National Gallery in the capital, Harare.
Students were encouraged to paint through their own eyes, rather than to imitate European art, and to connect with their landscapes and reimagine local myths and Biblical narratives as they saw them.
It was a revolutionary concept at the time — when the country was called Southern Rhodesia, after British colonialist Cecil Rhodes, and was under the control of a white minority, with laws that discriminated against black people.
"These pictures speak of hope, they speak of life, they even speak of the future," said Voti Thebe, an expert in Cyrene Mission art.
"This was 40 years before the country's independence, and there was no segregation at Cyrene Mission."
The students were encouraged to fill the whole canvas with broad brushwork and translate Western Christian themes into distinctive African imagery.
The painting above by Samuel Songo interprets the Bible story of Ananias and Saphira — a couple who died after lying to God when they claimed to have given all the money from the sale of some land to the church, when they had kept some of it for themselves.
Scottish clergyman Canon Ned Paterson established the Mission School at Cyrene in 1939.
He had studied art in London thanks to an army scholarship — and went on to include art in the curriculum at Cyrene from its inception.
Many of the students had disabilities — above Paterson is pictured with Songo, a quadriplegic who went on to teach art for many years.
Cyrene Mission went on to produce many black artists, scholars, teachers and practitioners.
These included Adomech Moyo, who became the first African teacher of occupational therapy in southern Africa.
While William Mariwi became a highly praised artist of religious iconography and Richard Rachidi the first qualified black art teacher in his home country, Malawi.
Livingstone Sango, seen painting a mural at Cyrene Mission in the 1940s, became a prominent taxidermist with the National Museum in Bulawayo.
The chapel at Cyrene Mission near Bulawayo is still open, but undergoing some restoration.
Broadcaster Leander Kandiero, the son of artist Caxton Kandiero, said it was amazing to see the exhibition and explained how Cyrene Mission changed his father's life when he started there aged nine.
"He would get into trouble with his teacher because he liked to draw rather than write, so his parents sent him to Cyrene Mission, and he learnt taxidermy there as well as painting."
The outside wall of the chapel has images of black angels.
"It's a very special place to go, you could spend the whole day there admiring the creativity of those young artists," Thebe said.
To the right of the altar is Simon of Cyrene, who carried the cross of Jesus in the Biblical account.
"The works speak about Jesus, but through an African eye, and it's amazing art," Kandiero said.
Former student Stanley Musa Nyahwa once said: "Ned taught us to accept ourselves as we are, and other people as they are.
"He showed he was convinced on the value of human life. He had an air of reverence for the value of human life which made him, for us, a man apart."
"Where people found hope and inspiration is what really stands out for me," said Kirsty Coventry, Arts minister, at the exhibition's opening.
"While we have our different views and opinions and different ways of doing things, this shows that we have a uniqueness as Zimbabweans to make this country better."
Related Topics