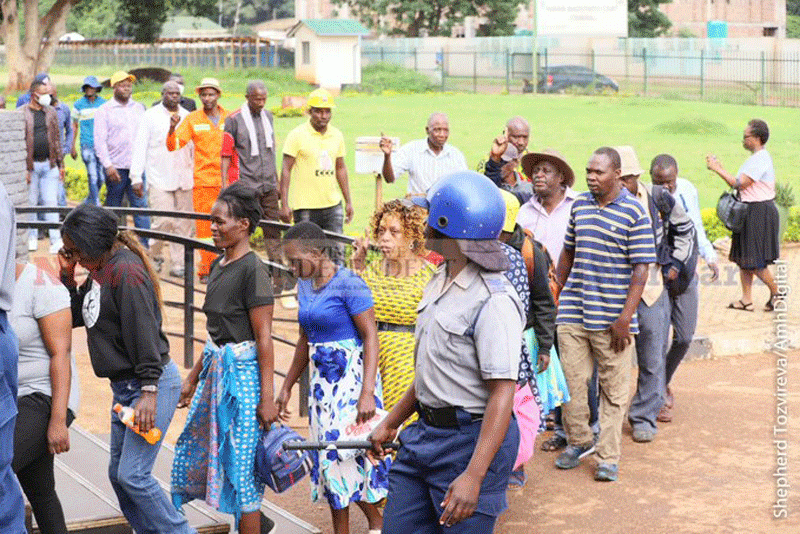 The lawyer representing the 27 arrested Citizens Coalition for Change (CCC) activists, Chris Mhike yesterday told the court that his clients were denied food by the Zimbabwe Prisons and Correctional Services (ZPCS) officials.
Submitting complaints before Harare magistrate Dennis Mangosi, Mhike said his clients did not eat anything since 0600am to 0500pm yesterday after prison authorities blocked their relatives from giving them food.
Mhike said: "What a shame your worship, as a nation we run a system that is so insensitive to the needs of its citizens; a system that is so cruel to accused persons who have not been convicted. I plead for exercise of your judicial power to intervene on the shocking violations of human rights."
He said they engaged the officer-in-charge of prisons, one Chief Superintendent Sibanda at the Harare Magistrates' Court after relatives were blocked from giving them food.
"Sibanda then phoned his bosses who told him that they must not be given food at the magistrates' court," Mhike said.
"We did engage Chief Superintendent Sibanda in charge at Harare Magistrates' Court cells around 1pm and he said he wanted to consult his superiors and he was told no food must be given to the accused at Rotten Row Magistrates Court."
He said violations of fundamental rights of accused persons in the country were shocking.
Mhike added that some of the accused persons where of ill-health and they could not take their medication without taking food.
"They must have their food here at court so that it's not put to waste. There is now risk of some getting ill because of these degrading conditions."
He said some of the accused persons were being mixed with convicted prisoners who were taking drugs while inside the cells.
Lawyer, Kudzai Kadzere who was also brutalised by the police while representing the opposition activists addressed the court while in medical plasters saying the court must give an order that the accused persons be given food at the courts by their relatives.
Kadzere also demanded that they must be allowed to be visited by their private doctors.
Meanwhile, the State has opposed bail to CCC legislator Costa Machingauta who also had his docket merged with Amos Chibaya and 25 others.
The accused persons were arrested for holding a meeting at Machingauta's residence on Saturday, which police claimed disturbed public peace.
Among the accused is a 17-year-old girl who cannot be tried in an open court.
Mangosi postponed the matter to today for ruling on the application to have the proceedings held in camera.
Follow us on Twitter @NewsDayZimbabwe
Related Topics