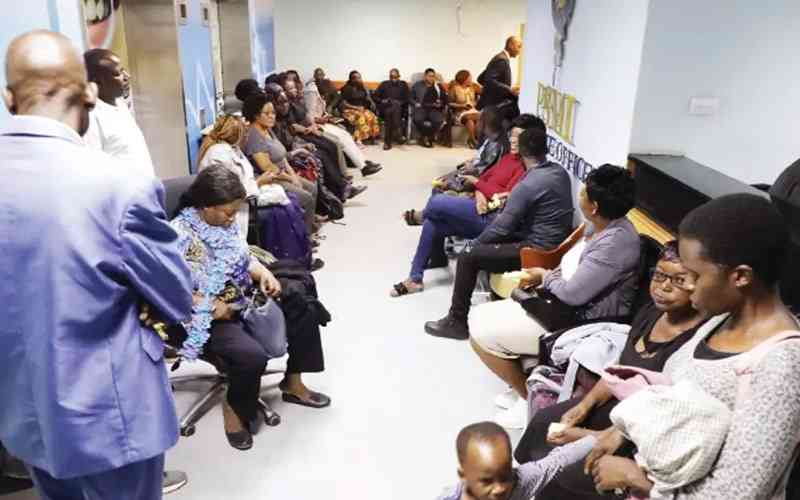 WHEN thousands of workers camped at the shopfloors of their companies demanding salaries during the first wave of Zimbabwe's long running economic crisis in 2008, many thought the practice would end as soon as a 500 billion percent inflation scourge, at the time, was addressed.
But dramatic turn of events in the past week have demonstrated that there are more factors beyond economic turmoil, which can push staff into radical mode.
On Friday, hundreds of Premier Service Medical Investments (PSMI) workers quietly camped at Parkview Hospital in Harare, vowing to stay there until their bosses addressed a long-running salary dispute.
In the PSMI fiasco, the Zimbabwe Independent was told this week that a string of factors bordering on poor management, such as sub-economic subscriptions, are at the heart of the crisis that now threatens to ruin the mass market medical aid firm.
PSMI workers have not received salaries since November.
"Most PSMI workers are tenants," Munyaradzi Nharaunda, a PSMI national workers committee member, said.
"We stopped receiving housing allowance in June last year. Many of our members are being kicked out of their lodgings. Many have had to plead with relatives to keep their properties, while they demand their dues here.
"I know one member of staff who left his property at PSMI offices in Marondera," he told the Independent this week.
PSMI is a unit of the government-run Premier Service Medical Aid Society (Psmas), a firm that occupied an important space in Zimbabwe's medical aid system, until it ran into turbulence a few years ago.
Many blame mismanagement for the crisis, and as late as Monday, insiders said a lot of bad things were being swept under the carpet.
PSMI has one of the biggest memberships on the domestic market, most of them civil servants.
But the impasse has exposed thousands to the vagaries of Zimbabwe's collapsing health delivery systems.
Observers said the crisis exposed the Ministry of Health and Child Care's appetite to make bold public statements without taking action.
They said the ministry had failed to save Psmas.
Many said they were worried that should Psmas collapse, thousands would have to look for expensive alternatives that only a few can afford.
It costs at least US$2 200 for a chronic kidney patient to access services at private medical institutions, according to a survey conducted by the Independent this week.
Enquiries at one high end facility showed that maternity services cost US$550 for a normal birth.
Delivery by caesarean is charged at US$1 320.
These are figures that many in Zimbabwe, unemployed or facing an extensive erosion of their earnings from rampaging inflation, can only dream of.
But they had sanctuary at PSMI.
"They (management) can't run away from responsibility because there was a case of theft. Secondly, there should be fairness and transparency. All these issues point to the principal officer and the regulator. Why are they hiding the audit issue?" Nharaunda said.
PSMI spokesperson Obey Nhakura said monthly transport allowances, fuel allocations and school fees allowances have all not been honoured.
"There are ripple effects of sustained sub-economic subscriptions and cash flow challenges affecting PSMI's main debtor and shareholder, in a hyperinflationary environment," Nhakura said.
"Workers were not satisfied with the shareholder's response resulting in the current impasse. As a way forward, candid and sincere dialogue incorporating all relevant stakeholders has to be expedited in pursuit of a holistic and all-encompassing solution."
Middle management employee representative Maneta Dzauma also said several PSMI employees have been suffering from stress-related illnesses after failing to provide for their families.
"We have three women here in Harare who are being treated for stress-related stroke while another from Bulawayo suffered the same illness," she said.
"Some young women have shared heart-breaking stories of how they are being forced into transactional sexual relationships with married men while others have had to abort because of the circumstances they have found themselves in."
Dzauma said many families have been left destitute after being evicted from their homes.
Health expert, Josephat Chiripanyanga said the medical sector was concerned that PSMI's collapse would be disastrous.
"As medical practitioners, we believe this was caused by interference in the medical service provision business," he said.
Chiripanyanga urged government to step in and ensure medical aid societies stick to their core businesses.
Economist Prosper Chitambara said the collapse of PSMI means people have to resort to out-of-pocket financing to access health services.
"Out-of-pocket payments have thrown several households into poverty and that is not sustainable. Medical insurance is critical. But we have also been advocating for a national health insurance scheme that covers everyone," he said.
"The government has to bear a greater burden in terms of financing health care. I think that is the trend in developed countries. So, the government has to assume greater responsibility for financing the health of its citizens."
Chitambara called for more public investment into the health sector.
Public health activist and executive director of the Community Working Group on Health, Itai Rusike cast the blame on weak regulation of medical aid societies.
"We hope that the new Bill, meant to create a regulatory authority, will address this issue. Unfortunately, some of the regulators are providers of care who happen to benefit from the same medical aid societies they are supposed to regulate. Separation of functions is very weak.
"For example, two of the biggest medical aid companies in the country are both fund managers and providers of care, making it difficult for them to focus on their core business," he said.
Rusike said there were several medical aid societies in Zimbabwe.
"However, medical aid societies through the Association of Health Funders of Zimbabwe seem to be operating as a cartel. In essence, the market has an oligopoly where a few players are dominating," he said.
Rusike also called for a commission to look into the entire medical services value chain.
Related Topics