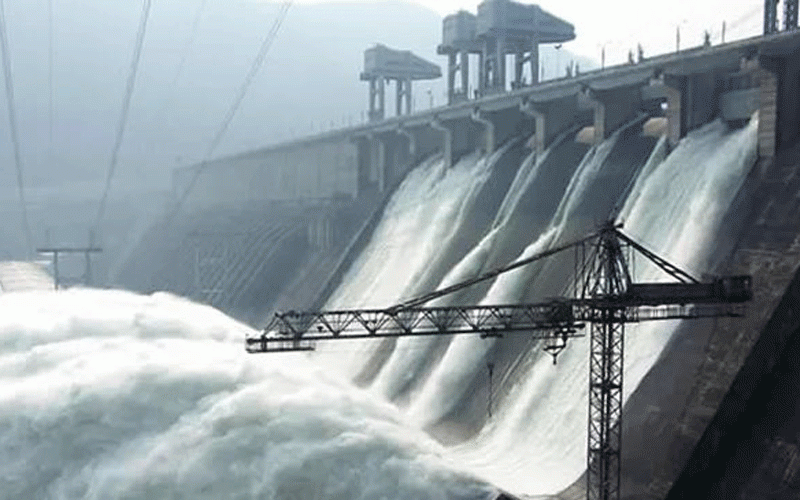 THE recent announcement to shut down Kariba power station due to low water level confirmed our worst fears that there is verry little light at the end of the tunnel, a development that also threatens to dampen economic recovery prospects in mining and other sectors.
The prevailing situation reminds me of the story in the Bible when Elijah was reportedly taken up to heaven in a whirl wind. Elisha who was to replace him as prophet found himself confronted by a situation whereby he needed to cross a river with no bridge. He then called on the God of Elijah to come to his rescue.
While we may also choose to call upon the God of Elisha and Elijah to help us, I would like to call upon the "sun god", Herman Scheer (Mhdsrip) — the late German politician to turn on the lights for Zimbabwe and indeed Africa's energy situation.
Who was Herman Scheer?
Very few people can dedicate their lives towards one goal and persevere towards it with all their strength and mind and fewer still can survive to see the results of their success, as did Scheer.
Considering the mighty work done by this legend, it is a mystery why his name is not on the lips of most sadza eating Zimbabweans. This, especially so because we are blessed with abundant sunshine, over which Herman Scheer was so passionate about. One could write many remarkable things about Herman Scheer.
For instance, he was a member of the German Bundestag (parliament) from 1980 until his death in 2010. During this time he also obtained 17 awards for his work on renewable energy and wrote over 11 publications including on renewable energy (even as a member of the Bundestag!).
However, his exploits do not end just there. It is the impact of his work and his vision that I believe may help remove us from the quandary we currently find ourselves in.
Legacy
The German Renewable Energy Act (2000) marked the heroic work of Scheer. Despite all the opposition from his government, he and his advisors pressed for the act until it gained acceptance. (He was not even the minister of energy!). The act he presented was premised on three pillars.
Firstly, it guaranteed access of renewable energy to the national grid. Secondly, it gave a guaranteed tariff fee for renewable energy, thereby creating investment security. And thirdly, it removed caps for participation in power generation thereby creating investment autonomy allowing individuals, co-operatives and local authorities to participate in the power sector.
He was also instrumental in launching the 100 000 roofs programme of 1999, which availed low cost loans for rooftop solar installations. In three years (1999-2002) one billion-euro worth of roof installations had been funded and the 300 megawatt (MW) target exceeded.
He is also the founding father of the International Renewable Energy Agency (Irena) that has a membership of 168 countries. Irena has demonstrated that a flexible generation mix, enhanced grid infrastructure, demand-side options and energy storage can all be combined effectively with variable renewables to ensure reliable power supply. This addresses the oft-heard critique that power generation based on variable renewable resources, such as sunshine and wind, is unsuitable to provide baseload supply.
Impact of his work
In order to appreciate the full import of Herman Scheer's work, one needs to look at the impact of German's Renewable Energy Act cited above. Between 2000 and 2010, amid all the scepticism and opposition, renewable energy rose to 45 gigawatts (GW) installed capacity and 100 billion euro was invested.
Currently Germany is ranked fourth in solar production across the world. The guaranteed tariff for 20 years led to increased participation of citizens in power generation through energy cooperatives. The success of the German model has resulted in its adoption in over 47 countries, Zimbabwe included.
Zimbabwean situation
We have seen a few glimpses of progress in the power sector in Zimbabwe. Of note is the National Renewable Energy Policy of 2019, which has traces of the German Renewable Energy Act.
The policy has five main pillars. First, the policy set clear targets for renewable energy annually. Second, it provided incentives for promoting investment in renewable energy.
Third, it set up mechanisms for the procurement of renewable energy. Fourth, it set out ways to address the risks in renewable energy projects. Finally, it created a framework for promoting off-grid technologies.
The policy has led to the licensing of and operation of 30 independent power producers (IPPs) generating just over 2% (135MW) of the country's power demand. Power utility, Zesa Holdings has also come up with a feed in tariff for clients who feed in power to the grid from their rooftop solar.
However, some argue that they would prefer actual remuneration and not have their meters credited.
Evaluation of progress
Information from the Parliamentary Portfolio Committee on Energy and Power Development indicates that the Zimbabwe Energy Regulatory Authority has issued IPP licences that are enough to generate 6,8GW. However, current data seems to show that IPPs are only feeding around 135MW into the grid.
This production falls far short of the target of 1 100MW by 2025 stated in the renewable energy policy. With current developments in the power sector and the time left till 2025, this target seems unattainable for the target period. So where is the problem?
Obstacles to success
IPPs and government have been trading accusations concerning lack of progress in power generation over the past decade. The latter accuses IPPs of speculative behaviour and lacking technical credentials. They point to some IPPs who have held licences for over five years without any significant progress made.
To their defence, some IPPs bemoan lack of payment guarantees in hard currency given that they borrow money in United States dollars, but are paid the equivalence in local currency. Nyangani Renewable Energy, as a case in point, took Zesa subsidiary Zimbabwe Electricity transmission Company for arbitration over a US$8,6million currency conversion dispute.
In a recent study, I established that some IPPs would like the government to be flexible on tariff rates since off shore loan rates for Zimbabwe were currently high, because the country is perceived as a high-risk investment zone.
Others have called for a more stable monetary policy to reduce uncertainty. More than half of the licensed IPPs generating power are using it for their own consumption a trend that seems to be gaining ground of late.
The Energy and Power Development ministry has also experienced some turbulence over the last few years making it difficult for the sector to make real traction concerning policy implementation. Since 2018, the responsible ministers have not lasted for more than a year in office owing to various reasons.
This contrasts greatly with the renewable energy champion Herman Scheer who was in parliament for up to 30 years during which period he championed his cause. Some may, however, argue that it is not the number of years held in office that count.
Way forward
While things may seem impossible with very limited positive movement in the power sector, I would like implore on Zimbabwe to draw inspiration from Herman Scheer's persistence and brilliance. His ultimate trump card regarding renewable energy was advocating for energy democracy.
His book Energy Autonomy spells out the role that ordinary citizens can play in an energy revolution. His call for a more people-centred power sector unleashed over 1 000 energy cooperatives in Germany in 10 years producing 45GW of power, an extraordinary feat given Germany only has 150 days of sunshine.
A people-centred energy revolution can have several advantages for Zimbabwe which faces sanctions on one end and has difficulties in accessing lines of credit. A recent study by the writer revealed that regardless of their circumstances, Zimbabweans were more inclined towards joining a citizen energy initiative that can develop rural areas and help solve environmental challenges related to energy even if the financial returns were low. There are currently six community-owned off-grid and micro hydro mini grids in Manicaland area.
Most of the ingredients for Herman Scheer's success model are already in place in Zimbabwe's power sector. The recommendation is for government to build trust with its citizens, including those in the diaspora as well as resolving the monetary policy issue to realise a quantum leap in renewable power generation just as Herman Scheer, the "sun god" advocated. We also need man of Scheer's mould who can visualise the ideal state, provide a vehicle to get there and persevere till the result is attained. The example of Germany has shown that this cannot be achieved overnight, but that itrequires planning and meticulous execution.
Mitchell Mahachi is the co-founder of Energy Alternative Zimbabwe. He is also a climate change and energy analyst contactable on eazietec@gmail.com
Related Topics