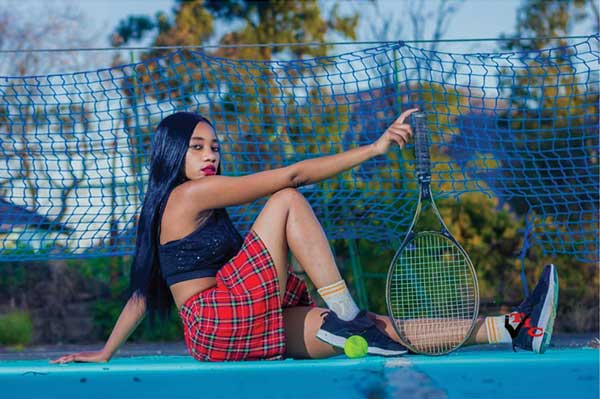 BY AGATHA CHUMA TRINITY Matenganyika might not be known by many, but she wears many jackets in the creative industry. She oozes with confidence in everything she does as she shows a strong passion for arts.
Matenganyika easily swaps roles from modelling, acting, presenting, producing and script writing, and leaves a mark everywhere she goes  as she strives to live her dreams in the showbiz industry.
The multi-talented artist describes herself as a focused and a goal getter with no boundaries.
As a model and video vixen, Matenganyika has featured in a number of videos that include Demo by Popping Champagne and Uchandifunga by Effaz.
NewsDay Weekender caught up with Matenganyika who was more than willing to share some pearls of wisdom with other seasoned and aspiring artists.
Brief introduction
"I was born at Chitungwiza Hospital in 1996. I hail from a Christian background with both loving parents and my four siblings (a brother and two young sisters).
"Having done my high school at Starbright Academy, I completed my honours degree in film and theatre arts studies at Midlands State University (MSU) in 2021.
"With a history of public speaking during my primary school, I decided to venture into the arts industry which was my dream since the age of 14."
Film journey
"I joined the film industry in 2017 with my two friends, Tafadzwa Potisi and Blessings Ruguva and went on to co-found a company called Cameraddict Studios.
"The most highlighting moment of my career in film was when I performed The Outcry, a movement against sexual harassment with other MSU film and theatre arts students at the Charles Austin Theatre in Masvingo. This was in 2018 as part of an examination.
"Another acme for me was being part of the cast and crew for a short film Kubusha, which starred Man Tawa and Biko from the popular series titled Wadiwa Wepamoyo.
"I have written, directed and starred in a number of short films which include The Missing Beauty, Do or Die and Slay Queen. I have been an assistant producer for a series called Vhunze that airs on national television, ZBCTV."
Modelling expedition
"I have a Miss Winter 2021 first princess crown. I was more into commercial modelling than pageants before I later realised the beauty of pageants and the importance of grabbing your own crown.
"As a result, I then ventured into modelling for pageants in 2017 under Size 4 modelling agency founded by Wilbert Rukato. Modelling has always been my passion, but I believe education is needed to nurture the talents.
"My heart yearned for that feeling of walking tall, chinned up on stage and wanting to see myself on screen. I am one of those who believe that the voice of others needs to be educated.
"That is why I pursued film and theatre studies which has enabled me to feel proud of my modelling career."
Presenting
"I have managed to present on different ZBCTV programmes that include, Gear Up (fashion show), Lifestyle & Motivation (reality show) and Private Corner (talk show).
Fitness trainer
"Apart from modelling and film I am also a fitness trainer. I believe a person should not always sleep, but learn to exercise everyday as a way to stay fit and healthy. I believe a healthy mind needs a healthy body.
"I have also hosted a training and fitness show on ZBC called Body Pride."
Inspiration
"My inspiration in the film industry is Tyler Perry, an American actor, director, producer, and screenwriter. When he comes to the screen, he knows how to twist plots in his movies and still comes with an unexpected ending.
"It is amazing how he does his films, from writing, directing and acting. Nothing is as exciting as seeing your vision on the screen.
"Also in acting, Naomi Campbell, a British model, actress, singer, and businesswoman inspires me as she has managed to break all odds as a black woman."
Aspirations
"My desire is to see Zimbabwe having an entertainment industry that is very vibrant, from films, music, modelling.
"We want to earn a living through talent just like South Africa, Hollywood and Nollywood."
Advice
"The biggest mistake one would ever make is regretting having done something, but it would be too late. At least try and be assured that you would have tried. No one should ever give up on their dreams no matter what.
"Dream big, learn every day. Pray hard, play love, above all live your best life"
Easing
"I love travelling, especially visiting the outskirts where I enjoy the scenery and nature. I also enjoy horse riding."
Follow us on Twitter @NewsdayZimbabwe
Related Topics