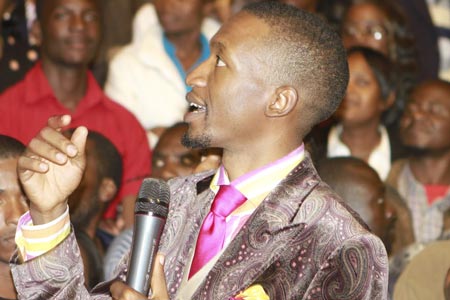 ANY currency put into circulation without legal sanction would have negative effects on the economy and the general social life of Zimbabweans, financial experts have said. Report By Jennifer Dube
The experts were reacting to news that popular preacher and Spirit Embassy Church founder, Uebert Angel, on New Year's night in Harare performed a miracle which saw hundreds of his followers incredibly receiving money.
Angel had reportedly performed a similar miracle in Botswana a few days before.
But financial experts this week said if it was true that Angel was injecting money into circulation through miracles, the money would affect the economy.
"From a financial perspective, any currency produced without the legal sanction of the relevant state or government is counterfeit money or imitation currency," financial analyst, Farayi Dyirakumunda said.
"Some of the finest counterfeit banknotes are called super dollars because of their high quality, and likeness to the real thing."
He added: "The authorised issuer of US currency is the US treasury's Bureau of Engraving and Printing. the production or using of counterfeit money is therefore a form of fraud or forgery."
Dyirakumunda said the immediate negative effect of imitation currency included losses that would be incurred when people are not reimbursed for counterfeit money detected by banks, even if it is confiscated.
"The other ill-effect that may arise in a high prevalence of counterfeits is a decrease in the acceptability of paper money and an unauthorised artificial increase in the money supply, which as we know, is inflationary," he added.
Another economist, David Mupamhadzi, laughed the claims off, but was quick to warn about the negative effects of having an increase in the amount of money in circulation, without a tallying improvement in production levels.
He said although the idea of miracle money was absurd, this could fuel criminal activities, as "everyone" feels they have the power to produce money.
"On a macro level, we are concerned about this said influx of funds, whose sources are not clear," Mupamhadzi said.
He said if money was put into circulation without being accounted for by the central bank, it could have a serious implication on the money supply growth.
"There is a reason why money is centralised and has security features put on it," he said.
"But when we have money flying from all corners, we risk opening floodgates of counterfeit money, which has very negative social and economic implications."
Mupamhadzi said if indeed it was true that some people were injecting money into the economy without a tallying growth in production, the country should brace for shortages of products, which is typical in an economy where there is too much money in circulation.
He added that even if the US dollar was not originally Zimbabwean, the central bank should still be accountable for both the inflows and outflows of money in the country.
"You need to warn your readers not to believe such claims," said renowned economist, John Robertson.
"That is a major fraud which makes use of well-trained performers who are planted in the crowd to convince others to join the church and make generous contributions with the hope they will be enriched."
Police spokesperson, Andrew Phiri, said the police do not comment on spiritual matters but would react in cases where existing laws are breached.
Critics are jealous, poor people: angel
Reports last week said Angel blasted those who are questioning his miracles, including some church leaders who came out guns blazing criticising him, saying they were poor people who are suffering from jealousy.
He reportedly said if people could not explain how Peter [Jesus' apostle] found money in the fish's mouth as instructed by Jesus, then they could not question how miracle money was found.
He said even the bank had no records of how the fish found the money.
Angel reportedly told his congregants that his bank account had been credited with large sums of money on several occasions after praying because he believed in God.
He would instruct automated teller machines to give him cash despite the fact that his bank account was in the negative balance, he claimed.