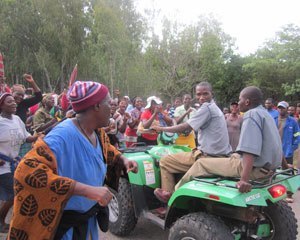 MASVINGO — Villagers from Nyajena communal lands in Masvingo South province now fear for their lives after Renco Mine allegedly discharged "poisonous" effluent into nearby rivers.
BY TATENDA CHITAGU
The villagers also claimed that their domestic animals were dying because the mine was discharging the effluent into Nyajena River and other streams that feed into it.
The villagers also use water from the river and streams for domestic purposes.
Last week, the villagers who joined a strike by Renco Mine workers' wives which started on Monday, said the mine was not being friendly to the environment.
Their spokesperson, Shingirirai Zvavamwe said many villagers had lost livestock under unclear circumstances. He said the villagers suspected that the deaths were caused by the effluent the mine was discharging into water sources.
"Many villagers have lost livestock and we feel it is cyanide which the mine uses in the extraction of gold. We need an explanation from the mine management," said Zvavamwe.
Renco Mine manager, Suprine Kachisa could neither deny nor confirm the allegations, saying he could not talk to the press due to company protocol.
The mine's managing director, Ashton Ndlovu said he wanted questions in writing, but had not responded by the time of going to print. The villagers also accused the mine of reneging on its promise to develop the community under its social responsibility programme.
About 800 wives of the mine workers demonstrated last week, charging that their husbands were paid a paltry US$180 a month on average yet the mine was making a lot of money from their sweat.
Renco Mine, which started gold mining operations in 1983 in Masvingo, is a subsidiary of Rio Tinto Zimbabwe.