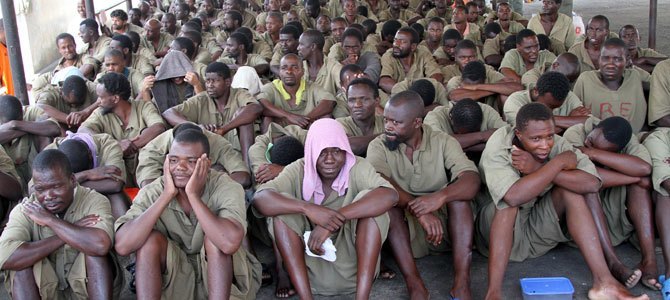 ZIMBABWE Prisons Services boss, Paradzai Zimondi has a reputation of being a tough man, but on Friday, in a rare show of openness and transparency, he opened his prisons to journalists. BY NQABA MATSHAZI
I was part of a group of journalists that was given unfettered access to any prison in Harare, as ZPS said it wanted to show that it was a transparent organisation.
Initially, there was scepticism among some of us, who feared that the prison warders would shepherd us to a prison that had been cleaned and prepared for our visit.
But all these fears were allayed, when we were told to select any prison of our choice and Harare Central Remand Prison, with a reputation of being overcrowded, was chosen.
I can describe myself as a claustrophobe, I am afraid of confinement and the high walls.
As we walked into the remand prison, my fear of restrictions did not help my mood much. In 2011, I was locked up for a night in a holding cell and the experience is still traumatic to this day, so I could only imagine what the people behind the white walls of the prison felt.
We were first taken to where people with less serious crimes were held and how dramatic that turned out to be.
The first prisoners I spoke to were from Uganda and they told a tale of abuse and neglect, but not by the jail guards as you would expect, but rather by the immigration department.
The 13 Ugandans said they had been convicted of entering the country illegally and had finished serving their sentences, but the immigration department was stalling their deportation, demanding bribes from them.
The Ugandans, led by Mpungu Dedrin and Jeffery Baloku, named two officials from the immigration department whom they accused of demanding bribes and lying to prison officials about their status. Now the population of foreign prisoners continues to swell, creating an explosive situation, as xenophobic tensions are beginning to rise. Foreign inmates feel abused
The foreign inmates felt they were being abused by locals and clashes have been the order of the day, culminating in a hunger strike last Thursday.
Led by the Congolese, foreign inmates boycotted lunch and supper, forcing prison authorities to intervene and cool down tempers.
Then I came face to face with the devil, well at least his disciples. Two Congolese, George Lungange and Bragstone Ngezi, are causing a stir within the prison cells, as they demand to be free to worship the devil. Interestingly, like any person from any other religion, they looked convinced that their religion was the best form.
Without batting an eyelid, one of them told me that he wants freedom from God and had signed a life-long irrevocable contract to be a satanist.
There were several other interesting prisoners there, particularly one Pakistani, who unfortunately does not speak much English and prison authorities are struggling to help him contact his family.
All in all, the foreign inmates are a motley crew, ranging from a Nigerian who claimed to be a national team footballer, a white man who did not want to speak to anyone and a frail looking South African.
The tale of Harare Central's 'D Section'
Then it was time for us to visit the notorious "D Section", where people who are accused of more serious crimes are kept.
As I walked in, my attention was drawn to an elderly grey haired man, probably in his 80s, who sat amongst other inmates probably half his age.
I asked the warders what he was in for and I was told he was accused of rape.
Warders said when he was asked what happened, he gave the most outlandish explanation ever.
The elderly man said the girl, whom he is accused of raping, just happened to "fall where he was".
The warders were at pains to show that the prisoners were healthy and fit, as I think they are still haunted by a South African television documentary in 2007 that showed an emaciated, hungry and frail prisoner being bathed.
In all, I would say we found the remand section quite clean, contrary to the horror tales often peddled.
The cells, one which accommodates between 25 and 30 people, are quite clean with flush toilets and running water inside.
This is unlike police holding cells, which often do not have water and are flushed from outside, where inmates have no control.
The idea of visiting prisons was initially repulsive, but I must say the authorities at Harare Central Remand Prison are doing a sterling job in keeping the place presentable and clean.
Despite the place being well kept, I must say I have no wish to visit ever, either as a touring journalist or, God forbid, as an inmate.
I just cannot stand prisons and high walls. Mutsinze's horror of 15 years in remand
THERE was also Jonathan Mutsinze, a veteran of the remand section, who has been in remand prison for the past 15 years.
He is now conversant with most laws and legal proceedings, as if in testament to how long he has been a guest of the justice system.
Mutsinze was arrested in 1998, when Florence Ziyambi, now a judge, was still a prosecutor and represented the state in the case against him.
Now 65, Mutsinze, with a hint of despair, says he has tried all means to get bail, but so far his efforts have so far drawn a blank. Abandoned by his pro-deo lawyers, Mutsinze has fought a futile battle to be released from remand prison.
He says he has tried to apply for bail using change of circumstances, but the courts are asking for his previous bail number, yet he has never been granted bail.
Now, his only family are the prison wardens and fellow inmates, he said with a tinge of bitterness.
Mutsinze, accused of vehicle theft, says he is a founder and archbishop of an apostolic church and like everyone else he maintained his innocence.
When asked what he told his congregants when he was arrested, he said he had told them he was going to Zambia to start another church there.