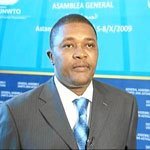 PREPARATIONS for the United Nations World Tourism Organisation (UNWTO) General Assembly in Victoria Falls and Livingstone have now shifted to its policy agenda as stakeholders meet in Tunisia this week.
REPORT BY HAZEL NDEBELE AND DALPHINE TAGWIREYI
The UNWTO 20th General Assembly runs from August 24 to 29 and will be jointly co-hosted by Zimbabwe and Zambia.
A UNWTO commission for Africa 54th meeting and international conference in Tunis this week is set to address current challenges and issues of African tourism ahead of the August meeting, Tourism and Hospitality Industry minister Walter Mzembi said last week.
"I am heading for Tunis next [this] week for the UNWTO Commission for Africa meeting. I will be a panellist and we are going to discuss Africa's agenda for the general assembly," Mzembi said.
"My journey in return marks a shift in our state of preparedness from the tangible infrastructure issues to the intangible software issues of the general assembly."
African countries are still facing challenges to compete internationally, despite the fact that tourism has been identified as an important contribution for economic growth and employment creation in the region.
Some of the major issues to be discussed at the Commission for Africa meeting and conference in Tunisia are visa facilitation and connectivity, financing tourism development in Africa and the role of technology and communications.
Visa facilitation and lack of competitive air connectivity are some of the main challenges that African countries face when it comes to tourism development.
UNWTO forecasts that Africa will in 2020 receive 85 million international tourist arrivals and 134 million in 2030, representing respectively 6,3% and 7,4% of international tourist arrival  at the world wide level.
Zimbabwe's preparations have been held back by infighting in the inclusive government raising fears that the event would be moved away from Victoria Falls. Despite making financial commitments, Zimbabwe has been slow in releasing funds required for preparations.
The country requires US$11,2 million and treasury recently released US$1 million as time runs out for Zimbabwe. Zambia's preparations are financed by a US$20 million purse from the country's treasury.
The UNWTO General Assembly has been equated to tourism's World Cup and has a potential to either make or break Zimbabwe and Zambia.
Analysts say the co-hosts won't get immediate benefits from the UNWTO General Assembly, but are set to capitalise on the spin-offs arising from the successful hosting of the event.