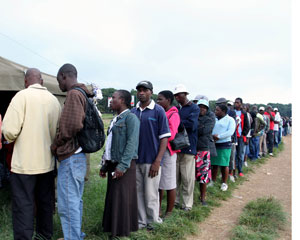 THE gradual lifting of sanctions by the West against some of President Robert Mugabe's inner cabal will not cajole Zanu PF into holding democratic elections, as the former ruling party is determined to win the polls at all costs, analysts have warned.
BY CAIPHAS CHIMHETE
Analysts said the move strengthens Zanu PF ahead of elections, as supporters would see the lifting of sanctions as victory against the European Union (EU) and the US.
In the past few months, the EU has been gradually lifting sanctions on senior Zanu PF officials, accused of gross human rights violations.
But analysts last week said the lifting of sanctions was a "stick and carrot" approach by the West, which would not guarantee a free and fair election.
The Constitutional Court last week ordered Mugabe to proclaim elections dates and have the polls held by July 31 this year. The US recently removed eight Zanu PF officials from the list as part of its "action for action" approach, to acknowledge "progress" in the country since the formation of the inclusive government in 2009.
In March this year, EU suspended sanctions against a list of 91 people after what it termed peaceful, successful and credible referendum on a new Constitution.
The bloc also suspended measures against eight of 10 companies linked to Mugabe and Zanu PF, a party accused of fanning political violence especially towards and during national elections.
Political analyst, Effie Ncube believes Zanu PF will not be moved by the lifting of sanctions, as the party wants power more than it fear sanctions.
Ncube said Mugabe and his cronies fear prosecution for crimes they allegedly committed in the past.
"The lifting of sanctions is a way of encouraging good behaviour but it is not going to work because Mugabe and his people love power more than they fear sanctions," he said. "The economic gains of being in power outweigh the possibility of good behaviour encouraged by the lifting of sanctions."
Zanu PF spokesperson, Rugare Gumbo has on several occasions dismissed the partial lifting of sanction as a "non-event", which the party does not recognise.
The party wants total and unconditional suspension of the sanctions. But Nkomo said Zanu PF officials, especially those removed from the sanctions list, were very happy, although they would not want to publicly express it.
"Obviously, they will dismiss this gesture in public but those that have been removed are very happy about it," said Nkomo.
Ncube said Mugabe and Zanu PF see the lifting of sanctions as a victory against the EU and US adding that it encouraged a sense of political impunity as the restrictions were being removed when nothing had changed on the ground.
Zanu PF, he said, would also use the lifting of sanctions during their campaigns for their political gain.
"They will tell their people that they conquered the EU and America, so who is MDC or any other party to challenge them," said Ncube. MDC-T spokesperson, Douglas Mwonzora said the issue of sanctions was a bilateral matter between the EU and Zanu PF. He said it was up to the bloc to maintain or remove them.
"But the truth on the ground is that Zanu PF is resisting reform and there are well-documented cases of State-sponsored violence especially in Mutoko," said Mwonzora.
Mugabe was forced into a government of national unity (GNU) after he was beaten by MDC-T leader and Prime Minister Morgan Tsvangirai in the 2008 violent presidential elections. Tsvangirai however, failed to garner enough votes to claim the presidency.
Western countries imposed targeted measures on senior Zanu PF officials and various companies over a decade ago, accusing the former ruling party of land grabs and human violations as well as vote rigging.
'ZANU PF NOT WILLING TO MAKE REFORMS'
Political analyst, Dumisani Nkomo said the easing of sanctions by the West was part of its efforts at normalising relations with Mugabe and Zanu PF after a decade of an antagonistic relationship.
He however does not see the EU removing sanctions completely before the elections, as Zanu PF has not been willing to reform the media and security sector, which could be used to Mugabe's advantage during elections.
"I don't see them removing all the people on the sanctions list," said Nkomo. "This lifting of sanctions may not change anything because Zanu PF is not keen on making major reforms as previously agreed."
Related Topics