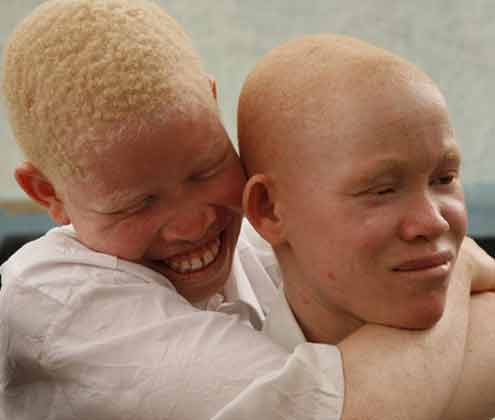 PEOPLE living with albinism have bemoaned lack of sunscreen medication in the country's health institutions including pharmacies, putting their lives in great danger.
BY MOSES CHIBAYA
Zimbabwe Albino Association acting chairperson Richard Nyathi last week appealed to government to help them access sunscreen medication and equipment needed to detect skin problems early at an affordable cost.
"Sunscreen lotions are a problem. They are not available in public pharmacies and that's one of the reasons why we are here," said Nyathi.
"We also need early skin-care detection equipment placed in districts and hospitals in Zimbabwe. Children with albinism usually grow sores and if they are not detected early they develop into skin cancer, but if those sores are identified at an early stage, there is a chance they may live longer."
Speaking at the stakeholder meeting on people living with albinism recently, Nyathi said they were also concerned by lack of awareness about the disease across all sectors of society.
"We expect nurses to give post-natal education —telling mothers on what to do with a child living with albanism, including not allowing the child to play in the sun without any protective clothing," he said.
Nyathi also bemoaned lack of proper statistics of people living with albinism in the country.
"Research has not included people with disability in general, but I must stress that albinism has been left out completely from all the censuses that have been done since 1982," said Nyathi. "They have excluded people with albinism, so there is no definite data." However, other estimates indicate that Zimbabwe has between 14 000 to 17 000 people living with albinism.
Terrance Mapeni, who lives with the condition, said the suncreams were too expensive for most people living with the condition.
He said the affordable ones lacked the "moisturising element", which is an important ingredient that prevents skin damage.
"During summer, l may need four to five tubes, in most cases l have to travel with the tube," said Mapeni. "During winter, l may use two to three tubes."
He said on average each tube costs US$15.
Minister of Health and Child Welfare, Henry Madzorera admitted that there was lack of knowledge on albinism among health professionals in the country.
"We don't know how to relate to these programmes. I think we should strengthen counselling skills in medical schools," he said. "We must make sunscreen services available in public hospitals and pharmacies".
Related Topics