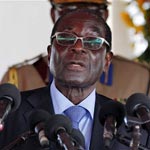 PRESIDENT Robert Mugabe has set up parallel structures to campaign for him as he is suspicious of some of his top lieutenants in Zanu PF, it has emerged.
REPORT BY OUR STAFF
Sources said Mugabe feared that some party bigwigs, positioning themselves to succeed him, could deliberately sabotage him through a protest vote commonly referred to as bhora musango.
An official close to Zanu PF said Mugabe had set up his own "commissariat department" to spearhead his campaign and organise logistics, including distribution of regalia.
"He has roped in the military and intelligence officials to coordinate his campaign," he said. "Very senior military officers have been deployed to each and every district specifically to campaign for Mugabe."
Mugabe in the 2008 elections lost to MDC-T leader, Morgan Tsvangirai in several constituencies where his own Zanu PF MPs had won.  The MPs were blamed for campaigning for themselves while de-campaigning for Mugabe as part of the protest vote. 
The Zanu PF official said this time around, Mugabe had his own budget separate from the party one.
He was using the funds to print his campaign regalia such a t-shirts, caps, as well as posters.
The official said  in the wake of revelations that funds, goods and other things donated to him in the past have been diverted, Mugabe now preferred to be in direct control of his campaign.
"This election is different because the party has no money. It is the individuals who have the money but they do not want to donate directly to the party," he said.
Mugabe gave away his plan when he told a recent central committee meeting that he would secure funding for cars for Zanu PF candidates. He did not reveal where he would get the resources.
There is speculation the cash could be coming from well-wishers in the Democratic Republic of the Congo or from his Chinese friends. Proceeds from the diamond sales which are not going to treasury could also be utilised, The Standard was told.
Another official said as the election draws closer and the political temperature rise, securocrats were openly going to campaign for Zanu PF.
"For them, a lot is at stake and they will begin to show their true colours soon. To them Mugabe has to win by any means necessary," said the official.
The official said spanners were being put along the way for the MDC-T.
"The party will soon find it difficult to penetrate rural areas because of the deployment of the military. Villagers fear to attend MDC-T rallies because they fear being targeted afterwards," the official said.
Zanu PF spokesperson, Rugare Gumbo could not be reached for comment yesterday.
The use of the military to campaign for Mugabe is however set to raise eyebrows. Under the new constitution, securocrats are not supposed to be partisan.
In the June 2008 Presidential election run-off, the military spearheaded Mugabe's re-election bid and was accused to committing widespread violence and intimidation. The MDC-T said over 200 of its supporters were killed in state-sponsored violence.