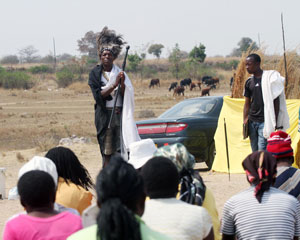 Witch-hunters in Mhundwa area in Seke Communal Lands, who have so far collected over 20 cattle from villagers, are back in business after they were picked up by the police for questioning a fortnight ago.
Report by Phyllis Mbanje
They were released without being charged and it is now business as usual for them.
National police spokesperson, Assistant Commissioner Charity Charamba recently castigated witch-hunting practices and promised to deal with the matter.
"Those practices are not permissible according to the law and we remain vigilant in dealing with such elements in our society," she said.
Charamba said she had instructed the acting officer commanding for Mashonaland East, Assistant Police Commissioner Erasmus Mukodzi, to deal with the matter. However, it now appears to be empty talk as witch-hunting ceremonies are continuing.
One of the "prophets" said they were in actual fact not witch-hunters, but traditional healers.
"We are not witch-hunters as the media is alleging. We are traditional healers who are here upon the request of this community which needs our help," said the leader of the group, who identified himself as Sekuru Simboti.
"I come from Hwedza but I was born here in Seke. We are registered with Zinatha and Zinpa [Zimbabwe National Practitioners Association] and have been doing this for 15 years," he said.
He added that his team consisted of two "prophets", Madzibaba Mugaka and Madzibaba Chigova.
Standardcommunity could not independently verify if they were registered with both Zinatha and Zinpa.
Strangely enough, some villagers last week openly pledged their allegiance to the witch-hunters whom they said were "cleansing" the community of bad elements.
They denied that the witch-hunters were forcing them to part with their livestock, saying they were paying them out of "gratitude".
"We want these men [witch-hunters] to stay here and help us. They have done nothing wrong, instead they have actually helped many of us with our issues," said one villager, who accused the local headman of hiding "something".
Headman Fabius Kandeke and some villagers have been at loggerheads with other villagers over the witch-hunters who have been conducting cleansing ceremonies in the area for the past three weeks.
The headman reported the matter to the police and secured a peace order barring the witch-hunters from conducting the rituals at his homestead.
The witch-hunters had alleged that Kandeke kept a body of a dead child in his refrigerator, a charge he vehemently denied.
"I do not have a dead body in my house and my family is a Christian family. We do not believe in that," he said.
Kandeke said he was aware that the witch-hunters were planning a raid on his home.
When Standardcommunity visited the witch-hunters' base recently, villagers who were gathered there spoke out in unison against the headman.
"We want them to stay on until the whole village has been cleansed. We demand that the headman come here if he has nothing to hide," said a villager.
One of the villagers, one Mai Bettina said: "My child would not sleep at night, and kept crying the whole time. I took her to the clinic and was given medication but to no avail. But after these wonderful people came and carried out a cleansing ceremony, she now sleeps like an angel."