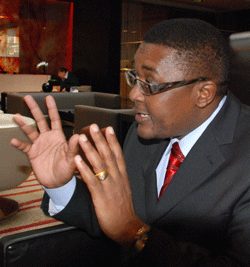 GOVERNMENT is set to extend the duty reprieve for the tourism industry to enable the sector to retool, Tourism and Hospitality Industry minister Walter Mzembi has said.
BY NDAMU SANDU
Speaking to Standardbusiness after the swearing in ceremony of ministers last week, Mzembi said he had spoken to his Finance counterpart Patrick Chinamasa on the extension of the duty exemptions.
"I was just talking to Chinamasa now that Statutory Instruments 124 of 2011 and 199 of 2012 should be extended," he said.
Statutory Instrument 124 of 2011 was related to the importation of duty-free capital goods to be used in hotels and restaurants, as well as boating equipment. It expired on August 31.
Statutory Instrument 199 of 2011 suspended duty on imported motor vehicles by the safari industry. It ran from January 1 to June 30 2013.
The duty exemptions are set to give a lease of life to the tourism sector that is billed to lure meetings and conferences into the country riding on the successful co-hosting of the United Nations World Tourism Organisation (UNWTO) general assembly with Zambia last month.
The general assembly was held in Victoria Falls and Livingstone. In a bid to capitalise on a new conceptcalled Meetings, Incentives, Conference and Exhibitions (Mice), Mzembi said the sector would retain the professional conference organiser for the UNWTO and other service providers to build the base for future meetings.
Speaking on Zimbabwe's chairmanship of the Commission for Africa, an UNWTO body responsible for the growth of tourism on the continent, Mzembi said the post places a heavy responsibility on the country to grow both arrivals and revenue.
Zimbabwe chairmanship of the Commission for Africa runs up to 2015. Africa contributes fewer than 5% to global tourism arrivals and revenue.
"It is my desire that under our chairmanship, we can at least advance to about 8% market share as Africa," he said, adding that the continent has to pursue issues deliberated at the general assembly such as pulling down barriers to boost tourism.
The general assembly mandated Africa to work on accessibility and visa liberalisation. Mzembi said the matters discussed at the general assembly have to be taken to the African Union to amplify the message of pulling down barriers to the growth of tourism.
Mzembi said the tourism industry is set to grow in the second half of riding on the prevailing peace and the successful co-hosting of the general assembly.
In the six months to June, arrivals increased by 12% to 859 993 from 767 393 recorded in the same period last year.