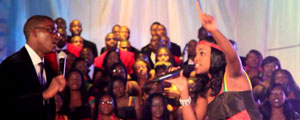 South African gospel musician Lundi Tyamara is expected to headline a gospel concert featuring local artistes like Zim Praise and Mathias Mhere at the Harare Gardens on October 5.
BY OUR STAFF
The talented SA artiste who stole the hearts of Zimbabwean music followers at the turn of the millennium has remained a darling to many local fans, despite courting controversy on many occasions in his homeland.
An exciting feature at the now defunct annual Nguva Yakwana music concert that was spearheaded by the equally-controversial Ivy Kombo, Lundi always mesmerised his fans every time he performed there.
He inspired a lot of local musicians that include Kudzi Nyakudya, who was labelled a copycat in the first days of his career.
Lundi's last performance at the Harare Gardens was in 2010 when he shared the stage with Nigerian musician Uche of the My God is Good fame.
His attempt to perform at the same venue last year hit a brick wall when he was deported on arrival at the Harare International Airport because he had not been cleared by the the National Arts Council of Zimbabwe.
His fans should have been eagerly awaiting his return. Usually, when Lundi performs in the country, hits like Mina Ngithemb' uJesu and Ngiyabonga light up his shows.
However, this time Lundi has to come geared for stiff competition from Mhere and Zim Praise. Mhere has been in top form during his past performances. Besides his hit song Favour, the young musician has been doing well with songs from his upcoming album.
Multi-talented Zim Praise, which is riding high with the song Sungano, is fast-becoming a household name on the gospel music arena. The large group is proving to be Zimbabwe's answer to popular South African gospel ensemble Joyous Celebration.