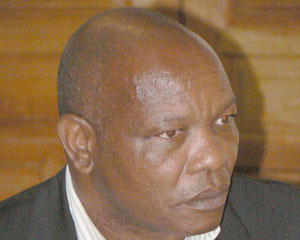 BUYERS from the United Kingdom have skipped next month's travel and tourism fair, dampening the country's efforts to grow tourist arrivals from one of its major source markets.
BY OUR STAFF
Zimbabwe Tourism Authority (ZTA) chief executive, Karikoga Kaseke said of the hosted buyers that had confirmed participation at the Sanganai/Hlanganani, there were no buyers from the UK.
Sanganai/Hlanganani, which is financed by Treasury, is the country's premier travel and tourism fair held annually. It was given national status by government in 2007.
This year's edition runs from October 10 to 12 at the Harare International Conference Centre.
"There are no buyers from the UK but Germany and France have shown interest in Sanganai. Our people are there for a business forum and we hope that after that [meeting] some of the buyers will come," Kaseke said.
Germany and France had three and four confirmed buyers respectively.
According to statistics from ZTA, arrivals from Europe recorded a 26% growth with United Kingdom (72%) and France (76%) being the star performers from this region.
However, the major markets of Germany and Italy registered a decline, without which they could have otherwise fuelled further growth of European arrivals to Zimbabwe.
Kaseke said of the hosted buyers, 120 had confirmed participation out of the targeted 150.
Hosted buyers are those ZTA pays accommodation for on a bed and breakfast basis.
Kaseke said only five buyers from America have confirmed participation.
He said some buyers have shown interest in the fair but raised concern over the air ticket costs.
Kaseke said ZTA would have to bite the bullet and pay for the tickets.
In the first half of the year, arrivals from the Americas declined by 3% to 23 764, from 24 462 in 2012 on the background of a 6% decline in US arrivals.
Zimbabwe expects a growth in tourist arrivals this year on the back of a stable political environment and the successful co-hosting of the 20th session of the United Nations World Tourism Organisation (UNWTO) general assembly.
The tourism industry has the quickest turnaround ahead of other sectors, such as agriculture and mining.
Experts say with continued peace and stability, the tourism sector would contribute 15% to the Gross Domestic Product (GDP) by 2015 and employ one in every 12 persons in Zimbabwe.
However, the industry is the first to get affected by the knock- on effects of an unstable political environment.
After the 2008 disputed Presidential election runoff, traditional source markets imposed travel warnings on its citizens intending to travel to Zimbabwe.