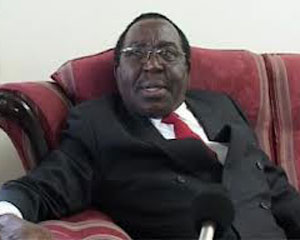 Senior Zanu PF officials, who were formerly Zapu, have cleared the way for the party's national chairman, Simon Khaya-Moyo to assume the post of second Vice-President without the need to go for a special congress, it has emerged.
BY PATRICE MAKOVA
The position of second VP is traditionally reserved for former Zapu members in accordance with the 1987 Unity Accord between the party and Zanu PF.
It became vacant in January this year with the death of VP John Nkomo.
Sources said central committee, politburo members and other senior Zanu PF officials, who used to be Zapu before the Unity Accord, met in the Midlands last week, where they finally settled for Khaya-Moyo as Nkomo's successor.
They came from all over the country, but the meeting was dominated by those hailing from Matabeleland, the sources said.
A senior Zanu PF official from Matabeleland who attended the meeting said Kaya-Moyo, whose chances were buoyed by his securing a Zanu PF victory in Matabeleland South, shrugged off a potential challenge from the likes of Home Affairs minister, Kembo Mohadi and Deputy Senate President Aniston Ndlovu.
"The matter did not go to a vote because it was apparent that Kaya-Moyo will easily romp to victory had we gone ahead with an election," he said.
Another official said the candidate for VP had to be agreed first as it was not automatic that Kaya-Moyo had to assume it.
The official said Mugabe was likely to be informed of the decision made by the former Zapu cadres this week before making his final decision together with other members of the presidium.
"What this means is that if all goes well, [Kaya-]Moyo will be Vice President of the party and country before the end of the year," the official said.
The Zanu PF officials said battle lines would now be drawn in the fight to succeed Kaya-Moyo as national chairman.
Zanu PF national secretary, Didymus Mutasa is said to be eyeing the position.
But the former Zapu members were said to be pushing for the likes of Naison Ndlovu, Mohadi or former Matabeleland South governor, Angeline Maluku to succeed Khaya-Moyo as national chairman.
Khaya-Moyo yesterday professed ignorance about the meeting and its resolution to push him up.
"I don't know anything about that," he said.
Another senior Politburo member, Sikhanyiso Ndlovu initially said he had no comment before saying he also knew nothing about the meeting.
Zanu PF spokesperson, Rugare Gumbo said it was only Mugabe who could make a comment on such an issue.
Mugabe recently appointed Khaya-Moyo as senior minister without any specific portfolio; a move which analysts said paved the way for his promotion.
The sources said Khaya-Moyo's ascendency would all but bury Justice minister, Emmerson Mnangagwa's chances of succeeding Mugabe.
They said considering that the Presidium would comprise officials linked to Vice President Joice Mujuru, Mnangagwa's chances of manoeuvring to the highest office were now slim.
"He (Mnangagwa) seems to have resigned to fate after the recent cabinet appointments. But I will not rule him out completely, because the man is a strategist and schemer," said another senior Zanu PF official.
Mujuru is considered the front runner in the battle to succeed 89-year old Mugabe. Both Mujuru and Mnangagwa have openly refuted claims of harbouring presidential ambitions or leading factions in Zanu PF.