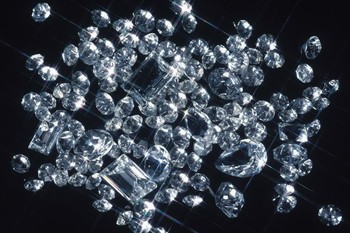 ZIMBABWE has potential to generate over US$8 billion and create over 200 000 jobs annually, if the government introduces the concept of mineral beneficiation which would allow a percentage of its rough diamonds to be cut and polished locally, a local research organisation has said.
BY PHYLLIS MBANJE
Centre for Natural Resource Governance (CNRG), in a report, A Case of Zimbabwean Diamonds said since the inception of commercial mining activities in Marange in 2009, the country has been "literally" exporting jobs through the export of rough diamonds, which would then be cut and polished elsewhere.
It said exportation of minerals without value addition has seen the country, which is among the top five countries in diamond production, losing out on the immense benefit of minerals beneficiation.
With unemployment soaring at over 90%, the organisation challenged government to seriously adopt value addition and reduce exportation of rough diamonds. "Fledging local cutting and polishing industries are frustrated, especially following the introduction of the exorbitant mining licences of US$50 000," said CNRG in the report.
In May this year, the government increased licensing fees from US$20 000 to US$100 000 before reducing them to US$50 000, following an outcry from local industry players. Only six out of 29 companies managed to reapply while others were delisted.
"The sector is framed in a manner that does not encourage the active participation of local players," CNRG said.
Zimbabwe produced 12 million carats of rough diamonds valued at US$ 644 033 522,30 last year, but failed to generate significant revenue or create jobs as almost all its diamonds were exported in the rough state.
There has been insignificant beneficiation of diamonds carried out within Zimbabwe, which includes cutting and polishing and jewellery manufacturing. Of the six stages of the diamond supply chain namely, exploration, mining, sorting, cutting, polishing and jewellery manufacturing, only the first three occur in Zimbabwe.
In May this year, the chairman of the Diamond Beneficiation Association of Zimbabwe, Richard Mvududu appeared before the Parliamentary Portfolio Committee on Mines and Energy complaining about the lack of skilled diamond cutters and polishers in the country.
Last week, former Prime Minister Morgan Tsvangirai also commented about the need for value addition of local minerals.
Presenting a speech at Oxford University in the UK, Tsvangirai said beneficiation of diamonds would reduce unemployment.
"There is need for beneficiation and value addition for our diamonds in order to create more revenue, build industry and create jobs in Zimbabwe. This would assist in reducing the high unemployment levels currently pegged at almost 90%," he said.
Tsvangirai however bemoaned the lack of transparency in the diamond mining industry, which he said had resulted in serious leakages and failure to remit satisfactory revenues to the State.