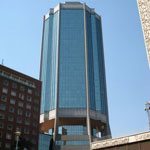 THE Reserve Bank of Zimbabwe (RBZ) has directed mobile payment system operators that want to enter into exclusive arrangements with agents to seek permission as the central bank moves to end the "mobile war" between telecommunications players.
BY OUR STAFF
RBZ National Payment Systems senior executive, Josephat Mutepfa issued a directive on Friday that operators will now have to justify why such an exclusive agreement was necessary.
This comes at a time when some mobile payment system operators are entering into agreements with agents on terms of which the agent is prohibited from acting for any other mobile payment system operator.
Competition in the mobile financial transaction arena has intensified as service providers strive to earn more from subscribers sending and receiving money.
Econet already runs EcoCash while NetOne operates One-Wallet and Telecel runs Telecash.
It is understood that agents providing EcoCash, which is widely accessible throughout the country, are precluded from providing mobile money services provided by other service providers, as exclusivity agreements are cited.
The central bank last week said exclusivity agreements or covenants are likely to have an adverse effect on competition and may be detrimental to the smooth operation of payment systems in Zimbabwe.
"Exclusivity agreements will consequently hamper the Reserve Bank's efforts of promoting financial inclusion and the expansion of financial services in the economy," Mutepfa said.
Mutepfa said where a payment system provider want to enter into exclusive arrangements with an agent, the payment system provider shall apply to the central bank justifying why such an agreement was necessary.
The central bank which would then consider such an application, may approve or dismiss the application or may give an appropriate direction.
"An agent may offer services to multiple payment system providers, provided that the agent has separate contracts for the provision of such services with each institution and the agent has the capacity to manage the transactions for the different payment system providers," the directive reads.
It was also directed that where an agent provides services for more than one payment system provider, such an agent may enter into a confidentiality agreement with each of the payment system providers for whom the agent will act.
"Any payment system provider seeking to contract an agent which has already been contracted by another payment system provider to carry out agency services shall assess the capacity of the agent to manage transactions for different payment system providers," the RBZ decreed.