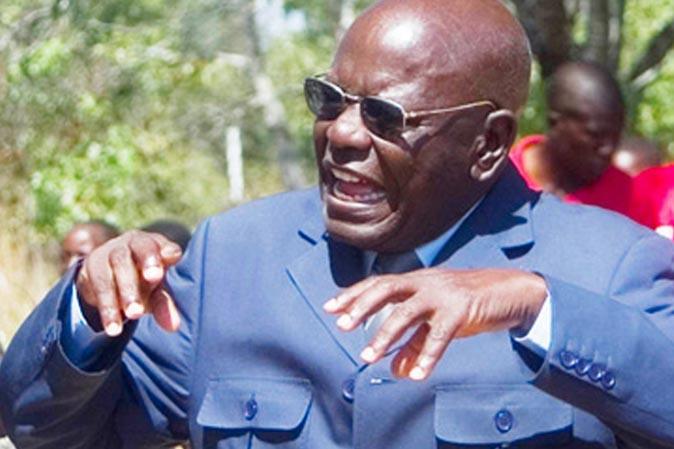 ZANU PF secretary for administration and Presidential Affairs minister, Didymus Mutasa has said some officials in the ruling Zanu PF party wished him dead during his recent illness.
BY CLAYTON MASEKESA
Mutasa also said Zanu PF officials trying to torpedo Vice-President Joice Mujuru in the race to succeed President Robert Mugabe were literally day-dreaming. Mutasa, currently the fourth most senior person in Zanu (PF) after Mugabe, Mujuru and party national chairman Simon Khaya Moyo, said he is now as "fit as a fiddle" and ready to steer party programmes.
In an interview on the sidelines of the Manicaland Women's League inter-district conference at Marymount Teachers' College last week, Mutasa confirmed that he recently flew to India for treatment after getting unwell.
Mutasa said while some of his colleagues in Zanu PF had wished him dead during the time of his illness, he has since fully recovered.
"I know there are some people who have taken interest on my illness. There are others that were actually looking forward to my death," said the veteran politician. "Is my illness all that very important?
"I was not around because I was not feeling well. I went to India and received treatment. I am back and in good health. Nyathi is alive and lively." Nyathi is Mutasa's totem.
Mutasa could however not disclose the nature of his recent ailment which forced him to fly to India for treatment. He also did not disclose those in Zanu PF who wished him dead. But it is believed he was referring to his opponents who belong to a rival faction in Zanu PF.
Mutasa is considered the Zanu PF "godfather" in Manicaland and is linked to a faction said to be loyal to Mujuru.
The faction is allegedly fighting another one linked to Justice minister, Emmerson Mnangagwa in the battle to succeed 90-year-old Mugabe. Both Mujuru and Mnangagwa have repeatedly refuted leading any factions in the party or habouring presidential ambitions.
'Mujuru will succeed Mugabe'
In his address to the Women's League conference, Zanu PF secretary for administration and Presidential Affairs minister, Didymus Mutasa urged delegates to take party business seriously and abide by the party's constitution.
He said Zanu PF's constitution was clear in that President Robert Mugabe was the leader of the party with Joice Mujuru as his deputy.
"Those harbouring succession thoughts ahead of Mai Mujuru are day-dreamers," Mutasa declared.
"I do not know why some few people are against Mai Mujuru. She never imposed herself. She was elected into her current position in 2004 at our congress. This was according to the provisions of the constitution and we should respect our constitution."
He said officials who were already positioning themselves as Mugabe's successors other than Mujuru were doing that out of "madness".
"There are some people who now want to take President Mugabe's position. The President is still alive and I do not know why some people are now talking of succeeding him," said Mutasa. "May I remind them that our constitution says if the President decides to retire or otherwise, the second in command takes over. In this case, it is Mai Mujuru."
He claimed that some party officials were now holding secret meetings plotting ways of overtaking Mujuru.
"Let us have unity of purpose by working together. We don't want to hear of leadership change agenda because that will only happen at congress. Those that are talking about it are causing factions and disunity. What I know is that in the history of Zanu-PF we have always supported a leader chosen at congress," Mutasa said.
He said leaders were chosen at congress and it was the tradition of the party that party members must rally behind that chosen leader.