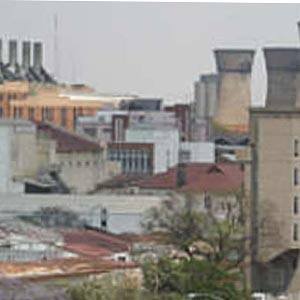 In a fortnight, it will be one year to the day Zanu PF claimed a two-thirds majority in elections.
BY MOSES MATENGA
This time last year, President Robert Mugabe and his party were in a definite hurry for elections, their excuse being that the MDC formations were a hindrance to their "brilliant" economic turnaround strategies and planned empowerment of the black majority.
But one year after the elections and a Zanu PF landslide victory, promises for the jobs, empowerment and an improvement in civil servants' working conditions have not materialised, painting a classic case of a failed government.
Things are getting worse and the rulers of this country clearly do not know what to do.
MPs are not being paid — leading to some of them going to China using tickets for the disabled in a bid to make a saving. Those MPs who served in the 7th session of Parliament are still owed between US$10 000 and US$20 000 each and some have been reduced to beggars.
Companies are closing down every week, with recent statistics from the Zimbabwe Congress of Trade Unions (ZCTU) placing the number of workers laid off every week at about 300.
Bulawayo, Zimbabwe's traditional economic hub has been reduced to an industrial cemetery.
Formal employment has become virtually nonexistent. Statistics say there is above 80% unemployment rate in Zimbabwe. The manufacturing sector too is dead, with the country experiencing over US$1,5 billion trade deficit in the first half of 2014.
Most Zimbabweans are living on US$1 a day. Workers are perpetually a salary away from poverty and government is struggling to finance recurrent expenditure like civil servants salaries.
Even the ruling Zanu PF government has admitted the economy is in shambles and needs more than 40 years to recover.
From the words of the Zanu PF leadership, the Zimbabwean government is facing a myriad of challenges and its failure to arrest the economic free-fall has been a great cause for concern.
The national crisis, according to Harare Mayor Bernard Manyenyeni, has cascaded to local authorities that are finding the going tough.
"We have a crisis from the 2013 write off. Those who benefitted are saying it happened and it will happen again, so why pay while those who did not benefit are saying we paid but did not benefit the last time so why pay now. It's the mindset that needs to be changed," he said.
"We must realise that Harare does not operate in a vacuum and until the national problems are addressed, we are bound to have these problems," Manyenyeni said.
Many workers in the city have not been paid for the past three months and morale is at its all-time low, especially in Chitungwiza, workers have gone for 13 months without pay.
How can Zimbabwe get out of the crisis?
MDC-T leader Morgan Tsvangirai thinks that Zanu PF's Robert Mugabe should admit failure and call for talks with all progressive forces in politics, economy, student unions and civic society for dialogue.
"Zanu PF is failing to address the problems one year after elections. In 2008, it was a crisis and you engaged. It is difficult now even to get a dollar. Concede that you have failed unless you are cruel and want to see people suffer," Tsvangirai recently said.
He said he would not force Mugabe to the negotiating table but time would come when Mugabe would have to face it.
Tsvangirai also said in his reflection of the last 12 months that the situation on the ground was dispiriting.
He described the pre-election period last year as pregnant with hopes for change, determination for a cross-over to a new country with new opportunities under a new dispensation.
"Now it has been 11 months since the election on July 31 2013 and the swearing in of the current government of Zimbabwe; but the situation in the country is dispiriting," Tsvangirai said.
"The ordinary people of this country are simply failing to cope with life in the current socio-economic circumstances that are upon us. I spoke to pensioners that have found themselves pauperised, disenfranchised and smothered by the debilitating economic policies and unmitigated mismanagement by the Mugabe government."
"I saw parents struggling to pay for their children's school fees and health-care; men and women emasculated by Zanu PF's failing policies and company closures.
"I saw previously employed citizens and those seeking work who now cannot sustain a meaningful life, including university graduates vending airtime vouchers and anything else that can be sold," he added.
"Indeed, the nation has become one big mall, a huge 'Siyaso' market with everyone trying to sell something to someone just to make ends meet," Tsvangirai said.
MDC youths think that the only solution is to hold demonstrations. They have threatened to take to the streets, declaring July the month of mass action until Mugabe departs State House.
July is almost halfway but it seems fear has gotten the better of them and now they have withdrawn into their shells.
Meanwhile Mugabe's camp seems to be clueless. They are begging for Zimbabweans to endure while they take maybe 40 years as said by Vice President Joice Mujuru to realise fruits of their economic blue-print Zimbabwe Agenda for Sustainable Socio-Economic Transformation (ZimAsset).
Analyst Alexander Rusero is of the view that Zanu PF should realise it is the only party in government now and should act.
"Zanu PF needs to be pragmatic and realise it's the party in charge and the revival of the economy is a matter of concern to the party. They should convert their victory into tangible results. We are now convinced that winning elections is one thing while winning the economy is another," Rusero said.
"They should know that their role now is not to attack the MDC or the West but to deal effectively with corruption, salarygate and the economy," Rusero said.
Finance minister Patrick Chinamasa recently painted a gloomy picture of prospects to economic recovery and from the start to the end of his speech during the launch of a news agency called The Source; he painted the picture of a country in crisis.
Mujuru also seems clueless although consistent in urging Zimbabweans to be patient as Zim Asset will take longer than expected.
Her recent plea for patience was made at the National Heroes Acre where she said the economic turnaround would take longer than expected.
Even MPs have conceded that all is not well in the country and their botched Chinese trip was meant to make things better for them.
"It is known that MPs are broke. We are not getting our allowances, we are not getting our coupons and I am sure you have read stories that some of us are borrowing to go to Parliament," Zaka Central MP Paradzai Chakona told The Standard in an interview trying to justify why they went for the trip.
"We went there for business. We wanted to look for cheaper things we could resale and to look for business opportunities," he added.