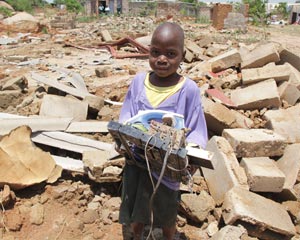 CHITUNGWIZA and Epworth residents who lost their properties in the new wave of demolitions have given heart-rending tales of how they watched as their lifetime investments were pulled down into heaps of rubble.
BY PHILLIP CHIDAVAENZI
Some of the residents were roused in the dead of the night just over a week ago only to watch their houses being demolished.
Desire Mutasi of Unit G is still battling to come to grips with the reality that the savings he sunk into constructing his house are now as good as a pile of rubble.
His family of five was condemned to homelessness on that horror night at a time when they were getting ready to move into their new house after many years as tenants.
Mutasi said losing his home in such circumstances made him look at independence ushered in 1980 in a new light.
"Is this what independence is all about? I was actually happy when I got the stand last year because I could now build a house for my family," said Mutasi.
After purchasing the stand in July 2013, he built a four-roomed cottage and the construction of the main house was now in progress. His shock, however, could not have come in a more dramatic way.
He only realised it while in a commuter omnibus on his way to work as they were passing through his stand. He noticed the structure had been razed to the ground and his well had been filled with sand.
"I phoned my wife and instructed her to go to the stand to check what had happened," Mutasi recalled, "but she told me that she would not go there otherwise she would suffer a stroke and die."
Mutasi is just one of hundreds of people who lost their houses at various stages of construction in Chitungwiza and Epworth as local authorities — with the subtle backing of government — moved to destroy "illegal" houses and structures.
The majority of the people who lost properties in Chitungwiza bought their residential stands through former Ward 25 councillor Frederick Mabamba's housing co-operative. There is suspicion that the move to destroy the structures could have been political.
Mabamba is a former Zanu PF councillor and is alleged to be a land baron. He has however insisted that he purchased all the land he owned in Chitungwiza without cutting corners or greasing palms.
In Epworth, over 100 residents barricaded the local board workers and the police from pulling down their houses in Domboramwari section. Police anti-riot squad was forced to fire warning shots into the air to disperse an angry crowd that was resisting eviction from their homes in the sprawling informal settlement after the Epworth Local Board ordered them out.
The police were called in after a group of about 25 people had reportedly razed several houses to the ground claiming to represent the rightful owners of the residential stands on which the houses were built.
"You want to destroy our homes on the pretext that they are illegal," charged one elderly woman. "But just across the road there are houses that belong to Zanu PF supporters and you don't want to demolish those? No member of Zanu PF will ever build a house here. We are ready to die for our houses."
One of the victims in Chitungwiza, Felix Chisuse of Unit C, said they were surprised that officials from the town council came to destroy the houses at midnight. He said this was an indication that they were acting illegally.
"They first came during the day in pick-up trucks. They should have told us then that they wanted to destroy our houses. But they only returned at midnight when people were asleep," Chisuse said.
He lost a stand that was bought for him by his son last year after the municipality had given them the green light to construct the house.
"We only bought the building materials after the council had given us the necessary documents to confirm that our stand was legal," said Chisuse.
The demolition blitz was code-named Operation Makapiwa Nani Ipapo? (Who gave you those residential stands?).
Mutasi said when they went to the local authority to inquire on the demolitions, they were shuffled from one office to the next.
"One of the officials later said they were not aware of the demolitions and referred us to the police at Makoni Shopping Centre," he said.
"When we went to the police, the officers we spoke to, who declined to give us their names, were in a foul mood and accused us of building houses on illegal stands."
Mutasi said they were referred back to the town council and upon arrival, they learnt that all the key officials had deserted their offices.
Alice Masunda of Unit A, however said the teams that came to demolish the structures told them that they were acting on council instructions.
"Eventually, I approached Mabamba from whom I bought my stand in Unit A for US$5 000 and when I accused him of cheating, he told me that what was happening was political," she said. "He instructed us to stay put on our stands."
Chitungwiza Residents Trust (Chitrest) expressed shock at the dormitory town's demolition of illegal structures in the early hours of the morning after authorities had agreed with the residents' representatives that the structures would be regularised to increase the council's revenue collection base.
Chitungwiza magistrate Marehwanazvo Gofa granted an order favour of residents on April 24 2014. On June 27 2014, the municipality approached the High Court under case number HC5231/14 seeking an order to demolish the so-called "illegal" houses but the High Court is yet to grant the order.
The ruling was made after Local Government minister Ignatious Chombo had given residents a three-week ultimatum to demolish houses built on undesignated sites.
The Harare Metropolitan Residents Forum (HamRef) has since petitioned President Robert Mugabe and Police Commissioner General Augustine Chihuri to exercise their constitutional authority and cause the arrest of officials who authorised the demolitions.
"We will find ways of stopping the illegal demolitions. We will explore these ways if we don't get a favourable response," HamRef co-chairperson Simbarashe Moyo said.
HamRef co-chairperson Israel Mabhoo said: "We need to agree as residents associations on the resolutions to register our anger within the legal channels because constitutionally you can't be removed from your house without alternative accommodation."
The Bill of Rights in Chapter 4 of the new constitution clearly states that citizens have the right to freedom from arbitrary eviction. It defies logic to note that the authorities who have the obligation to protect that right are the ones violating it.