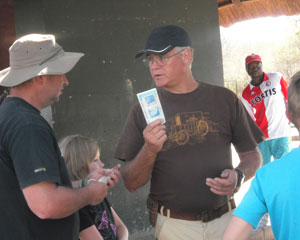 Tourism receipts were down 3% to $827 million in 2014 from the previous year despite an increase in arrivals, a reflection of a decline in expenditure, a new report has shown.
BY NDAMU SANDU
In 2013, the sector recorded receipts of $856 million.
The report, Brief Overview of Tourism Performance in 2014, was conducted by the Zimbabwe Tourism Authority (ZTA) on the state of the sector.
"Tourism receipts recorded a marginal 3% decline from $856 million down to $827 million. This to an extent reflects a slight decline in expenditure especially in the tourism facility by the same proportion," ZTA said.
The decline in receipts comes as the sector projects to be a $5 billion industry by 2020.
Tourist arrivals grew 2,6% in 2014 to 1 880 028 from 1 832 583 in 2013. ZTA said the growth in arrival was 0,7 percentage points below the sub-Sahara growth of 3,3%.
"There was growth in arrivals from all of the country's major source regions except Asia. Zimbabwe still receives 85% of tourist arrivals from low value markets," it said.
It said the discontinuation of direct flights to Harare by the Royal Dutch Airlines (KLM) and Egypt Air "has dealt a blow on Zimbabwean tourism, especially as the country continues to battle with connectivity challenges with its major overseas markets".
Egypt Air and KLM discontinued direct flight to Zimbabwe in September and October respectively on the grounds that the routes had become uneconomic to continue serving.
ZTA said the outbreak of Ebola in West Africa in March last year caused a huge worldwide scare on potential travellers into Africa. It said the outbreak and the publicity it received affected Zimbabwe as overseas travellers see Africa as "one destination".
"Victoria Falls was worst hit by cancellations after the outbreak since Victoria Falls is an add-on destination combined with other countries, such as South Africa, Kenya, Botswana, Zambia and Namibia," it said.
Last year 15 buyers from Botswana withdrew from participating at the Sanganai/Hlanganani-World Tourism Expo while the African Marketing Summit that was scheduled to have been held in October the same year was also postponed over Ebola fears.
The fears came after government said it had no capacity to conduct tests to detect the deadly Ebola virus with officials in the Health and Child Care ministry saying specimens from suspected cases would be referred to South African laboratories for verification.
The World Health Organisation says over 10 000 have died in West Africa since the outbreak of the virus in March last year.
National average occupancy level was flat on 48% last year.
The average room occupancy levels for Harare rose to 59% from 52% in 2013. In Bulawayo the room occupancy fell to 44% from 52%. In Victoria Falls room occupancy also fell to 49% from 53% in 2013.
ZTA said last year's Sadc conference saw occupancy rates in Victoria Falls rising to 80% compared to 57% in August 2013.
ZTA said Ebenezer & Jehovah's Witnesses Conventions had pulled in a number of tourists.
"The two events had significant impact on the tourism economy of the capital city, with major hotels in Harare attaining 100% occupancy level from 20 to 26 August, 2014," it said.