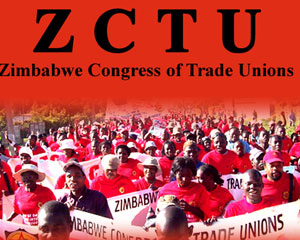 Police in Harare yesterday blocked a Zimbabwe Congress of Trade Unions (ZCTU)-led demonstration against continued job losses.
By Obey Manayiti
Police sealed the meeting point at the corner of Harare Street and Jason Moyo Avenue and briefly detained the organisers of the demo and journalists who had gone to cover the demonstration.
Scores of people had gathered near ZCTU offices in the morning to prepare for the march when truckloads of police details arrived to break the gathering.
"Police came to our offices and demanded that everyone disperse. By that time people were still trooping in," said ZCTU secretary general Japhet Moyo. The demonstration had not even started but they picked us [ZCTU leadership] up and dropped us at different places out of town. They then sealed our offices, threatening people against taking part in the demonstration.
"I was dropped off in Mbare and our president [George Nkiwane] at Mupedzanhamo Market," said Moyo. The demonstration was meant to force government to act to stop job losses triggered by a Supreme Court ruling mid last month that gave companies the right to terminate workers' contracts on notice and without benefits. Nearly 20 000 people have since lost their jobs as employers capitalise on the ruling. Parastatals have also joined the bandwagon, throwing out hundreds of workers onto the streets.
Secretary General of the Progressive Teachers Union of Zimbabwe (PTUZ), Raymond Majongwe told journalists that he was nearly abducted by a team of unknown people driving in a Toyota Raum vehicle as the demonstrations began. He said having failed to force him into the vehicle, the men assaulted him.
"At first police took me into their vehicle and drove me to Seventh Street where they dropped near the Toyota Raum with three occupants. I immediately sensed danger and that I could be abducted so when the men approached me ordering me to get into their vehicle I refused," Majongwe said.
Going back to the issue of the demonstration Majongwe said: "The most important thing is that we are not fighting government but actually assisting President Mugabe who said he doesn't agree with this law. If we are supporting President Mugabe then what crime have we committed?
"The leaders (of the demonstrations) were taken and thrown all over Harare but that is not a solution. Government must know that they are creating a time bomb. We have 2018 that is coming and several issues that must be addressed.
Majongwe said police were acting as if Zimbabwe was in a state of war.
"It's not like we are in Boko Haram territory. This is Zimbabwe where people fought (for independence) but the liberators are becoming the oppressors and they are sending young police officers who are too young to be doing anything like this.
"They are also victims tomorrow because they are going to lose their jobs too. This country does not afford 70 000 police officers who graduated after six weeks of running," said Majongwe.
At intervals, some of the baton stick wielding police who appeared disinterested and watched the scene from a distance were overheard by journalists asking themselves why they were chasing the demonstrators away. When pockets of resistance continued to emerge from various corners singing and waving placards the police reinforced their deployment.
Meanwhile the Congress of Zimbabwe Trade Union (CZTU) and the Zimbabwe Congress of Zimbabwe Trade Unions (ZCTU) roundly condemned the police heavy handedness.
"As has come to be expected, the overzealous fascist state security agency came out in full force and suppressed our gathering with truckloads of anti-riot police, plain clothed intelligence personnel and armored crowd dispersal water cannons," said CZTU in a statement.
ZCTU's Moyo said demonstrations went ahead in other centres except for Chinhoyi where the protest march was deferred because of the ongoing Agricultural Show.
He said police only wrote to them on Friday night advising them of the cancelation of demonstrations in Harare mainly for two reasons; that a lot of people would participate and police will fail to control them as well as the suspicion that the march was allegedly going to be hijacked by other political opportunists. The police banned the demonstration on Friday at around 6pm.
Meanwhile reports from elsewhere around the country said the demonstration was poorly attended with Gweru said to have attracted less than 100 people while in Mutare the figure was put at slightly over 100.
Related Topics