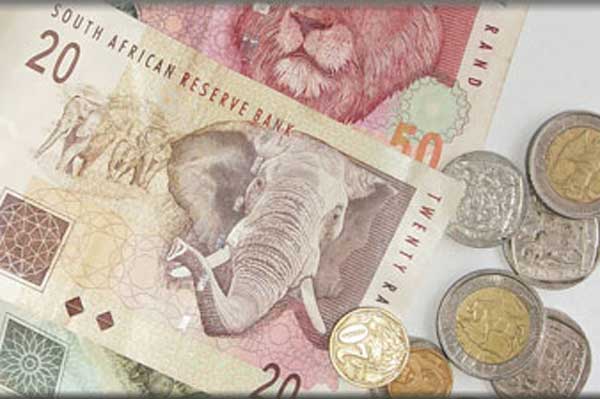 The South African rand is being elbowed out of the market on the backdrop of its depreciation against the United States dollar.
BY TATIRA ZWINOIRA
The rand is part of the multicurrency regime embraced by government in 2009 to stem hyperinflation.
Other currencies in the basket include the Botswana pula, British pound and United States dollar.
Until the advent of bond coins in December last year, the rand coins had been in use to help with change.
But over the past weeks, retailers, consumers, transport operators and vendors have shunned the rand due to its loss of value seen as eating into profits and increasing the cost of doing business.
One dollar is being exchanged for between R13 and R14.
National Union Transport Workers' of Zimbabwe president Noah Gwande said the cost of running a vehicle, buying fuel and returning money to owners has to be maintained in United States dollars.
"Fuel operators are not accepting rands at all — coins or notes — because they procure fuel in dollars. So when you pay for your fuel in rands, the danger is that when they go and refuel the rand would have lost its value," Gwande said.
"The cost of running the vehicle has to be maintained in United States dollars. In northern provinces, most goods are priced in dollars and for that reason, if one is to buy goods using rands one will end up spending more."
He said another factor was that on average, public transporters expected a net income of $70 per day. The money to pay commission and police at roadblocks must come from any surplus figure on top of that amount, which is non-negotiable.
Gwande said there "are fewer bond coins circulating on the formal market" which are only found in the informal market.
A vendor at 4th Street bus terminus in Harare told Standardbusiness that they were buying goods for resale in shops that did not accept the rand.
"Wholesalers and retailers are refusing both rand coins or notes, which is why we are not accepting the rand," said the vendor who is referred to as "Manager" by colleagues.
Another vendor said they bought their wares from Mohammed Mussa Wholesalers and Meikles Mega Market wholesale and retail chains who did not accept the rand.
Confederation of Zimbabwe Retailers' president Denford Mutashu said his body had received complaints from consumers when retailers refused to accept the rand.
"We have received many complaints from the public concerning the refusal by certain retailers to accept the South African rand. It is against the law for retailers to refuse the rand because it is legal tender despite the fall against the United States dollar," Mutashu said.
"The situation from the retailers' perspective is that it has become so difficult to raise the rand against the exchange rate. The retailers are complaining that if you collect more of the rand, it increases transaction time and it is costly to take to the bank."
Consumer Council of Zimbabwe executive director Rosemary Siyachitema said consumers were bearing the brunt as a result of the chaos.
"It is so unfortunate that the bearer of this crisis is the consumer. We are taking a lot of heat from the retailers and other institutions and it is not right to treat consumers in that way yet they are the ones they are after," Siyachitema said.
"We took a lot of the rand coins as change and they should accept. we do not expect refusals. People are calling for more bond coins and we need to find a way forward."
Mutashu said bond coins in circulation were less than 2% of the money in circulation "but other countries have a circulation of between 12% and 25% as coins which I urge the central bank to follow".
The depreciation of the South African rand has made local exports uncompetitive.
South Africa is Zimbabwe's largest trading partner. In the first half of the year, 68% of Zimbabwe's exports were to South Africa. Imports from South Africa constituted 40%.
Monthly broad money supply growth declined by 0,02% from $4,474 billion in July to $4, 473 billion in August 2015, according to latest figures from the central bank.
The economy's demand for lower denominations is estimated at as much as $447 million, based on official money supply statistics.
Already, Zimbabwe has $20 million worth of bond coins in circulation.