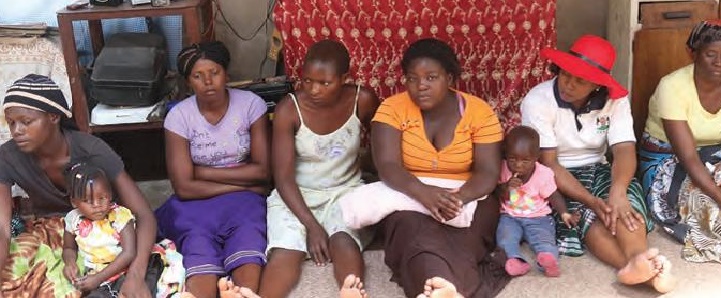 Two Zanu PF district officials in Chitungwiza were yesterday axed to death as the party's factional wars escalate ahead of the annual conference to be held next month.
BY OBEY MANAYITI
The two party activists were killed in gruesome bloody scenes by their colleague, reportedly after a misunderstanding over a recent district restructuring exercise in the area.
The incident, which has left Chitungwiza residents shellshocked, took place yesterday morning at Manyame Park in St Mary's high-density suburb. Party insiders said the assailant and his victims were Zanu PF officials who were divided along factional lines.
Proud Mupambwa, the vicechairman for Zanu PF's Ward 4B is now in police custody facing charges of murdering Lloyd Jamawo and Marko Masenda who were also the party's local district executive members.
National police spokesperson, Chief Superintendent Paul Nyati confirmed the incident yesterday.
He said Mupambwa (30), arrived at House Number 3655 Manyame Park, which is owned by Elphas Chawira intending to collect his friend Abraham Chawira to go with him for a party meeting.Nyathi said Jambawu (31) and Masenda (37), arrived at Chawira's house while the accused was chopping firewood. Mupambwa suddenly turned the axe on the two, killing both of them.
"Suddenly, and without warning, the accused charged towards Jambawu and struck him once on the head while Masenda took to his heels," Nyati said in a statement issued yesterday.
"The accused pursued Masenda and caught up with him a few metres away and also struck him twice on the head. Both victims died on the spot and their bodies were taken to Chitungwiza General Hospital for post-mortem."
Zanu PF Harare provincial spokesperson Abicia Ushewokunze confirmed the trio held positions in the party.
"We heard there was a fall-out last night [Friday] at a shebeen and the issue rolled out in the morning. This is just a social issue and trying to link restructuring and political violence on this will be untrue," he said.
But insiders and eyewitnesses old The Standard that the killing was linked to Zanu PF internal fights.
They said Mupambwa went to Chiwara's house to iron his clothes in preparation for a party meeting and he later chopped firewood to warm water.
The owner of the house where the murder took place, Elphas Chawira, was also axed on the shoulder but survived with an injury.
Chawira's wife, Taurai Bhiza related to The Standard what happened.
"Mupambwa came to our house intending to iron his clothes. He later took an axe to cut some firewood in order to warm bathing water. It was at that time that two other party youth officials who are now late arrived. He suddenly turned the axe on them. We are still in shock.
"After killing these two he went on to attack my husband who was on his way to Manyame Drive where he is in the business of mending shoes. He was speaking on his phone when he was attacked," said Bhiza.
Mupambwa is alleged to have told his wife that he intended to kill five people or take his own life.
Emilia Chawira, who said she witnessed the gruesome murders said: "I was washing dishes when I came near the three to throw away some garbage. As I was talking to Jamawo, Mupambwa suddenly struck him with an axe on the head. I ran into the house screaming to alert people. As we rushed back to the scene together with other people, we saw Mupambwa attacking his second victim, Masenda."
Colleta Nyamazara, who also lives at the house where the murder took place, said the family runs a shebeen but the misunderstanding between Mupambwa and his two victims was clearly political and had to do with Zanu PF's Manyame youth executive positions.
"We gathered that the accused was not happy with his elected position of vice-chair. We were told he wanted to be the chairman, which position he lost during the restructuring exercise last week. We thought the matter was over, only to see him venting his anger on other officials. The painful thing is that it happened at my gate. My house is now cursed and I don't know how I will overcome this," Nyamazara said in tears.
Other witnesses and local residents gave differing versions, but most linked the murder to Zanu PF factionalism. They said the ruling party should encourage tolerance and avoid resolving differences through violence.
"We hear that the differences started last week Thursday with some party officials grumbling over the management of youth funds. Maybe they were trying to sideline each other and the issue might have been eating Mupambwa inside. I totally abhor his reaction. It was uncalled for," Phinias Sithole, a neighbour said.
"It's so painful and political parties should learn to live peacefully, whatever the nature of the quarrels.
Already, two lives have been lost. What kind of lessons do we draw from such people?" he asked.
Masenda's wife, Melody Denga (22) was at a loss for words, saying life will never be the same again without her husband. She has been left with a two-year-old daughter.
"My husband left in the morning for a Zanu PF meeting. He never said anything concerning differences with others in their executive and everything seemed normal. I was speechless when I heard that he had been murdered. Whatever the motivation of the aggressor, life will not be easy for me and I don't know how I will be able to accept this," she said.
Jambawo's relatives, including his mother, wept uncontrollably.