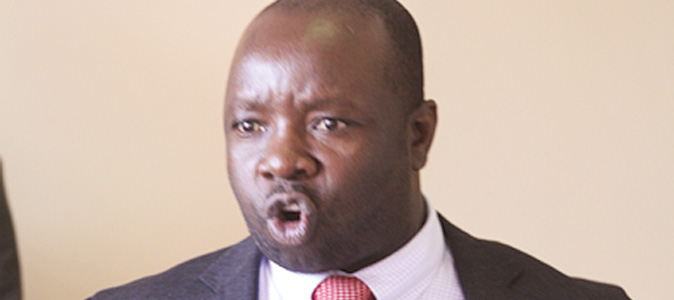 For five years, Harare lawyer Charles Warara had to endure threats of million dollar lawsuits, arrest for alleged rape and the might of powerful State institutions as he battled to obtain justice for an 11-year-old girl allegedly raped at gunpoint by an influential Zanu PF politician.
BY CHARLES LAITON
Initially, Warara says he did not anticipate what lay ahead after the girl's guardian, Francis Maramwidze, sought his services to follow up the rape case against then Reserve Bank of Zimbabwe advisor Munyaradzi Kereke that was being handled by the police.
Kereke, now Zanu PF's Bikita West MP, was accused of raping the hapless girl at gunpoint while she was under his custody and the case was first exposed by The Standard in 2010.
Dockets mysteriously disappeared at Harare police stations and when the case was eventually handed to the Attorney General's office, the then head of the institution, Johannes Tomana refused to prosecute.
Kereke managed to evade the courts, but the girl's relatives, through Warara, would not be deterred — fighting tooth and nail, even when Tomana made it clear he would never allow the legislator to stand trial.
However, tables were turned last month when the Constitutional Court (ConCourt) convicted Tomana of contempt of court for refusing to give Maramwidze a certificate for Kereke's private prosecution.
The ConCourt last week rejected an appeal by Kereke seeking to delay his prosecution on the rape charges, in a major milestone for the country's justice system.
Warara said the victory had come at a huge cost for himself and the victim's family.
"It will be sufficient to state here that as a matter that is sub-judice I will not disclose much. However, you all may be aware that I got involved in this matter for the first time on 16 December 2010," he said last week as he reflected on his arduous search for justice.
"It now has been running for five years. One can write a book from the letters and the documents that have been exchanged between my office and the various lawyers who have acted in these numerous splinter cases that all were born out of the letters and court papers written to the police and the then Attorney General."
He said they did not understand why police and the AG's office were determined to treat Kereke's case differently. "The letters are now a matter of public record," Warara says.
"In all, we were demanding to know why this rape case has been treated differently.
"What obviously incensed my client [Maramwidze] about the conduct of the case was the secretive manner in which it was sought to be 'killed'.
"My client was not even advised officially until we had filed papers in court that the then AG had declined to prosecute the matter."
Warara said on December 17 2010, he dispatched his first letter to the police demanding to know why Kereke had not been arrested four months after the case was reported.
He said it struck him as unusual in a rape case that an accused person would not be arrested and that police could not update the complainants on the investigations for four months.
"At this point, I advised my client not to leave matters any more in the hands of the police because there was clearly a breach of the police Charter which required the police to act in a certain way," the lawyer added.
"Even more surprising was the conduct of the investigating officer who took long to respond to the letters sent to him.
"What started off as a letter to the police, unknown to me, would wind up being a battle in the courts involving some of the best legal brains in Zimbabwe.
"My letter of 17 December 2010 to the Borrowdale police was ignored and I wrote yet another letter on 13 January 2011. On 18 January 2011, I received the first reply from the police."
Warara said police, in their response, said they were investigating the matter and would forward the docket to the then AG's office.
But nothing happened until he wrote another letter on February 14, 2011 when he was advised the docket was now with the AG's office.
Unsurprisingly, there was a deafening silence from the AG's office until around December 2011 when Warara decided to make a follow-up.
"It was obviously strange to me that since February 2011 there was no movement on the matter and even worrying was the fact that neither the police nor the AG had stated why the matter had just died a natural death for almost a year since its referral to the AG," Warara said.
"My client was naturally getting worried and wanted a clear response from Tomana. None came, notwithstanding three letters addressed to that, otherwise esteemed office.
"Then came the bombshell. The docket was no longer with the AG, having been returned to the station which dealt with the matter in 2011, no date was given.
"This was now July 2012 and possibly a year had already gone without efforts to advise me of the status or movement of the matter."
At that stage, all hope appeared lost that the traumatised girl would ever receive any justice.
"We were now at tipping point.  We had to then get the police to tell us the outcome of Tomana's perusal of the docket," he added.
"That never came despite physical visits to get first-hand explanations. It was so frustrating that none disclosure of the case was now the rule both with Tomana's office and the police.
"We were kept guessing. By this time we were sure no direct answer would come until we got to court."
Determined to see the case go to court, Warara did everything he could to keep the matter alive.
"We ended up writing letters to some obscure police offices like the Victim Friendly Unit because the station that had been the recipient of the docket did not want to state the decision of the AG," he said.
The case took a dramatic turn when The Standard reported Maramwidze's woes as he fought to have Kereke arrested. The powerful Kereke decided to go for the lawyer and Warara's problems started.
"I received a letter soon after the publication in The Standard of an article on the rape case," Warara remembers.
"The letter, as you would imagine, was a threat to sue me for $5 million for defamation of character.
"That was not all. He soon filed a letter of complaint to the Law Society through his lawyers."
"The letter was published before it even reached the Law Society secretary.
"That letter was an attempt to have the case turned against me personally.
"Kereke was now aware that I had been a family friend of the Maramwidzes and that he wanted to fight me using the police."
Warara said at one point he was accused of raping the victim, as his detractors tried to finish him off.
"A plot was hatched against me so that I would be arrested for abusing the two girls who were the complainants," he said.
"I was called early morning by ZRP Homicide Section. I went there to find out police officers were accusing me of child abuse.
"They refused to state who had complained, only referring to Kereke's lawyer's 20-page letter that was sent out savaging me."
To his relief, Warara said, police soon realised they had been sold a dummy and disclosed to him they had been sent "by powerful people" to arrest him. Efforts were also made to intimidate Maramwidze into withdrawing the case against Kereke.
"They even visited my home to interview my children. They failed to get evidence," Warara said.
"These were not constables but senior officers in the police force who wanted my client to turn against me and accuse me of child abuse.
"Sadly for these officers, they soon realised they did not have a complainant. They then never followed up the case of Kereke's letter.
"It may be interesting to know that the AG's office was then involved in seeking to turn the case against me.  It all failed when they could not turn my client against me."
Warara then filed a counter suit against Kereke and the case is still pending before the courts.
"It will not be necessary to discuss the pending cases but there are no less than two cases that are in the High Court as spin offs from this rape allegation," the lawyer said.
"In total, no less than 10 cases have been filed in various courts in a fight to get this case concluded.
"Some of the cases have simply died a natural death. It was clear to me that these cases and applications filed against me personally were designed to frighten me from pursuing the case. That proved futile.
"I soon realised when we started that we would go for the long haul with the case and that would turn out to be costly.  Due to public support, the case would continue to be fought.
"I only met Kereke once since these cases started and it was clear he was not giving up the fight."
Warara said if it wasn't for the ConCourt's intervention, the Zanu PF legislator would never have been charged.
"All this reads like a sad chapter in the legal history of our country," Warara said.
"Innocent young girls remain without protection as long as people in positions of influence protect the influential and powerful.
"I have vowed to fight such favouritism and I will not allow fear of man to get the better of me."
He is now determined to have the case taken to the Magistrates' Court in Harare before Christmas.
Kereke rape case timeline
Girl allegedly raped by Kereke in 2009.
December 16 2010, lawyer Charles Warara takes up case.
2010 The Standard publishes story on the case.
Soon after Kereke threatens to sue Warara for $5 million for defamation of character.
 May 2014, High Court orders Tomana to issue Maramwidze certificate to prosecute Kereke.
October 2014, Supreme Court strikes off Kereke's appeal against the High Court ruling. The case ends up in ConCourt.
October 2015, ConCourt convicts Tomana of contempt of court for refusing to issue Maramwidze a certificate for Kereke's private prosecution.
 November 2015 ConCourt rejects Kereke appeal for delay of prosecution.