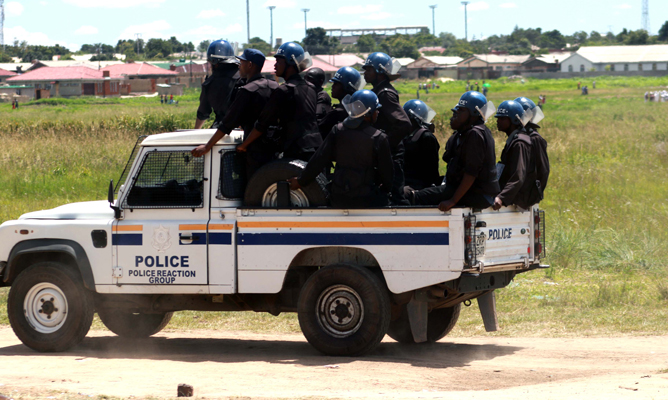 One of the biggest victories for Zimbabweans following the enactment of the new constitution were provisions guaranteeing freedom of association and the right to hold protests.
BY RICHARD CHIDZA
But three years after the supreme law was enacted, some State institutions such as the police are still living in the past and nothing illustrated that better than last week's failed attempts to stop MDC-T from protesting against President Robert Mugabe's government.
Harare police refused to grant MDC-T the right to march, citing security reasons, only for the High Court to overrule the decision, leading to one of the biggest protests against Mugabe in over a decade.
High Court judge Justice Happious Zhou ruled the police were out of order by refusing to sanction the demonstration.
Police had in the past used the Public Order and Security Act (Posa) to prevent such demonstrations on the pretext that they endangered national security.
Groups such as Women of Zimbabwe Arise, the National Constitutional Assembly [before its transformation into a political outfit], teachers, students, lone protesters and opposition forces have had their members harassed, detained, and brutally assaulted by police for daring to stage protests.
Last month police reacted with brute force, using teargas to stop former freedom fighters from meeting in Harare.
Questions have been raised over the reasons behind police's continued disregard of the Constitution which clearly states that the role of law enforcement agents is to provide security to and not sanction protests.
Zimbabwe Lawyers for Human Rights (ZLHR) programmes manager Dzimbabwe Chimbga said police were abusing the law to trample on citizens' rights to stage peaceful protests. "We are concerned by the continued disregard of the people's rights by the police.
"They [police] continue to incur bills in legal costs for things they have prior knowledge that any court of law would rule against them," Chimbga said.
"There is also a growing intolerance within our police force for people who would want to register their displeasure with particular State actions.
"The arrest of the artist (Silvanos Mudzvova) who was demonstrating is an example, Itai Dzamara remains missing and his disappearance can be traced to his protest.
"Protest has become the most dangerous exercise in Zimbabwe, but it remains an inalienable right enshrined in our supreme law."
He said ZHLR would continue to intervene in order to make sure the rights of citizens were not only respected but asserted.
"There is impunity on the roads in the form of a litany of check-points and roadblocks but we still expect our police to operate within the confines of the law."
People's Democratic Party leader and lawyer Tendai Biti accused police of abusing public funds to "defend the indefensible".
"Treasury funds all police operations, including their defending of court actions against them," he said.
"They use tax-payers' money but the new Constitution imposes personal liability on officers who deliberately make decisions against the law. The courts and lawyers should begin to insist on cost de bonis [demand that police pay for legal costs].
"The officer commanding Harare district in the case of the MDC-T demonstration should have been forced to pay the legal costs of the suit because he, according to the High Court, had no reason to stop the demonstration and force the court action."
He said police officers should now understand that there were consequences for actions contrary to the Constitution.
"People should continue to bring as many cases as possible in order to expose the police action as in most cases it has been shown the police are in contempt," Biti said.
"Our courts, I believe, are in transition but capable of interpreting the law in favour of the democratic tenets we fought for."
MDC-T shadow minister for policy Nelson Chamisa said no one had a right to "take away the liberty to protest".
"Liberty in Zimbabwe is a creature of two critical processes, the liberation struggle and the Constitution consummated in 2013. The right and liberty to protest is written by an iron pen with blood," Chamisa said.
"The struggle gave birth to our cherished and hard-won independence and nobody has a right to obliterate it.
"The police are a creature of the Constitution and we have a situation in which the tail is trying to wag the dog."
Chamisa added that law enforcement agents should be warned that sooner or later, the law would take its course.
"They need to understand that Zimbabwe is bigger than all political parties, including Zanu PF.
"This country is a sum-total of all its people and all legal institutions in it. If the police choose to be against the people, they must keep in mind that history has a way of unfolding," he said.
"Time will come and they will be judged by their actions, by posterity, if not by this generation. The night of dictatorship, the winter of tyranny and the season of kleptocracy will come to an end. To delay freedom is not to deny it."
Police spokesperson Senior Assistant Commissioner Charity Charamba defended police action.
"The right to protest is not absolute. As long as it does not infringe on the rights of others it is guaranteed and as police, we have a mandate to maintain law and order," she said. "[We have an obligation] to protect life and property as well as find a balance that provides space for all of us.
"People should not look at their rights with blinkers.
"The fact that we allowed the demonstration to go ahead despite our depleted resources shows we respect the law of the land.
"But it must be understood that we can also make decisions independent of the judiciary."
She said the police would still stop demonstrations and protests if they deemed it necessary.
"We make assessments of the situation and come up with decisions because our mandate is to maintain order," Charamba said.
"We are not abusing any public funds because we have a constitutional mandate to prevent anarchy.
"They must understand that other people have rights, business have rights and individuals not associated with those demonstrating have a right to go about their business and chores unmolested. We operate in the same environment and need to strike a balance."
Conveners of public gatherings, processions, demonstrations and political rallies are required under the unpopular Posa to notify police in advance.
But, police have more often than not turned themselves into a regulatory authority, giving permission to some and denying others.