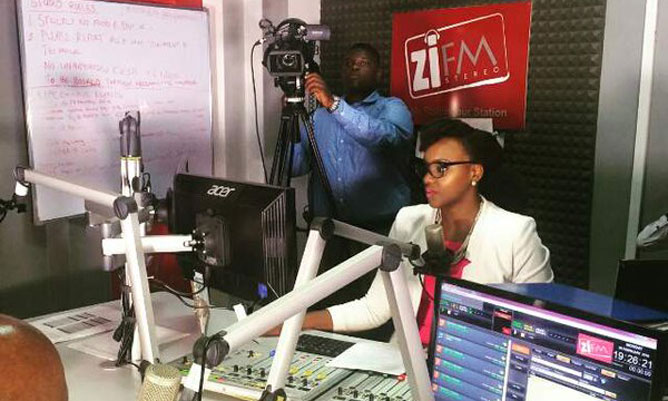 Radio and television personality Ruvheneko Parirenyatwa insists she never invited economist and Zanu PF sympathiser Tafadzwa Musarara to be part of guests on a recent radio programme, The Platform where she hosted Pastor Evan Mawarire on ZiFM.
By Moses Mugugunyeki
Mawarire, who is making headlines with his 'This Flag' protests, felt "betrayed" by the new ZiFM programmes manager when he discovered that Musarara was also part of the guests.
"Like I said on Twitter, I never invited Musarara for that particular radio programme," Ruvheneko told The Standard Style on Friday.
"It is surprising that someone who would have listened to your programme for the first time makes a lot of noise and criticises you left, right and centre," she said.
The daughter to Health minister David Parirenyatwa said she is impartial in her conduct of duty.
"I have always maintained impartiality in my conduct of business. Being a daughter to a politician does not mean I am also a politician and I have professional ethics that I follow," Ruvheneko said.
"I am just being persecuted for my passion — broadcasting."
Ruvheneko, who first enrolled for a law degree with the University of Cape Town only to change to a Bachelor of Arts, with majors in Media, Writing and Political Science, said her talk show The Platform was growing in leaps and bounds, attracting a lot of attention from people from across the globe.
"I think the secret is that I invite guests whom people want to hear from, as the name The Platform suggests. It is interactive, entertaining, relevant and informative," she said.
In the last few weeks, Ruvheneko has hosted top personalities who included controversial businessman Wicknell Chivhayo, Zanu PF activist Ace Lumumba and recently Mawarire.
It is the Mawarire interview that has attracted a lot of debate on social media, especially on Twitter where Ruvheneko has 28 800 followers.
"It is surprising that the number of followers on Twitter is growing with each passing day and it means I am gaining popularity," she said.
"I am happy most of the people contributing via social media are in the Diaspora and listening to my programme via live-streaming, which is actually good for debate."
The radio personality said she had even invited Primary and Secondary Education minister Lazarus Dokora and Reserve Bank of Zimbabwe governor John Mangudya to discuss about the National Pledge and bond notes respectively.
"We have invited them, because we want them to face people," she said.
Born in a family of seven, Ruvheneko believes the sky is the limit in her broadcasting career.
"I would like to be a global broadcasting icon in five years. It's step-by-step until I get to the top," she said. She said she was enjoying her new role as ZiFM's programmes manager.
"I am enjoying the new task, but you know you will be working with people with different tastes and egoes, but nevertheless it is a challenging task," she said.
She is a winner of various awards and accolades that included the Zimbabwe Megafest Top 20 Outstanding Women in Business for the year 2015, special recognition in good media relations and the Zimbabwe Business Awards Radio Personality for 2015.
Her work outside of radio involves youth activism since her time as deputy chairperson of the Harare Youth Council. She is also the founder and chairperson of the ZimboLove foundation — a charity aimed at ending Zimbabwean problems with Zimbabwean solutions.
Ruvheneko said her father was her biggest supporter.
"I inform him about my programmes, but he does not discourage me from what I want to do. He says muzvare [daughter], it's your choice," she said.
Ruvheneko said she was not new to talk shows because she was once a talk show host at the University of Cape Town radio.
"Expect more debates on The Platform and I am not immune to criticism. People can make comments and I will take those that I feel will develop me. But for your own information, I am also my own judge. I sometimes listen to recorded programmes of my show and I build from there," she said.
She said her television programme on ZTV was still growing.