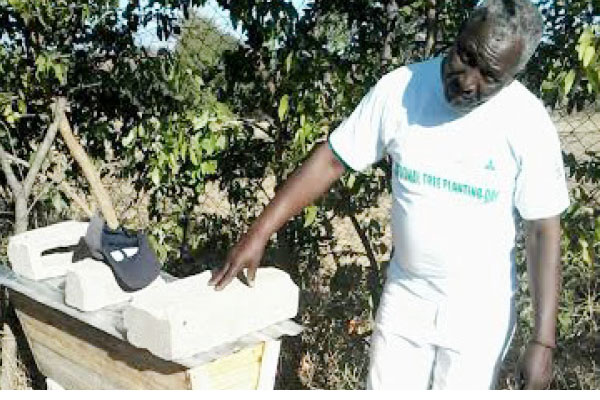 Many people get goose pimples at the mention of bees. Indeed these flying insects can deliver painful and even fatal stings and people have reason to want to avoid contact with them at all cost.
BY MTHANDAZO NYONI
But for Feli Khumalo, bees are not just friends but a very good source of livelihood. Khumalo is one of Matabeleland South villagers who have struck gold through apiculture, the art of keeping bees and honey production.
Faced with joblessness following retrenchment during the Economic Structural Adjustment Programme (Esap) in the 1990s, Khumalo turned to farming in his home area in Plumtree. He, however, abandoned the land after successive droughts and turned to beekeeping sometime in 2003.
"I have struck gold in this [beekeeping] and I can fend for my family," said Khumalo, a Sikhulu villager under headman Magcobafuthi in drought-prone Plumtree.
"I started beekeeping in 2003 and ever since, I have had no regrets. I can now afford to pay fees for my three children who are all in high school," he said.
A 500g container of honey sells for about $5 and one beehive produces an average of five 20-litre buckets of unprocessed honey, which translates to 15 litres of processed honey. Khumalo has 10 active beehives.
October is usually the time when farmers begin harvesting honey.
Khumalo said he received apiculture training before going into beekeeping and is now a skilled honey producer. He travelled to Harare several times for training and is now a member of the Beekeeping Association of Zimbabwe.
The training has helped equip him with modern trends in beekeeping and also provided basic training in marketing and financial management.
He also received training on how to increase yields, control diseases and pests that attack bees, control effects of pesticides on various species of bees, understanding behavioural characteristics of bees, marketing strategies, maintaining financial records and savings, community mobilisation as well as engagement for sustainable livelihoods.
However, despite the success of his venture, Khumalo remains unhappy about the failure by most people in Matabeleland South to take advantage of the rich honey industry.
"The uptake of beekeeping from this region is very low and we are trying hard to mobilise them. We need Matabeleland South to be a major honey producer in Zimbabwe. The market is very good and we can supply honey to companies like Datlabs. But because we are not producing enough here in Matabeleland, they end up getting honey in bulk from as far as Mutare."
"There is high demand for honey, but very low supply. Bee production is very cheap and the labour needed is not much. Therefore, people must come so that we can get a bigger market if our production grows," he said.
Khumalo said he had so far trained people in areas such as Maphisa and Mangwe.
Khumalo said countries the world over preferred honey from Africa due to the good climatic conditions on the continent.
He said the type of trees in Matabeleland South were also very good for beekeeping.
Forestry Commission manager for Matabeleland South province Bekezela Tshuma said beekeeping was a very lucrative business.
"As Forestry Commission we are encouraging people of Matabeleland South to practise beekeeping because it is very lucrative. For example, one beehive can give you $159. The environment in this part of the country is very conducive for beekeeping. So we encourage villagers to take it without hesitation," Tshuma said.
Tshuma said beekeeping did not require farmers to have prime land as all they need are trees that flower.
He said beekeeping was not capital intensive as the market was very lucrative in the country and beyond.
Environmental Management Agency (EMA) manager for Matabeleland South province, Sithembisiwe Ndlovu, said beekeeping conserved the environment and she urged villagers to take it seriously.
"It helps to conserve vegetation, especially because there is no way beekeepers could go about cutting trees or starting veld fires," she said.
Beekeeping has been described as one of the thriving businesses in places like Manicaland where the climate is conducive. Besides honey, apiculture produces wax, which is mainly used for making candles.
Beekeepers have recently urged government to support the sector. Farmers said legislative restrictions and growing government marginalisation of the sector were key issues slowing the growth of the industry.
They said inconsistencies in legislative framework that supported beekeeping and confusion surrounding the administrative authority of the Bee Act, were hampering growth of the sector.
Beekeeping has a very long tradition in Africa dating back over 6 000 years ago when beehives were first used for producing honey in ancient Egypt.
It promotes economic self-reliance and is an ecologically and technically appropriate form of income generation for communities in some of the poorest areas of Zimbabwe.
"Despite all positive things brought by beekeeping, lack of adequate finance and technical support from government is a major impediment to the development of the industry in the country," said Khumalo.