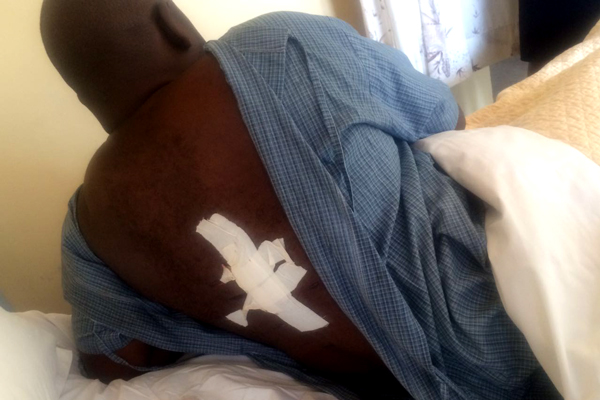 SINCE the rise of anti-government protests a few months ago, Zanu PF leaders — including President Robert Mugabe — have threatened to unleash violence against the protesters.
News in depth with Obey Manayiti
Zanu PF leaders have threatened terror on anyone who calls for electoral reforms while likening the demonstrations to the "Arab Spring" kind of uprising, which toppled some North African dictators and declaring such protests have no place in Zimbabwe.
The threats forced #ThisFlag movement leader Pastor Evan Mawarire to flee the country and seek refuge, first in South Africa before settling in the United States of America.
For those who braved the threats, life has become unbearable. Suspected State-sponsored militia is now on the prowl, targeting active participants and coordinators of the anti-Mugabe protests.
On Tuesday night, militias abducted #Tajamuka/Sesijikile campaigner, Silvanos Mudzvova (38) from his Crowborough home, accusing him of teaming up with others to push Mugabe's government out.
He was abducted at gunpoint and severely tortured behind some bushes near Nharira Hills close to Norton. He was later injected with an unknown substance and left for dead.
Although the brutalised Mudzvova said he would not stop working for the campaign, his family said they were now living in fear.
Over the weekend, suspected Zanu PF militia calling themselves Group of 16 wreaked havoc in Epworth where they pounced on suspected anti-government protestors and assaulted them badly.
The activists accuse Zanu PF of organising the terror groups.
"This group is moving around in various vehicles targeting known activists and MDC-T supporters. They call themselves Group of 16," said one Damson Damson.
"They attacked two people in the Pentagon area using barbed wire and assaulted six others at Komboni Yatsva. Their modus operandi is the same. They come at night when people are sleeping and they force themselves into the houses by breaking doors."
He added: "They assault people accusing them of trying to topple the government through social unrest. However, people know what they want, which is the departure of Mugabe. It might delay but he will go. This business of targeting certain individuals will not work at all."
Other activists and opposition parties have roundly condemned the new wave of abductions and torture of #Tajamuka/Sesijikile members that left Mudzvova and others seriously injured.
#ThisFlower leader Stendrick Zvorwadza described the abduction as unfortunate, uncivilised and barbaric, while describing the Zanu PF-led government as unrepentant.
"It is very unfortunate that the government of Zimbabwe is at it again, sending terror groups to terrorise citizens at their homes. We thought the government had learnt from past mistakes of 2008 and others but we are witnessing a wave of new abductions. We want to warn the current leaders that this culture will only come to haunt them as their families will be treated in the same manner," he said.
Another activist Patson Dzamara said the torture of Mudzvova and others was "just an attestation of the fact that the leopard has not changed its spots."
"It's morbid and evil. We condemn it with the highest level of disdain. We certainly cannot have another victim of abduction after the heinous abduction of Itai Dzamara. It's diabolic and unacceptable. Zanu PF is a mafia. It thinks it owns the people of Zimbabwe," he said.
In a statement on Friday, #Tajamuka said it would be looking at prospects of engaging the International Criminal Court (ICC) over crimes against humanity allegedly being committed by the Zanu PF government.
Political activist Setfree Mafukudze weighed in, saying the continued targeting of known anti-government activists had fingerprints of the State. He said the Zanu PF-led government must be taken to task over other missing activists like Itai Dzamara.
MDC-T called upon police to investigate the matter with all the seriousness it deserves.
"Zimbabwe is now a police state. We would like to see the perpetrators of this heinous crime promptly arrested and prosecuted. The thugs and hoodlums who abducted and tortured Mudzvova are members of the Zanu PF regime's security apparatus. We cannot allow our beloved country to degenerate into a banana republic that is run by an intolerant, heartless, cruel and corrupt mafia," the party said.
The opposition party's youth leader Happymore Chidziva said they would continue applying pressure on the government.
"Mudzvova's abduction and attack is meant to intimidate citizens but this will not at all move us. The current resistance is a move that came after wide consultations. We are aware of the extent to which a cornered rogue regime like that of Robert Mugabe can go in response and we are prepared to face anything — including death," he said.
The Welshman Ncube-led MDC said: "The attack on Mudzvova will not silence hungry Zimbabweans calling on President Robert Mugabe to unconditionally step down and pave way for a leadership that respects human rights and God's Ten Commandments.
"We are advising the Mugabe regime in Zimbabwe to find better strategies of extinguishing the fire instead of using paraffin. The Zanu PF regime should consider keeping its misguided dogs of war on the leash to avoid unnecessary clashes in future," said the party.