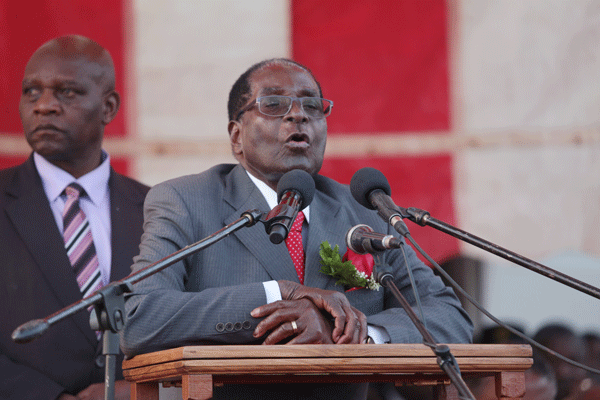 Most African leaders are cowards who have no direction, President Robert Mugabe said yesterday while threatening to orchestrate a split of the United Nations.
By Everson Mushava
Political analysts and local opposition leaders immediately dismissed Mugabe's UN pull-out threat as unrealistic utterances of an abnormal old man which risked isolating Zimbabwe further.
Mugabe made this scathing attack on his colleagues, accusing them of failing to push — like he did — for reforms in the UN General Assembly. He said if the reforms were not forthcoming, Africa alongside countries like Russia, China and India would pull out of the UN.
He was addressing about 2 000 Zanu PF party supporters at the Harare International Airport soon after touching down from the United States where he was attending the UN General Assembly.
He said although agreement was yet to be reached, the intention was to make the pull-out manoeuvres in earnest at the UN General Assembly next September.
"I don't know if we are going to come up with a common decision. There are other countries who are cowards. Africa is now led by new leaders who are no longer members of the founding fathers of the Organisation of African Unity. It is now led by cowards only, without direction… It cannot only be Mr Mugabe who comes out calling for UN reforms," Mugabe said.
MDC-T spokesperson Obert Gutu said Mugabe's threats to pull out of the UN showed that he was now out of touch with reality.
"The UN is a body that encompasses the countries of the world. For him to say he wants to form a splinter organisation, it shows that he is not normal," he said
"Mugabe is calling for reforms with too much passion, but he forgets that charity begins at home. He should reform his governance and avoid being a tyrant and despot. All right-thinking people would just laugh at his utterances."  Political analyst Alexander Rusero said Mugabe was too idealistic. 
"There is a divide between reality and a wish. It is very unfortunate on the part of the President to think that Russia and China could back their calls. The structure of the UN is reflective of the victors of the World War 2," Rusero said.
"So Russia and China are comfortable, they cannot support an African cause. They have their own issues, for example, China does not want to see Japan as a vetoing power. The structure is likely to continue. Mugabe's call although it makes sense, it is not possible."
He added: "What Mugabe is saying does not resonate well with other African leaders. This will further isolate Zimbabwe. Mugabe is a loner in the wilderness. Other countries like Botswana actually want Mugabe himself to go." Mugabe accused the United States, France and Britain for acting as a stumbling block to reforms in the international body. He said Africa went to this year's UN meeting after having formed a committee to push forward the continent's demands to have two countries with veto powers in the Security Council.
"Britain, France and the US are resisting UN reforms, so we say; the UN is strengthened by outside countries. They should not cry when we unite to form our own organisation with China, India, Russia and other countries and leave them alone," Mugabe said.
He also said Zimbabwe told the US and Britain at the UN meeting to remove sanctions imposed on the country.
"Secondly; we talked on Africa's representation in the UN. The whole Africa says it has not been given powers given to other countries that are the permanent members (Britain, France, US, Russia and China)," Mugabe said.
"I think you heard what I said there. We said we want UN to reform so that African also has powers that are similar to that of the five permanent members. They gave themselves power that nothing can be done without their approval." Mugabe said African countries met in Swaziland and decided that it also wanted two countries with veto powers in the UN Security Council.
Zimbabwe also quit the Commonwealth in 2003 protesting against the country's continued suspension from the group over allegations of gross violations of human rights.
Mugabe also attacked #ThisFlag founder Pastor Evan Mawarire and Chimurenga music guru Thomas Mapfumo for organising demonstrations to embarrass him during the UN General Assembly. He thanked the Zanu PF linked December 12 Movement for subduing the protests.
"You have heard of December 12. They sent their leadership to talk to us. We thanked them for the job well done, Mawarire was there but we never heard of him," Mugabe said.
"We are the only country with a person who came from here, assembled four people and claim they represent the whole Zimbabwe and want to embarrass us at the UN. It is a shame, a real shame.
"World over countries have problems, but they don't come with their problems to the UN meeting. I heard even Thomas Mapfumo wanted to come as well, being sent by the whites. So I say down with those whites who sponsor them."
Mugabe tactfully avoided responding to Botswana President Ian Khama's controversial call for him to retire and leave the country in the hands of a younger leader who could pull Zimbabwe out of its current economic abyss.
Khama torched a storm last week when he told international news agency Reuters that Mugabe should pass the baton stick to someone else who could save Zimbabwe from further collapse. He said Zimbabwe had become a burden to its neighbours and the region because of Mugabe's failures.