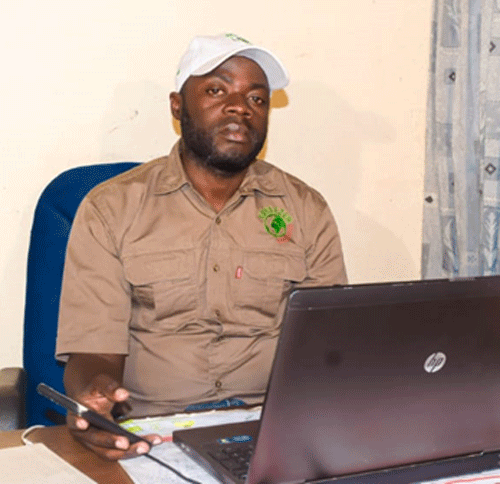 By Takemore Mazuruse
Growing up in the Mundenda area of rural Mutare, poultry farming expert  Lameck Mazaiwana had no idea he would rise to become a respected agripreneur who is adding value to the local poultry industry.
The young businessman, who is the founder and MD of Ebenezer Distributors, a company that specialises in selling poultry products and services, has travelled far and wide bringing smiles to farmers in Zimbabwe.
"Ebenezer Distributors is the poultry farmer's best friend and we believe our calling is to add value to this industry," Mazaiwana said.
"For a long time, the poultry industry was controlled by one or two companies, which made it difficult for the ordinary Zimbabwean to access some of the services given the reach and pricing of these players.
"Our coming in is a relief for the outlying players and we are going all out with this venture."
A retired soldier, who didn't last long in the service because of the love of business and the desire to assist others, Mazaiwana believes the local poultry industry has a lot of potential.
"From my experience, this industry has got a lot of potential as seen by the numbers that engage in this business," he said.
"What has been lacking is the requisite support and training required to ensure viability, especially for upstarts with limited resources.
"That's exactly where Ebenezer Distributors comes in. Our products and services are designed to ensure a willing poultry farmer is able to start where they are and achieve maximum results."
True to the enterprising agripreneur's assertion, Ebenezer Distributors has become a leading light for poultry farmers across the country and is selling eggs, day-old chicks, chemicals and poultry farming equipment.
"We are not as big as we would want yet, but we are driven by passion and the positive results we are bringing to the poultry farmers," Mazaiwana said.
"We have supplied day old chicks, chemicals, feeds and other related equipment to farmers in almost every part of Zimbabwe. Some can afford travelling to our premises but for some we actually have to travel to their areas and deliver the products."
Mazaiwana, who started the poultry business as a hobby in 2014, officially registered the business in 2015 and has since diversified into various types of poultry and is also manufacturing equipment like incubators, drinkers and layer cages for sale.
"Ebenezer Distributors started off as a hobby and we would keep four or five  chickens at our backyard in Harare, but as the passion grew we started to invest more into the business," he said.
"By 2015 we were now keeping hundreds of birds. Though we started off with broilers, we then moved to various other types of birds and the market uptake is just amazing. Farmers are loving our services and products."
Ebenezer Distributors is also a consultancy that has helped farmers with the requisite training and knowledge on how to successfully run a poultry business.
"Not everyone in poultry farming has got the skill and knowledge of how to run the business effectively and achieving maximum results," Mazaiwana said.
"We have, therefore, invested in effective training of farmers on how to run the business sustainably. Effective care and nurturing of chickens, the right temperatures, chemicals and even how to manage their financial books."
The poultry company has also introduced quality and trusted incubators,  which they assemble for sale to farmers at affordable prices.
"Running this poultry business on a medium to large scale requires incubators because we have seen the downside of buying day old chicks especially for those in outlying areas," Mazaiwana said.
"We are, therefore, importing incubator components from China, thanks to the 'Look East' policy and we then assemble them into durable incubators with some of our locally made components. This has brought a lot of relief because the pricing is reasonable and we also train the farmers on how to use and manage the equipment."
The businessman said product support and customer experience was one of their biggest strengths at Ebenezer Distributors.
"We don't just sell poultry products, equipment and services. We take them through the stages on how to derive value from their ventures and to run the business profitably," Mazaiwana said.
"Even for the equipment that we sell, we also provide the much needed product support in terms of training and servicing. For that reason we have become a trusted brand as compared to players that sell products with instructions over the counter."
Ebenezer Distributors is also in the final stages of a new innovation that will see them produce and sell solar powered incubators.
"We want convenience and maximum growth for the poultry farmers, even for those in rural areas and we are doing our best to guarantee their success," he said.
"We are, therefore, introducing a solar-powered incubator to ensure that those in areas with no electricity can still do business without any challenges. Even in areas without electricity, power cuts are affecting business hence the introduction of Ebenezer Distributors solar powered incubators."
The businessman, who started his business in a small corner in the Tynwald industrial area, has recorded steady growth and is investing more in the promising venture.
"We believe in this poultry industry. It's one of the businesses you can start with little capital but it requires the technical expertise and support to guarantee results," Mazaiwana said.
"We started operations in a little corner but we have since acquired more space and recruited more staff to ensure increased productivity. The possibilities are too many and we are excited about the prospects."
Mazaiwana said the equipment from Ebenezer Distributors has brought life to an otherwise trivialised business..
"We also sell professional equipment like layer cages, drinkers and incubators that have helped bring life to a trade that had for a long time been trivialised by locals," he said.
"We are advising farmers on commercialising their poultry farming ventures. Many farmers still need to be educated on understanding and appreciating the many opportunities that abound in this sector."
The Diaspora market has also been one of the big highs for Ebenezer Distributors as Zimbabweans are broad are also investing back home and financing their parents and families to venture into poultry business.
"Ebenezer Distributors has benefited from the Diaspora market, thanks to its professionalism and honest. We don't cut corners, we deliver as promised," Mazaiwana said.
"Most of our clients in the diaspora are also venturing into large scale poultry production and they want a company they can trust to deliver and ensure viability.
"We do everything for them including the set up of the projects. Even for those financing the projects for their families back home, the results have just been amazing with Ebenezer Distributors."
Mazaiwana's willingness to learn has also immensely benefited his trade.
"Learning is a process and every industry is dynamic, hence I have participated in various trainings and exhibitions to gain knowledge," he said.
"Knowledge is something that you have to look for and gather over time. I have gained a lot of knowledge from participating in these trainings and exhibitions and in turn our clients also benefit."
Ebenezer Distributors is passing on the knowledge to farmers through product support and affordable trainings that have only been hampered by Covid-19, but they have gone virtual.
"I am then passing on that knowledge to my clients and those that have accessed our services are recording great progress. For the past five years we have seen a great improvement in how farmers do business," Mazaiwana said.
He called on locals to see opportunities and professionalise so that they can rise beyond the limitations of the struggling economy.
Ebenezer Distributors has also invested in corporate social investment and is  working with a local civil society organisation called Imani Trust to assist young people with entrepreneurship skills.
"We are part of the annual brands that care initiative by Esteem Communications, a local branding company whereby we visit an identified charity and donate groceries and other related needs every year end," Mazaiwana said.
"We have also partnered Imani Trust to empower youth with poultry related livelihoods skills seeing some of them were wasting away to drugs."
Related Topics