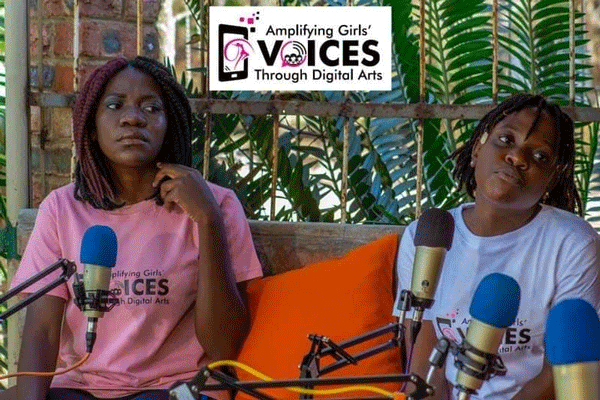 BY SHARON SIBINDI
Intwasa Arts Festival koBulawayo with the support of Plan International has embarked on a project — Amplifying Girls' Voices Through Digital Arts — which has 22 young girls aimed at providing a platform for girls and young women to talk about issues affecting them.
The project, started June and will run for six months under Plan's Innovation Fund. The 22 girls are aged between 15 and 21.
"The project is a digital project — magazine, podcast and film — focusing on young girls and young women. The objective is to create a fun, exciting and educative virtual hub which will help empower young girls and women against any form of abuse through the creation of relevant content — telling their stories through the three media.
"The project is in partnership with Plan international and with Support from Finland ministry of Foreign Affairs' budget for humanitarian assistance. These are more like the technical partners," festival administrator Runyararo Mutandi, told Standard Style.
Mutandi said the idea of the project was to provide a platform for girls and young women to talk about issues affecting them.
"The project also tries to amplify the voices of these girls and young women. Intwasa will facilitate the process of creating the content but the girls themselves will be in the forefront of creating the content, writing the stories, concepts for Podcast / Radio Programme,
"Short films and a monthly online magazine, workshops on Child Rights and Laws that protect girls, content creation, the use of new media and use for empowerment, amongst others will also be held to capacitate the girls. This will take place over a period of six months," she said.
Mutandi said the timing of the project  is deliberate, as Covid-19 and the lockdown have closed a lot of spaces where girls and young women used to get information and talk about issues that affect them.
"Now the only spaces available for safe contact are digital spaces. That is why the project is digital. The targeting of girls and women is also deliberate. One of Intwasa's objectives is empowering girls and young women," she said.
"So, the project is in line with that. The project will use digital media to empower young girls, address challenges that are faced by young women and girls as well as build their confidence so they are able to speak for themselves; amplify their voices against any form of abuse directed at girls and young women through the participation in any of the three activities/media."
Mutandi said the 22 girls were selected through a process that started with a public call which was made during the month of June. Over 100 girls applied and sent in their motivations but the project could only accommodate 22.
"Some of the girls are from the 100 Girls 100 Voices poetry project. The 22 girls who are part of this project are Zoleka Fuyana, Chidadiso F. Mbazo, Chantelle K. Chisiri, Chelesile Mpofu, Faith Baya, Hazel Gutsa, Kimberley Malima, Kudzaishe Chibaya, Lindsay Z. Murombwi, Sibonginkosi Moyo, Melissa Mpofu, Michelle Dlamini, Shammah R. N. Banda, Natasha Musabayane, Stacey Matarise, Patience Tomu, Praise N. Dube, Princess Masuku, Pronellah Lunga, Michelle T. Moyo, Loreen Dube and Nesipho Tshabalala,"she said.
The project officer, Chipo Mawarire said the initiative has the globe as a whole as its target group, as it is making use of digital platforms.
"It is also bridging the gap created by the Covid-19 lockdown which restricts movement and gatherings, which has resulted in more girls suffering without anyone to talk too," she said.
"I see this project producing 22 vibrant young women who can advocate for themselves and others. Young women who know who they are and are not afraid to take their stand in the world."