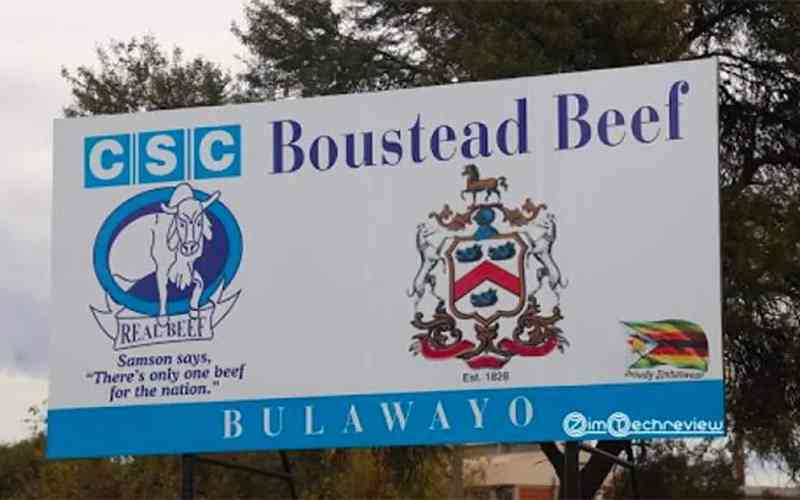 MEAT processor, CSC Boustead Beef Zimbabwe has struck a partnership agreement with United States-based Ethos asset management Inc in an arrangement that will see the American firm providing capital infusion for the refurbishment and restart of the beef company.
Boustead Beef was selected by the government of Zimbabwe to privatise and revitalise Zimbabwe's national beef operations. This was under the Livestock Joint Farming Concession Agreement (LJFCA) signed between the government and Boustead Beef in January 2019.
Under this latest transaction, CSC Boustead Beef which is the new company under the joint venture agreement was advised by Worldwide Wealth Advisors and Nyansapo Impact Capital.
Boustead Beef Limited president and founder Nick Havercroft said the financial backing will help the company in its quest to restart and privatise the meat processor.
"Boustead Beef is exceptionally pleased to receive the financial backing of Ethos Asset Management in support of Boustead's mission to privatise, refurbish and restart a critical component of Zimbabwe's infrastructure – its national beef industry. Boustead is fortunate to have a partner like Ethos, a financial powerhouse in both public markets and project finance," Havercroft said.
The partnership is set to provide long-term financing to Boustead Beef to invest in a rare, unique, social and impact opportunity for the refurbishment and restart of the former Cold Storage Company (CSC).
CSC was once the country's world-renowned national beef production operation, at the behest of, and with the support of the government of Zimbabwe.
Ethos Asset Management chief executive officer Carlos Santos said his company was impressed with Boustead's standards and level of operation in Zimbabwe, adding that Ethos was expanding its wings into Africa.
"We are delighted to be partnering with such a prestigious company and nationally important organisation in Boustead Beef, the largest and dominant meat processing operation in Africa. Boustead Beef is the only integrated beef processing company and vertically integrated grass-fed beef operation in sub-Saharan Africa.
"We were impressed with Boustead's standards and level of operation in Zimbabwe. Our decision to invest was consolidated by Boustead's president Havercroft, a successful farmer, entrepreneur and operational executive who has spent his entire career in Zimbabwe and Africa, acquiring, building to scale and successfully operating farming enterprises. We are delighted at Ethos to be expanding our investments further into Africa and in particular, Zimbabwe for the first time," Santos said.
Ethos, North and Central America executive director Hans Kastensmith said the firm was pleased to be working with Boustead to revitalise the beef industry in Zimbabwe which has been an important part of the economy in the past.
At Independence in 1980, CSC was one of Zimbabwe's major foreign currency earners, as it exported thousands of tonnes of beef to the European Union.
At its peak, the beef processor and marketer used to handle up to 150 000 tonnes of beef and associated by-products annually and exported to the EU, where it had an annual quota of 9 100 tonnes of beef.
Up to 1992, CSC had a monopoly in the meat industry and when the meat industry was deregulated, the meat processor faced stiff competition.
Speaking at the launch of the famed Samson Restaurant in Harare on Wednesday this week, CSC Boustead Beef executive Mark Havercroft said the Bulawayo operations were getting towards full operation.
"The Bulawayo operations are almost at full operation and of late we have been conducting training of staff. We are currently slaughtering 50 beasts per day and geared for a full-blown operation," Havercroft said.
Related Topics