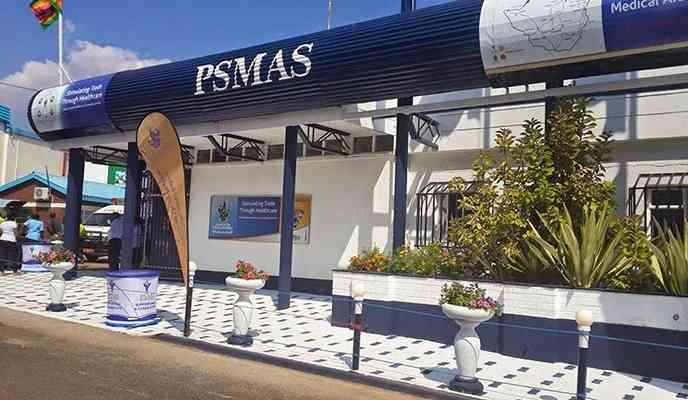 PREMIER Services Medical Aid Society (Psmas)'s proposed revival aided by a possible financial bailout from the government is heading south as employees of the state-owned firm have downed tools again.
Towards the end of last year, Psmas' Premier Services Medical Investments (PSMI) shut down 120 of its 155 facilities as the entity battled to settle a four-month salary arrears bill in a turbulent period that culminated in the closure of its flagship West End and Claybank hospitals in Harare and Gweru, respectively.
As of October 21 2022, documents seen by this publication reveal that PSMI only had 35 of its medical units still functional.
PSMI was formed in 2003 in pursuit of Psmas' blue-ocean strategy to integrate medical insurance into medical services provision. But to date the institution has faced operational challenges as well as corruption related issues.
The sporadic closure of the firm's health facilities was also marked by the arrest of PSMI executives on allegations of defrauding the entity of millions of United States dollars at a time when it is struggling to offer services to its clients.
Efforts were underway to secure another bailout from the government to save the health services from possible collapse. The latest declaration of incapacitation by the firm's employees proves to be another headache on the part of the government.
In a statement this week, Psmas confirmed that PSMI was facing challenges.
"Psmas wishes to advise its members that PSMI is currently experiencing challenges that may result in service disruption," Psmas said.
The firm's employees have since declared incapacitation after their demands for transport allowances, fuel and payment of salaries owed were not met.
According to a letter by PSMI Workers Committee dated December 26 2022, and addressed to PSMI acting managing director Farai Kutoka, the employees claim they were each paid ZW$333 000 (US$495 at official rate of US$1:ZW$671,44) a few days before Christmas.
"Even if we appreciate the paltry ZW$333 000 offered, schools will be reopening and as parents, we are expected to pay fees in full and make all necessary provisions. We are not aware of how the balance has been expensed as we are still to get official communication on the same from PSMI Management," PSMI Works Committee said.
The employees further alleged that the ZW$4,2 billion, which was intended to clear the payroll was not used for its full purpose as part of the money amounting to ZW$1,6 billion is yet to be accounted for.
The government gave the company a ZW$4,2 billion disbursement to clear outstanding July-October salaries.
Part of the bailout package was channelled towards the procurement of critical medicines, which were out of stock, according to Psmas sources.
"We had requested a clean-up of the payroll since we believe it was used to siphon money against laid-out remuneration policies. Currently, the clean-up was spearheaded by the same management who were beneficiaries of the maleficence without the involvement of workers' leadership. This makes the whole clean-up exercise a fallacy," the letter reads.
About 90% of Zimbabwe's civil servants, who are members of Psmas are served by PSMI, which is the largest private healthcare service provider in the country.
In yet another set of documents gleaned by the Independent, PSMI last year notified Psmas clients of its dire situation.
PSMI managing director Tafadzwa Gutu wrote to Psmas managing director Nixjoen Mapesa on July 8 2022, highlighting that PSMI is currently facing viability challenges owing to a widening working capital deficit.
"PSMI is currently generating monthly Psmas revenues averaging ZW$950 million against monthly claim payments of ZW$490 million. This disparity has affected PSMI in sustaining its operations," the letter reads.
"The current PSMI ledger balance as at June 30 2022, stands at ZW$238 billion. PSMI's capacity to sustain its operations has been affected by inadequate cash flows from Psmas. It is, therefore, our request that Psmas immediately engages the Treasury…so that PSMI can receive meaningful cash flows to sustain the business."
Related Topics