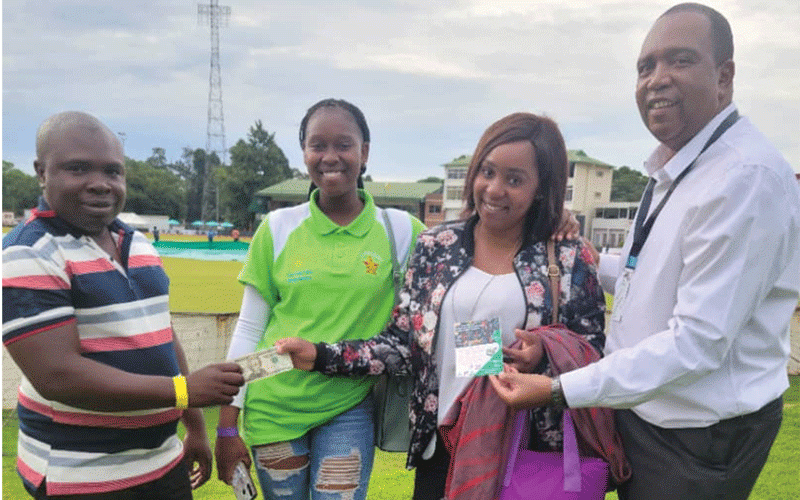 TWO years ago Zimbabwe Cricket announced their partnership with local sports consultancy company, Oracle Sport for their fan engagement drive.
The idea was to ensure that each time the senior men's national team plays at home, the grounds are filled to capacity.
At first, it sounded awkward why an internationally recognised ZC would embark on such a drive.
However, in the short period the union has been in existence cricket — like it or not has since overtaken soccer as the country's most followed and supported sport.
There is currently little to talk about in soccer as the Zimbabwe Football Association (Zifa) is currently suspended by the global governing body Fifa.
After convincing corporates such as Exide Batteries, Seed Co Limited, and EatnLick who have been giving their products as giveaways to the fans, Oracle Sport has gone a step further by giving cash prizes during the games.
For the One Day International (ODI) series against Ireland, Seed Co Limited cemented their support with maize seed while a new player on the block, landscaping geniuses Synstead Investments, broke new ground by offering US dollar cash prices to the fans on match days.
Synstead Investments managing director, Shingirai Nyagumbo said this is just the beginning of a long-term engagement with ZC and Oracle Sport.
"I don't know much about cricket, but when the proposal to partner Oracle Sport on their fan engagement with ZC came up I did not think twice, I quickly jumped on board," Nyagumbo told StandardSport.
"They wanted me to come to the cricket ground and experience the fun and excitement first before I committed but I said I will do so by sponsoring US$100 for the fans as a starting point, but I feel I should do more because there's no better place to be than at cricket."
ZC managing director Givemore Makoni said they continue to welcome on board partners who want to help cricket cement its position as the number one supported sport in the country.
"Every sport works well with the fans behind it and we love it when we have companies that believe in our vision," said Makoni.
"We want to make every ground the place to be not just Harare Sports Club and not only when the senior men are playing.
"We have our Lady Chevrons, junior age groups, provincial sides, and clubs; all these deserve similar support."
Related Topics