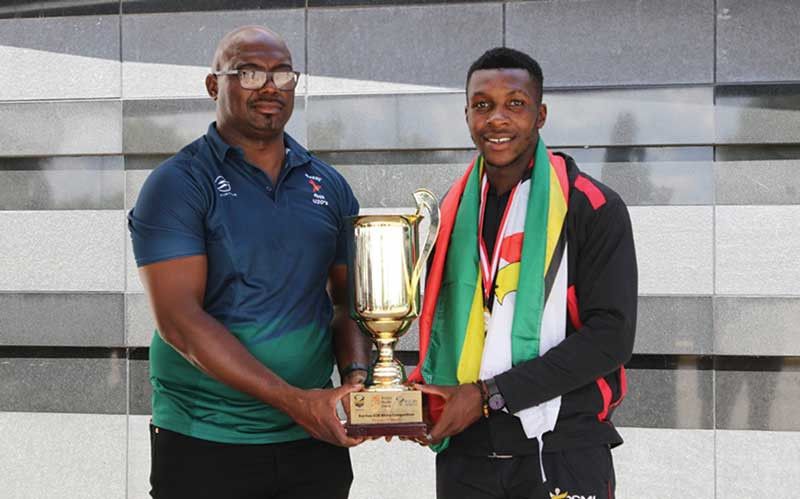 ZIMBABWE Under-20 rugby team coach Shaun de Souza is leaving nothing to chance ahead of the team's bid for a second consecutive Rugby Africa Under-20 Barthes Trophy after naming a 73-member high-performance squad for the 2023 competition.
Kenya will once again host the continent's Under-20 championship, known as the Barthes Trophy.
The hosts will be joined by defending champions Zimbabwe, Namibia, Zambia, Madagascar, Uganda, Tunisia, and Ivory Coast, with the winners joining Kenya at the World Rugby Under-20 Junior Trophy which will also be held in the East African nation in July.
The Junior Sables are aiming for another successful season after being crowned African champions in the east African country last April after beating bitter rivals Namibia in the final.
After guiding the team to their first continental title in a decade last year, former Zimbabwe rugby star Shaun De Souza, who is continuing as head coach of the team, stressed the importance of beginning preparations early.
"We have announced the 2023 Under-20 high performance squad which we will monitor closely. We will drop those not holding their weight and add new players if need be," De Souza said in an interview.
"We have also considered our continuity the pathway and cycle of our programme with 65 days to go before we compete to retain our 2022 title of the Barthes Trophy and qualify for that one open spot at this year's World Rugby U20 Junior World Trophy where Kenya have an automatic qualification as hosts."
As part of the preparations for the Kenya tour, most players have been getting some game time in the Paramount Garments Under-20 League which kicked off early this month.
The Junior Sables U20 high performance team will also play in the second edition of the Nedbank Challenge Cup which will be played in Harare from March 11 to 18.
The Nedbank Challenge Cup, which will feature eight teams, will be used for player selection into the Goshawks Currie Cup team and Zimbabwe Under-20 team.
The Junior Sables are also hoping to play two friendly matches against Botswana in Bulawayo with their final squad.
De Souza is confident that with the level of preparation which they have lined up and the squad at his disposal, his charges will be able to successfully defend their African crown and qualify for the World Rugby U20 Junior World Trophy which is making a return after a three-year absence.
"We believe this is the squad to do that. I'm excited for this opportunity which worked wonders for our preparations last year we got to see clearly the players that were not ready for the international stage.'
Provisional Squad
Forwards: Happias Zhou, Tadiwanashe Marumisa, Farai Madzima*, Rogers Tayengwa, Takunda Mudzingwa, Munashe Ndhlela, Giordano Sarpo, Tamuka Kambani*, Tawananyasha Bwanya, Shingi Manyarara*, Tashinga Makiwa, Kelvin Kaseke, Godfrey Zvinavashe, Tafadzwa Gwaza, Kudakwashe Gotora, Tadiwa Chimwada, Gerry Zisengwe, Martin Hakunavanhu*, Bryan Chiang*, Takudzwa Zvomuya, Darryl Mwenso, Tanaka Gondo-Mukandapi, Allan Mawunga, Vincent Chimwendo, Muzuva Gutu, Prince Chinyadura, Tendai Maruma*, Tinotenda Matimbira, Joseph Benning, Ryan Mckenzie*, Nqobile Manyara, Gealan Jaricha, Gamaliel Munembe, Stanley Muranganwa*, Tadiwa Mazanhi, Jackson Munyaka, Huntley Materson, Leo Mutendi, Hagler Muchenji, Tanaka Ndoro*, Tadiwa Gwaraba, Mwaita Makanza*, Takudzwa Kamucheta, Panashe Taderera.
Backs: Panashe Zuze, Brendon Marume*, Alex Nyamuda, Kudakwashe Nyamushaya, Tadiwanashe Unganai, Edward Sigauke, Panashe Mugorogodi, Simbarashe Kanyangarara, Tadiwa Ngirazi, Cole Musanigwa, Shadrick Mandaza, Benoni Nhekairo, Dion Khumalo, Tanaka Chinyanga, Dereck Karuma, Munotida Marimirofa*, Oliver Masara, Tawanda Matipano*, Nigel Siabwanda, Damien Moyo, Welton Charumbira*, Kholwani Moyo, Jerome Sagomba*, Kelton Kaseke, Vuyani Ncube, Brendan Jameson, Taona Mapani, Mbekezeli Siziba, Callon Matsikira.
*Denotes players based outside Zimbabwe.
Related Topics