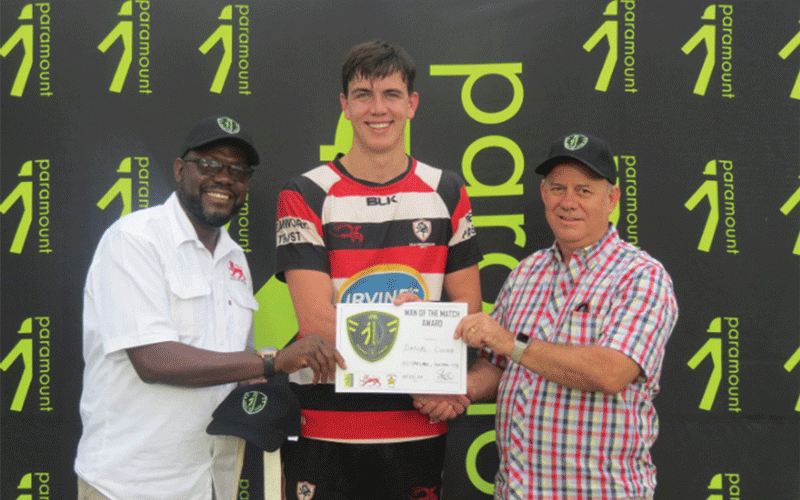 HARARE Province Rugby chairman Joe Kawonza is expecting a thrilling season on the local rugby scene after the 2023 edition of the Paramount Garments Seniors Championship got off to an exciting start at Harare Sports Club on Saturday.
Not even the absence of several players who were in action for the Zimbabwe Goshawks in their match against Namibian side, Windhoek Draft Welwitschias, could take the gloss out of the domestic competition which saw some very tightly contested matchups.
Defending champions Old Hararians won 38-15 against Mutare-based Old Crestonians, despite missing the services of several senior players who were on national duty with the Zimbabwe Goshawks.
Former Zimbabwe Under-20 team flyhalf Benjamin Pattenden led the Old Hararians charge with a perfect five conversions and a penalty along with a try for an individual points haul of 18 points.
Veteran ex-Sables prob Brian Makamure got two tries, while club captain Jeff Makoni matched his prop partner with a brace of tries to ensure Old Hararians began their campaign with a much-needed victory under new head coach Pieter Benade.
Meanwhile, there was also a winning start for Harare Sports Club after they overcame a scare in the first half to secure a hard-fought 27-10 against Mutare Sports Club.
In the only women's game of the day, Zimbiru were too good for Harare Sports Club after securing a dominant 34-0 victory.
Kawonza, whose provincial leadership has been spearheading the revival of domestic rugby structures with the support from sponsors such as clothing manufacturing company Paramount Garments was left impressed by the quality of rugby on display.
He promised an exciting season ahead with over 80 matches lined up over a three-month period which will include matches in Mutare and Bulawayo.
"The Paramount Garments Seniors Championship League for 2023 kicked off yesterday and it was a very exciting day especially also considering the fact that we seemed to have some sought of a mini inter-provincial derby because we had Old Hararians playing Old Crestonians and our hosts Harare Sports Club were playing against Mutare ports Club.
"It was a good day and it's going to be a long season we have about 84 games this season so it's going to be long looking at three and a half months or so. It was a good season opener, we are looking forward to the rest of the season. It's going to be a good season with very exciting matchups coming up," he said.
Related Topics