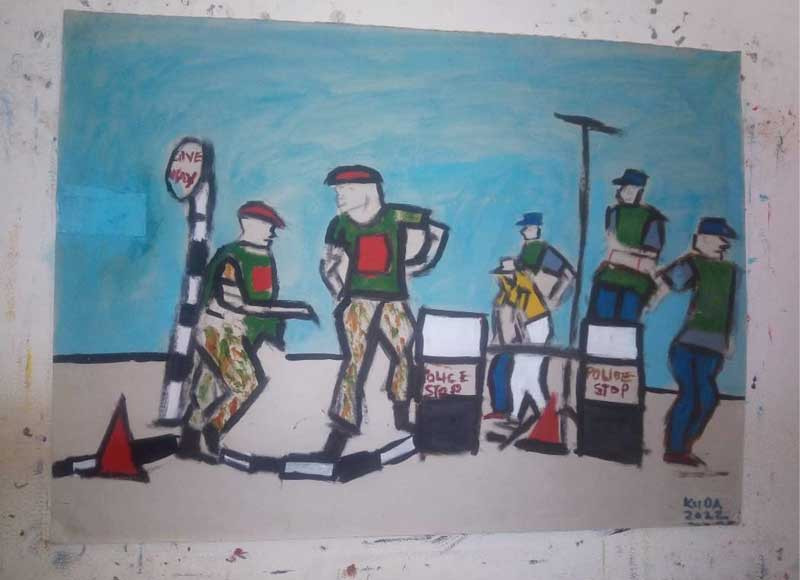 THE power of visual art has been utilised effectively in processes that orient to the promotion of advocacy and different forms of activism as it has the ability to disseminate information to the masses.
Visual art can be used in a myriad of ways that can be taught to future generations to send out messages that teach society about development oriented topics.
An example of a person that uses visual arts as a tool to promote awareness on different issues affecting the country is Kudakwashe Musingarambwi from Bulawayo.
His visual artistry is a tool to promote advocacy on different salient topics such as environmental activism, gender-based violence (GBV), police brutality, and retelling stories experienced by people during the Covid-19 induced lockdown period.
In describing his visual art journey, Musingarambwi said: "Visual art remains a form of expression. When I do this form of art, I feel that it has the capacity to illustrate narratives and perspectives, which are open to interpretation and sometimes more direct and explicit in delivery".
Visual artists do a form of art which is expressive in nature.
This also makes them activists more than they are artists because their art depicts output dedicated to a cause that is more direct and explicit in delivery.
"The voice of my art advocates for more awareness on different important issues which fight oppression of the weak within the society. The visible nature of our artistic output has enabled us to be a deeper and more powerful voice as it has cogency of communication; which makes visual arts to have an influential voice," he said.
For Musingarambwi, his art focuses on street culture and social activism, and this portrays different characters in different situations in order to advocate predominantly for the prevalence of Ubuntuism.
An example can be the depiction in one of his pieces; where he shows a moment during the Covid-19 lockdown period when the police and army where sent to patrol the streets.
Many people were afraid of the police more than the pandemic. In his depictions, he shows the impact of the fear of the police and security forces that people in Zimbabwe have; which also depicts the challenges to freedom of expression.
"As an artist, I spent most of my life witnessing the prevalence of injustice and different forms of hate and manipulation perpetuated by the security sector. This is a painful truth which is hard to express as we see many of the officials in the security sector fuelling corruption and being manipulative at the expense of the citizenry.
"Freedom of expression is a right enshrined in the Constitution but many times the police and army are used to thwart the freedoms that must be enjoyed by the people. As an artist, I use my gift as a means of advocating for freedom of expression, which we need in Zimbabwe especially the youth."
Visual art has power to spur conversations around the abuse of power, exclusionary, and arbitrary borders, governmental censorship, and the reduction of freedoms. These are the modern realities affecting and predominantly impacting the current social context where the duty of the artist is to deeply advocate for the prevalence of social change.
"Visual art is relevant and very effective as a means of activism. The current social and the environmental crises make art based activism become relevant today. Unfortunately there are also problems which have prevailing views on art, and these prevent many artists from seeing themselves as agents of change as artists need to be more empowered."
An important aspect of Kuda's visual art is his depiction of the plight of women who continue to fall victim to the scourge of gender based violence.
"We live in a world where there is the challenge and the scourge of gender based violence. I have witnessed women falling victim to the scourge of gender based violence in all its varied manifestations. Women need our protection and help, as they have the capacity to create bonds within the family set up that unifies and strengthens people. So through my art I seek to speak for the marginalised women who have no voice a great many times."
Musingarambwi also highlighted a plethora of challenges that continue to affect many visual artists, especially in the context of Zimbabwe.
"One of the challenges that many visual artists experience is the fact that many people do not want to buy our art. The issue is that a few people understand the value of the messages in abstract art, and hence visual artists remain forgotten individuals.
"Visual artists also experience challenges with regards to issues of access to paints, brushes, pencils and canvasses that we use in our artworks. All these are very expensive and in a volatile economic environment like Zimbabwe, being a visual artist is challenging. There is need for more partnership with different stakeholders such as government and non-governmental organisations (NGOs) to assist visual artists with sponsorship and also to provide residence programmes and collaborations with us so that we can be able to buy the requisite equipment for enhancement of our artistic endeavors. Visual arts is viable and can also be a means of livelihood."
Activism is often approached with attitudes that are problematic and ineffective. An art-based approach is a positive alternative because it stimulates empathy. Empathy is necessary to achieve social and environmental justice. To effect real change, activists need to work through cultural means.
Art is a good tool for this because it is cultural production. Globalization makes culture-based activism even more pertinent today. There is need for exclusive interviews with artists and activists from all over the world in order to understand the import of their art works.
Raymond Millagre Langa is a musician, poet, writer, orator and founder of Indebo Edutainment Trust. Follow Raymond Langa on Facebook, Instagram on @Millagre Ray L. Email Raymond Millagre Langa on millagrepapaito@gmail.com and indeboedutainmenttrust@gmail.com
Related Topics